Freshman Focus: Thomas Bryant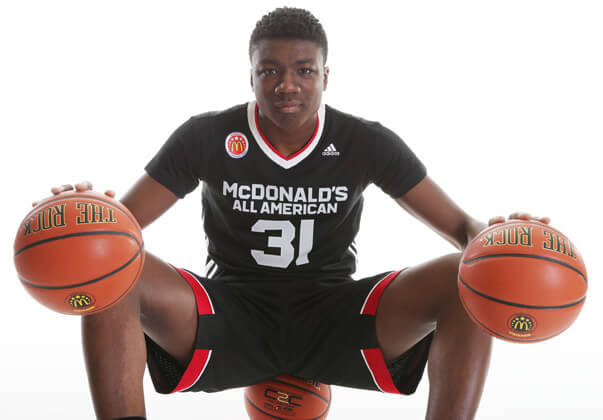 "Freshman Focus" is an Inside the Hall series on each of Indiana's three incoming freshmen. Over the next couple of weeks, we will take an in-depth look at all three newcomers. Today: Thomas Bryant.
When Thomas Bryant takes the floor at Assembly Hall next winter for Indiana, he'll be the third McDonald's All-American big man in four seasons to do so for the Hoosiers, joining Cody Zeller and Noah Vonleh.
One of the most crucial recruits for Tom Crean in his seven year tenure in Bloomington, Indiana beat out the likes of Syracuse, Kentucky and Missouri to land Bryant, a native of Rochester, New York. The 6-foot-10 big man was a well known commodity nationally by the end of his decorated prep career that started at Bishop Kearney in Rochester and wrapped up over the final seasons at Huntington Prep in West Virginia.
The accolades Bryant finished his high school career with were plentiful. In addition to his selection to the McDonald's All-American game, he was also a Jordan Brand All-Star. As a sophomore at Bishop Kearney, he helped lead his school to a Class AA state championship.
But the road to becoming the player that Indiana fans will enjoy next season didn't come without plenty of hard work and dedication to get better.
Matt Jones, the owner of HOOPsSTRENGTH, a Rochester based company that trains basketball players, recalls the first time he worked with Bryant, who had just finished his eighth grade year at Bishop Kearney.
"I started working with him the summer after his eighth grade season at Kearney," Jones said. "He had been pulled up for sectionals as an eighth grader. When he was in eighth grade, he was already 6-foot-7 probably. Just really gangly, couldn't really run yet and had trouble picking up his knees. But yet, you could tell he was going to be so skilled for a kid that size at that age."
Jon Boon, who was the coach of the Bishop Kearney team that won the 2013 Class AA state championship on which Bryant won MVP honors, says his former player started growing the moment he stepped onto Kearney's campus and it didn't stop for quite a while.
"He walked into the building (as a seventh grader), started growing and didn't stop," Boon told Inside the Hall. "He was hard not to notice and he always played up. He played on the freshman team as a seventh grader, he played on the JV as an eighth grader and I actually brought him up at the end of his eighth grade year to varsity for the playoffs and he ended up making the all tournament team and just went from there."
As a seventh grader, Bryant was 6-foot-1. By the the time he was a freshman, a growth spurt had taken him all of the way to 6-foot-8 or 6-foot-9.
Boon knew early on that Bryant had the potential to be a special player, but he also realized that it would be important for him to keep adjusting to his ever changing body. That's where Jones, who Bryant visited late last week before departing for Bloomington to begin his collegiate career, came in.
"Basically, we knew we just had to get him a little bit stronger," Jones said. "I'll be honest with you, he's one of those kids where, after the second or third workout, I was like 'this kid is going to be a big time Division I player.' Just because his work ethic was off the charts. A lot of kids that are like him, 6-foot-6, 6-foot-7 kids that are young, they're intimidated by what we do. They're not weight lifters, they're basketball players.
"But Thomas really took a liking to being in the weight room. He wanted to get stronger, he wanted to do the extra speed and explosion work, all the plyometric work. He just really took to it. I think he started to enjoy it because I think he saw how it would affect his game."
All of the extra work and dedication paid off for Bryant. By the summer of 2012, at the age of 14, Scout.com ranked Bryant the No. 3 player in the class of 2015. Scholarship offers from across the country began to pile up.
But Bryant wasn't distracted or affected by his newfound celebrity, according to Boon. He credits Bryant's mother, Linda, with keeping him on track.
"He was very grounded. His mom did a great job with him," Boon said. "He was at one of three places – home, the Y or school. She did a great job with him and kept him very grounded and he worked hard. If he wasn't working hard at school on his academics, he was in the gym. And if he wasn't at home, he was at the Y working on his game. He's always had a real good work ethic and worked hard."
After leaving Bishop Kearney following his sophomore season, Bryant finished high school at Huntington Prep. Many of the schools who were recruiting him at Kearney continued to pursue him at Huntington.
Indiana ultimately won his commitment in early April of this year, beating out Syracuse, a school that had long been considered the favorite to land him.
In a news conference shortly after his signing in April, Crean raved about Bryant's engaging personality, calling him the "pied piper" of Huntington and also comparing his personality to Victor Oladipo. In interviews with Inside the Hall at the McDonald's All-American and Derby Festival Classic games, Bryant showed an uncommon maturity when answering questions for a kid who will not turn 18 until the end of July.
None of this was a surprise to either Boon or Jones.
"He's just a good kid," Boon said. "People enjoy being around him because he's very likable. He got along with pretty much everybody, his teachers liked him, he worked hard in the classroom. He's a very engaging kid."
"I know that they say this about a lot of kids, but he really is the total package of what you would want," Jones added. "Listen, I have two young daughters. He's the type of kid that I would want to take my daughter out on a date. The beautiful thing about Thomas is, when you get him off the court, he is the most polite … He's an extremely bright and intelligent kid, but you get him on the court, he has that motor and he's that killer on the court. He's the most polite kid, he really is, I think, a total package of what you would want coming to your school."
Now that he's on campus at Indiana, Bryant will begin the next chapter of his basketball career.
A Twitter photo of his arrival in Bloomington showed him with a huge smile on his face as he met with new strength and conditioning coach Lyonel Anderson. Expectations for the Hoosiers are high for next season and much of that is centered around the return of several key players coupled with the addition of Bryant.
Next man up. Thomas Bryant arrived on campus earlier today. // #iubb pic.twitter.com/JyVGNN2Ikn

— IndianaMBB (@IndianaMBB) June 13, 2015
After seeing him last week, Jones said he believes that while there may be a bit of a learning curve for Bryant, he will be as physically ready for college basketball as he can be. And when his work with Anderson begins, Jones said he won't be surprised if another transformation begins.
"He loves it (the strength and conditioning work) because he knows how important it is," Jones said. "For a kid with long arms and long legs, he's already a lot stronger than he looks. And what's going to happen is, your strength trainer is going to get a hold of him and just turn him into an animal. I really think that's what is going to happen."
Filed to: Freshman Focus, Thomas Bryant