Freshman Focus: Juwan Morgan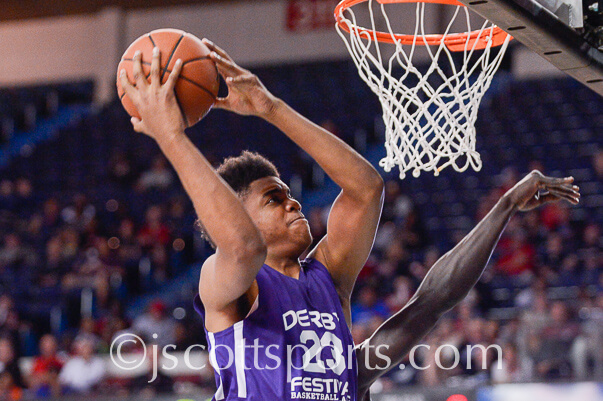 "Freshman Focus" is an Inside the Hall series on each of Indiana's three incoming freshmen. Over the next couple of weeks, we will take an in-depth look at all three newcomers. Today: Juwan Morgan. (Previously: Thomas Bryant)
It didn't take long for Waynesville, Missouri coach Chris Pilz to realize he might have a high level Division I player in his program back in the 2011-2012 season.
It was the first year at Waynesville for Pilz and he got to know Juwan Morgan quickly after he wrapped up his football season as a freshman. Once Morgan's football responsibilities were finished, he started working out with the basketball team. Pilz wanted Morgan to play for the junior varsity. But Morgan told Pilz he would prefer to start out playing freshman ball.
"I told him I was new, he was new, so that would be fine," Pilz recalls with a laugh. "About a week later he started playing JV. I'd had the opportunity to coach some other Division I players that had played at a major level and shortly after working with him, I told him he had the opportunity to be a major Division I player if that's what he wanted to do."
Morgan confirmed to Pilz that's exactly what he wanted to do and his ascent in the Waynesville program began.
His first varsity action came in a Holiday tournament during his freshman year. Pilz put Morgan into the game with 1:30 remaining and he responded with two blocked shots to help secure a win. From there, he brought Morgan along as slowly as he could, but quickly realized that his rapid improvement dictated a bigger role.
"A game in early February at West Plains (Mo.), he got in the game and scored 11 points down the stretch in a one-point game," Pilz remembers. "We saw him catch two or three balls at his ankles and he caught them and finished. They threw a couple of balls over his head and he caught them and finished them.
"At that point, mid-February of his freshman year, I thought 'this guy, he's got a chance.'"
Morgan went on to start the final five games of his freshman season and from there became a stalwart in the Waynesville starting lineup. After his freshman season, Pilz sat down with Morgan and his parents to discuss a plan for his development and to also talk about getting him into the Nike Elite Youth Basketball League (EYBL).
As his game continued to grow on the court and he began playing with MoKan Elite in the EYBL, recruiting interest began to materialize.
"He could pick things up pretty quickly," Pilz told Inside the Hall. "And just his improvement on a daily basis and how quickly he grew from really having a hard time running the floor and touching the rim to, in a short time, start running the floor and getting balance and going from not very explosive to pretty explosive in a short amount of time."
Following his sophomore season at Waynesville, Morgan played on a MoKan Elite team stacked with Division I talent. Among his teammates: Marvin Clark Jr. (Michigan State), Lourawls Nairn (Michigan State) and Shake Milton (SMU).
Morgan wasn't a standout on that team and he put up solid, but modest numbers in the 2013 Nike Peach Jam of 2.4 points and 5.8 rebounds. The following summer, however, would be a different story. With a year of experience, a year to work on his game and a growth spurt that added two to three inches to his frame, Morgan returned to the EYBL and won the most improved player award prior to his senior season at Waynesville.
In the 2014 Nike Peach Jam, Morgan averaged 12.4 points, 7.4 rebounds and 2.4 blocks per game. His recruitment took off even more as several schools, including Indiana, began to prioritize him as a top class of 2015 target.
The Hoosiers won Morgan's commitment in early September after a highly contested battle that also included Vanderbilt, Washington, Creighton, Stanford and Arkansas, among others. His final season at Waynesville ended on a strong note as well as he was named a finalist for Missouri's "Mr. Show-Me" basketball award, the Ozark conference player of the year and an all-state selection in class 5 by the Missouri basketball coaches association.
But above those accolades and his continued development, Pilz sounded more encouraged by the person Morgan has grown into off the floor.
"We're right at 1600 or 1700 kids in our high school and he's one of our top leaders," Pilz said. "He's been brought up to do the right thing, make the right choices. At school, we have a very diverse population and he knows how to treat people and treat them the right way. He can talk to his classmates and to teachers. We've put him in situations where he's had to talk to the community, talk to the press, he's had a lot of opportunities to handle that.
"We've stressed a lot to him the things that are going to separate him. There are a lot of good players (out there) and I think he understands how he handles himself on and off the court is a big factor in being the type of player he wants to be and what he wants to represent as a member of the team and of the university."
Morgan arrived on campus over a week ago and has started workouts and summer classes with his new teammates. Pilz said that when he spoke to Morgan before he left for Bloomington, he got the sense that his star player realized he was getting a unique opportunity to jump onto a team that should be ranked high in the preseason with a lot of talented returning players.
That said, Pilz is optimistic that Morgan can come in and make an impact quickly, even if the numbers don't stick out right away.
"I think he can be a very good offensive rebounder, I think that could get him on the floor," Pilz said. "And defensively, I think he's an intelligent player. He's pretty good at timing blocked shots and he's got a knack for not fouling. There's going to be a lot of ball screens set at that level and he understands how to guard the ball screen.
"He has a long way to grow. I know he's looking forward to getting a chance to work with the coaches at IU and develop his game. He has shown a willingness to improve and he will have an opportunity to go against guys who are better than him and challenge him a lot more than we could in our high school gym."
Filed to: Freshman Focus, Juwan Morgan