The Inside the Hall Mailbag: June 22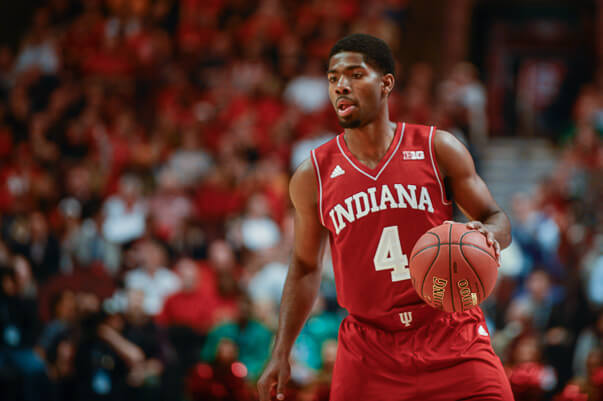 The Inside the Hall Mailbag is a collection of questions tweeted to us via Twitter (@insidethehall), via email, submitted on our premium forum and sent to us via our Facebook page. Submit your questions and we'll answer as many as we can.
@ItSjEnKiNs on Twitter writes: Any word on other strong non-conference match ups this year? Anymore info on Louisville or Kentucky talk?
I think the highlights of next season's non-conference schedule are out there: at Duke, Creighton, Notre Dame and Maui. As for Louisville, Fred Glass was pretty clear recently that it's not going to happen next season and he also shot down the possibility of a game with Kentucky next season. You can watch what Glass had to say about those topics after the jump:
@BDP634 on Twitter writes: Serious question – Why does one top 25 recruit (24 to other colleges) make IU top 15 given finish to last year and lack of defense?
Right now, all of these preseason rankings and even the rankings when the season starts should be taken for what they are: just predictions. They're projections and each season, you can go back and find examples of teams that were ranked to begin the season and didn't even end up making the NCAA tournament.
As for why IU is being viewed so favorably nationally, the missing piece last year was a big man and the Hoosiers went out and added one with Thomas Bryant. The Hoosiers competed with just about everyone they played last season and beat some solid teams, but not having an inside presence really hurt against the Big Ten's best. Adding an elite player like Bryant, combined with the fact that just about everyone of significance is back on the roster, makes IU stack up pretty favorably on paper against other teams across the country.
Obviously there is still plenty to play out with how much the defense improves, but I don't see IU's current preseason rankings as being particularly outlandish. There's legitimate talent on this roster and the optimism is warranted. – Alex Bozich
Zachary Farmer on Facebook writes: I know this is early but do you see O.G. Anunoby redshirting? With all the depth expected, barring injuries or any other problems in the future, minutes will not be there for O.G. Also coach Tom Crean has said he would have redshirted Max Hoetzel last season if not for the (Devin) Davis accident so it's not out of the question that the same could happen to O.G. so he can get more polished.
I do not see O.G. redshirting. I am aware of the comments regarding Hoetzel potentially redshirting last season, but to my knowledge, the last IU player to redshirt (for non-medical reasons) was under Kelvin Sampson. In other words, it's just not something we've seen under Tom Crean and I don't expect this upcoming season to be any different.
I may have answered this differently had Devin Davis and Hanner Mosquera-Perea not been dismissed from the program and I may answer it differently if IU adds another piece to this class, but with 12 scholarship players currently on the roster next season, I don't see Anunoby redshirting. – Alex Bozich
HoosierDanny on the premium forum writes: Now that Thon is officially not an option for this year, do you see IU making another late addition or giving the scholarship to a walk-on? Are there any names on IU's radar if they do decide to bring in another player?
There's no doubt that IU is going to continue looking for another player, but I don't think you're going to see someone added unless it's a player who has a chance to make an impact.
Here's what Tom Crean said earlier in the month when asked about the situation: "If there's a player that fits us from a competitive standpoint. And it's not as much need, but just coming in that's going to bring something to the team. And not in a short-term, but somebody who can be good now but somebody who could develop into being an even better player as we move down the line."
These comments were made before the Thon Maker decision to stay in 2016 was announced, but I think the general sentiment remains the same: It's going to need to be someone like Emmitt Holt last season that can come in and actually contribute something to the team's success. – Alex Bozich
kmark22 on the premium forum writes: It seemed that Je'Ney Jackson played a huge role in the success of IU's program during his time at IU. It seemed kids were very well conditioned and didn't have very many injuries. How big of a role can Lyonel Anderson play with this years team?
Jackson did a fantastic job in his time at IU. The players liked and respected him and he was able to get a lot out of them. It was certainly a loss for the program when he chose to depart for Kansas to work for their football program, but it's hard to blame him given his friendships with the new Kansas football staff. Jackson also had a strong football background, so getting a chance to run a strength and conditioning program at a BCS level program was something he aspired to do eventually.
Anderson said recently that Jackson is someone he considers a friend and mentor, so I would expect that he'll bring some of what Jackson brought while also putting his own stamp on things. One thing we've already seen from Anderson in some of the videos IU has posted is he's not afraid to try different things and he's also not going to be shy about getting in the face of the players to motivate them during workouts. We haven't heard anything publicly from the players on Anderson just yet, but every indication I've gotten to this point is he's been well received since taking the job.
As for how big of a role he can play, given how much he's able to work with the players in the offseason, the expectation from within is that he'll play a pivotal role. He hasn't shied away from expectations, either, as one of the first things he said in his comments to the media was he wants to do whatever he can to help the program reach the Final Four this coming season. – Alex Bozich
madweber on the premium forum writes: Who is your front-runner for biggest surprise player, both for IU as well as in the B1G?
I like Robert Johnson as a surprise next season. He was very solid as a freshman, but I think he'll be much more polished as a sophomore. He needs to bring his turnover rate (24.2 percent) down, but the experience he was able to get last season will be valuable as he prepares for his second season. Johnson is also a guy that embraces putting in extra work to make the improvements necessary in his game, so he would be my pick as the surprise on next year's IU team.
In terms of the Big Ten, that's a tough one. There are a lot of guys who I expect will be much better next season. A few of them off the top of my head: Bryant McIntosh of Northwestern, Jae'Sean Tate of Ohio State, Derrick Walton of Michigan (who is coming off of an injury), Vitto Brown of Wisconsin and Shep Garner of Penn State. Not sure I see any of those guys ending up on the All-Big Ten teams besides Walton, but those are just a few names that came to mind as potential surprises. – Alex Bozich
lawguyNA on the premium forum writes: Anything more from within the program on the status of hiring a coach to replace McClain?
Nothing yet. Tom Crean said he was close earlier in the month and we've seen Rob Judson in many of the offseason workout videos, so it's pretty clear he's sticking around in his current role of director of basketball operations or moving up to the assistant role. The July evaluation periods start on Wednesday, July 8, so we should certainly know before then. – Alex Bozich
GregorySpera on the premium forum writes: What do you expect the "other" three freshmen, Morgan, Anunoby and Niego to contribute this coming season? Will any of them make a significant impact as far as minutes and production?
I can't speak much to Harrison Niego as I've never seen him play in person, but IU is a little short on guard depth, so there's always a chance he could find himself in spot duty if the situation arises.
Anunoby, who I addressed some earlier, has the furthest to go of the scholarship freshman in terms of being able to get on the floor and contribute. I think he will play some, but I wouldn't characterize what he's expected to bring as being signigicant to the success of the Hoosiers.
Morgan is the one of those three that has the best chance to make an impact next season. With the dismissals of Davis and Mosquera-Perea, there's a good chance he can slide into the rotation off the bench and make an impact as a rebounder and a guy who will do the little things like set screens and dive on the floor for loose balls. He may not end up with numbers that jump out on paper, but I do see him getting onto the floor more than the other freshmen not named Thomas Bryant. – Alex Bozich
Filed to: Twitter Mailbag