Crean says IU not in rush to fill final open scholarship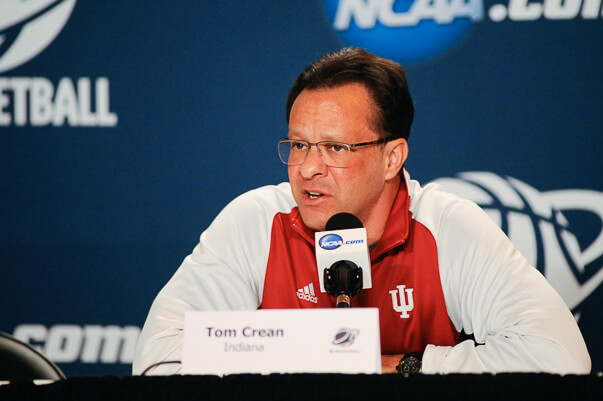 Max Bielfeldt's commitment to Indiana on Tuesday brought the Hoosiers to 12 scholarship players for next season, one under the NCAA limit of 13.
But are the Hoosiers done recruiting for the class of 2015?
On Wednesday night at the Indiana "on the road" tour stop at Huber Winery, Tom Crean said that nothing is imminent in terms of adding another player, but did not rule out the possibility of filling the open scholarship.
"If there's a player that fits us from a competitive standpoint," Crean said when asked about the potential of adding another player. "And it's not as much need, but just coming in that's going to bring something to the team. And not in a short-term, but somebody who can be good now but somebody who could develop into being an even better player as we move down the line."
A month ago, the Hoosiers appeared set in the frontcourt with the addition of McDonald's All-American Thomas Bryant and depth behind him in Emmitt Holt, Hanner Mosquera-Perea, Devin Davis and Juwan Morgan.
However, things changed quickly as Mosquera-Perea and Davis were dismissed from the program on May 14, which brought Indiana into the mix for Bielfeldt, a graduate transfer from Michigan.
"Look at it again, we're oversigned at the beginning and three days after the school semester ends, we're under by two," Crean said. "It's a very, very fluid, ever changing process. And you have to be prepared."
One option that does not sound viable, based on Crean's comments, is adding a transfer who would sit out next season. The IU coach said he toyed with the idea, but given the losses of Davis and Mosquera-Perea, determined that "we needed to make our team better like right now."
Indiana is still being mentioned with Thon Maker, but based on recent comments from his guardian, the five-star forward will not enroll until December at the earliest.
The Hoosiers successfully recruited a player late last summer in Holt, who didn't visit campus until after IU's tour of Montreal in August. With the dismissals of Davis and Mosquera-Perea, Indiana lost two pieces who could have played significant roles off the bench next season.
"We were anticipating a lot with those guys," Crean said. "What it has to be now is someone who would really make sense. There's no rush. Our eyes are open on it and we have nothing in the works so to speak. There's not anybody scheduled to come in right now or anybody that we're really pursuing in a way that it would be in the near future, but that could change tonight. Recruiting is so fluid. It's never ending."
Filed to: Tom Crean