2017 point guard Markus Howard "excited" by Indiana offer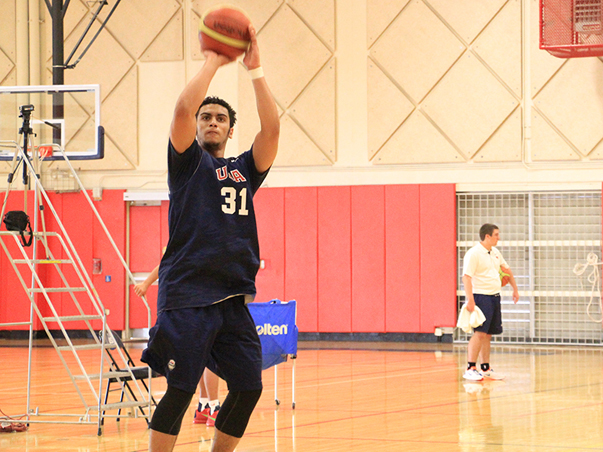 If class of 2017 guard Markus Howard wants to learn more about Indiana University, he doesn't have to go far to get answers to his questions.
That's because his father, Chuck, now the director of performance athletics at Grand Canyon University, was a running back for the Hoosiers and earned his degree from IU in exercise science and recreation in 1986.
The 5-foot-11 Howard, who will play next season at Findlay Prep after averaging 32.4 points per game last season for Gilbert Perry (Ariz.), has emerged this spring as a major recruiting target for Indiana.
Tom Crean offered a scholarship in a conversation with the family last week.
"I was just really excited about the offer," Howard told Inside the Hall. "I know the great history of guards that have come from Indiana. Coach Crean is a great coach. He really wanted to find out what kind of a person I was and he really liked what kind of a person I was. He thinks I'd fit really well in their system, just be a strong guard for their program."
Howard said his father is also excited about the interest from his alma mater.
"He's been a fan since he went to college there," he said. "He really likes the program and he really loves watching them. So he's really liking Indiana. It's a great school that really helps prepare you for life."
Rated the No. 35 player nationally in the 247Composite, Howard has no shortage of suitors. He originally committed to Arizona State in August of 2014, but decided to reopen the process in March.
Howard said his father, who has trained over 1,000 athletes since moving to Phoenix in 2002, has been a major help as he navigates the recruiting process.
"He's just really helping me understand the recruiting process," Howard said. "It's a tough process, but something you really just have to go through, push through with it. He's really been helping me with that. The level you have to constantly be playing at is something he's really emphasizing. He's been really helping me in all aspects."
This spring, Howard was the third leading scoring in the Nike Elite Youth Basketball League (EYBL) at 20.2 points per game for the Las Vegas Prospects. He's currently in Colorado Springs, Colorado, as one of the finalists for USA basketball's men's U16 national team which will be announced this week.
Howard made the first roster cut from 33 to 17 on Saturday. The final 12-man roster will be announced prior to the team departing for Argentina and the 2015 FIBA Americas U16 Championship.
"I'm just blessed to be here and have the opportunity to play at this level," he said. "Just coming out here with the best players in the country, it's really an awesome experience. I'm really privileged to be out here with these guys. Playing in the EYBL really gets you prepared for this type of level."
Surrounded by some of the nation's best players, Howard said he's trying to keep things simple as the training sessions move along.
"I'm just trying to embrace the point guard role, lead the team, facilitate, communicate really well," he explained. "Just get the guys involved and really just get them pumped up to play.
"You're representing not only yourself, you're representing your country and everyone that lives in the country. You have the USA on your chest, it makes you have an appreciation for the game much more and makes you want to play harder each and every day."
(Photo credit: USA Basketball)
Filed to: Markus Howard