The Inside the Hall Mailbag: June 2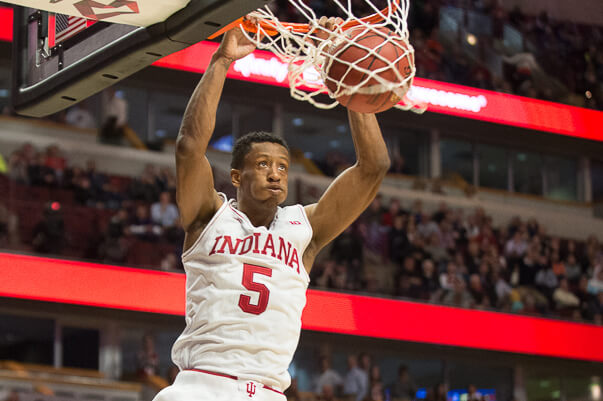 The Inside the Hall Mailbag is a collection of questions tweeted to us via Twitter (@insidethehall), via email, submitted on our premium forum and sent to us via our Facebook page. Submit your questions and we'll answer as many as we can.
Shknqk on the premium forum writes: If we assume Troy expects to play himself into the NBA, and in the league he will be a guard, can you characterize the likelihood he is the third guard in our three guard lineup? He will have to be able to go from being the killer baseline threat to truly driving and able to hit a 3-pointer. Having CH or EH at the 4 gives an excellent corner 3 threat (really valuable) and a great defensive threat (really valuable), respectively. I could see TW at the 3 being slightly less individually effective but better for the team.
Maybe I'm in the minority here, but I think Indiana sticks with Yogi Ferrell, James Blackmon Jr., Robert Johnson and Troy Williams as starters and plugs in Thomas Bryant to the spot formerly occupied by Hanner Mosquera-Perea.
Williams is 6-foot-7, so in the NBA, he's going to be a wing forward and probably isn't going to be a player that ever makes his living off of a jump shot. Can he get better in that aspect of his game? Certainly. But he's an elite slasher and finisher and that's the reason he's an NBA prospect. Teams will be willing to draft Williams because of that and they'll figure out the shooting part later. They'll certainly be watching his improvement in that area this season, but he's not going to be showcased as a shooter because that isn't his game.
As for whether it would be better for Indiana as a team, I'm not sure I buy in. I like the three-guard set with Williams at the four because it's incredibly hard to guard. You can put the ball in Troy's hands at times and surround him with three legitimate shooters. That can still be the case if Hartman is on the floor as the four, but if you're playing Holt, Bryant and Williams together, now you only have two shooters and that's easier to defend. I think it ultimately comes down to defense because Indiana has so much improvement to do on that end of the floor. If the lineup I mentioned is able to hold its own defensively, I think you go with that set most frequently. – Alex Bozich
Jeremy Lee Delagrange on Facebook writes: Who do you see on next year's roster that will have a breakout season and have a bigger impact than most people think?
I like the chances of Emmitt Holt making a healthy leap forward next season. There are a couple of reasons for this: First, he's going to have a full summer in Bloomington to work out both individually and with his teammates, which should have a major impact. He was a late August addition to last season's team and he didn't get the time in the summer working with the coaching staff so I think that extra work will make an impact.
Beyond that, Holt has the tools to be a very productive player in the Big Ten. He's not going to be a featured scorer on a team that has few issues in that department, but he does finish plays at the rim (67.9 percent as a freshman) and has the ability to make an impact on the offensive glass. His length allows him to play taller than his height and he block shots, which is another plus. – Alex Bozich
@shaps911 on Twitter writes: With Hoiberg to Chicago, is (Max) Bielfeldt to IU a done deal?
No. If it was, he would have already committed to Indiana. If you've been following the Bielfeldt recruitment, it has taken a few twists along the way, but this appears to be a kid who has three good choices and is genuinely torn about his decision. He originally planned to decide in the days following his official visit to Bloomington, but pushed it back to give himself a few days over the Memorial Day weekend to discuss things with his family.
Now the Fred Hoiberg to the Chicago Bulls situation leaves the Iowa State job vacant and Bielfeldt may be waiting to see who is hired there before making a decision. I believe TJ Otzelberger, who is being mentioned prominently as a potential successor to Hoiberg, has been a big piece of Bielfeldt's recruitment to Iowa State. But no, this is not a done deal for Indiana or it would have already been announced. – Alex Bozich
mcoghlan on the premium forum writes: Not counting Thomas Bryant, which freshman do you think will have the biggest impact?
Juwan Morgan appears to be more ready to play right away than O.G. Anunoby. And with the dismissals of Mosquera-Perea and Devin Davis last month, there are minutes to be had at his position.
Similar to Holt, Morgan isn't going to be a guy who commands the ball in the post, but he can finish at the basket, block and challenge some shots and rebound. Along with that, he sounds willing to embrace the role of being a scrappy guy who does the little things that might not show up in the box score but still contribute to winning. – Alex Bozich
@hoosierballer on Twitter writes: If Max Bielfeldt comes to IU, any chance that he starts at the four considering he can shoot?
Sure, there's a chance, but it's not very likely. Bielfeldt came off the bench last season at Michigan, which finished 16-16 last season, and Indiana returns four starters from an NCAA tournament team and adds a McDonald's All-American in the paint.
As for the shooting ability that you mention, he shot 26.7 percent on 3s last season, which is lower than just about every returning player on IU's roster. If he comes to Bloomington, I think he'd be best utilized as one of the first couple of guys off the bench. His size and experience can both be of value, but given what IU returns from a shooting and scoring perspective, I don't view him as a guy who would have the green light to park outside and launch 3s. – Alex Bozich
OldeHoosier on the premium forum writes: With the addition of Bryant and coach Tom Crean's stating our defense must improve next season, do you see us playing more zone or more man to man?
If the defense improves, more man-to-man. There are very few teams in college basketball who play an effective zone consistently. Indiana used the zone frequently last season because it had major problems keeping defenders out of the lane and the switching defenses was an attempt to mix up looks for the opposition. However, it didn't seem to matter what defense Indiana was in last season as the Hoosiers had significant problems getting consistent stops.
I expect to see more man-to-man next season and that should be a good thing. – Alex Bozich
Jack Duncan on Facebook writes: If Thon Maker enrolls in the fall, is he eligible for 2015-16? And can he jump to the NBA after the 2015-16 season? Thanks!
Maker has no plans to enroll in the fall semester, according to comments from his Edward Smith. The plan being discussed is enrolling midseason and playing beginning with the second semester. (Story on that topic.) If you read through the other comments Smith made in the linked story, it sounds as if they anticipate Maker being eligible to enter the 2016 NBA draft if he's ready, from a development standpoint, to do so. – Alex Bozich
Filed to: Emmitt Holt, Juwan Morgan, Max Bielfeldt, Troy Williams