The 2015-2016 schedule: What we know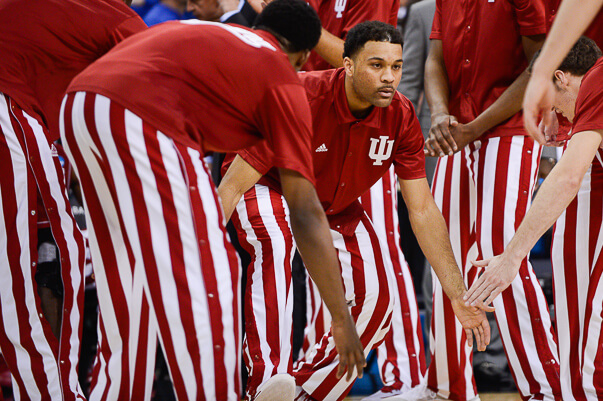 The full 2015-2016 Indiana basketball schedule won't be released until later this summer when the Big Ten finalizes the conference slate, but a good chunk of dates and opponents for the upcoming season have already been revealed.
Here's an early look at what we know so far about the 2015-2016 schedule:
· Year five of the Crossroads Classic: The Hoosiers are 2-2 over the first four years of the Crossroads Classic and this event is here to stay as it was extended through 2019 last August. IU's opponent in this year's Classic will be Notre Dame on Dec. 19 in Bankers Life Fieldhouse. The Irish are ranked in the top 15 in several early rankings for next season.
· A solid field in Maui: Indiana is one of eight teams in the 2015 Maui Invitational, joining Chaminade, Kansas, St. John's, UCLA, UNLV, Vanderbilt and Wake Forest. The bracket won't be announced until later this summer, but the Jayhawks appear to be a preseason top 10 team and UCLA, UNLV and Vanderbilt all appear to be potential NCAA tournament teams next season. This event will be a solid measuring stick early for the Hoosiers and also an opportunity to pick up some top 100 RPI wins in the non-conference.
· Creighton comes to Assembly Hall: The first Gavitt Tipoff Games, which some are calling the Big Ten/Big East challenge, is a bit underwhelming from a matchup perspective. The Hoosiers drew Creighton at Assembly Hall and the Bluejays are coming off of a poor 14-19 campaign. Still, it's a win for fans to get a major conference opponent coming to Bloomington on Nov. 19.
· A trip to Durham for the Big Ten-ACC Challenge? File this one under the "wait-and-see" column, but Andy Katz of ESPN.com predicted last week that the two marquee games of the Big Ten-ACC Challenge would be Indiana at Duke and Maryland at North Carolina. The schedule should be announced soon, but if it happens, it would be the first meeting between Indiana and Duke since 2006, when the Hoosiers fell 54-51 at Cameron Indoor Stadium.
· Two guarantee games revealed: Thanks to an open records request from Mike Miller of the Bloomington Herald-Times, we learned last week that Indiana will host McNeese State (Dec. 12) and Kennesaw State (Dec. 22) as part of the non-conference schedule. McNeese State was No. 288 last year in the KenPom ratings (No. 279 in RPI) and Kennesaw State was No. 343 (No. 318 in RPI).
· Unbalanced schedule could determine regular season champion: Adding Maryland and Rutgers to the league last season brought the first season of eight single plays and five double plays for each conference team. Considering the setup was seven home-and-homes and four single plays, it was a major change that will continue to have an impact on determining the regular season champion. It didn't matter much last season as Wisconsin was clearly the class of the league, but it could be a significant factor next winter.
Here's the draw for Indiana:
– Home and Home: Illinois, Iowa, Minnesota, Nebraska, Wisconsin
– Home only: Maryland, Northwestern, Ohio State, Purdue
– Away only: Michigan, Michigan State, Penn State, Rutgers
On paper, it is a favorable draw for the Hoosiers as they get Maryland, Purdue, Michigan and Michigan State all just once. Each of those teams will probably be projected to finish in the top six of the conference. Looking around the league,
Maryland got a tough draw with road only matchups with Indiana and Michigan State and double plays with Michigan, Ohio State, Purdue and Wisconsin. Michigan State, on the other hand, probably made out best as the Spartans get IU and Maryland just once (both at home) and double plays with both Penn State and Rutgers.
Filed to: 2015-2016 schedule