The updated early Top 25s: Where the Hoosiers land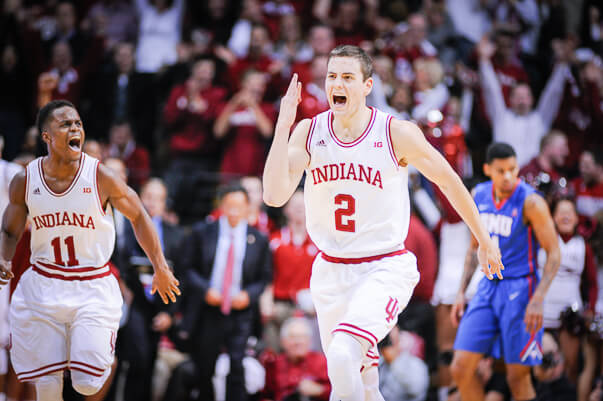 The NBA draft early entry deadline has passed and only a few top 100 recruits remain uncommitted in the class of 2015. That means many of the ridiculously early preseason top 25 lists for the 2015-2016 college basketball season are being updated.
Here's a quick roundup of where Indiana checks in on the top 25s that have been updated this week:
ESPN.com (Eamonn Brennan): Indiana at No. 14
In March, Indiana fans were so openly displeased with coach Tom Crean that his athletic director, Fred Glass, was forced to give him an open vote of confidence. In April, the fans might well share Glass's view. Everything has gone right for the Hoosiers lately, from the signing of top center prospect Thomas Bryant — a desperately needed infusion of size — to the returns of James Blackmon, Robert Johnson,Troy Williams, and Yogi Ferrell. The latter was by far the most important, and also the most hotly debated; Ferrell, despite a second-round-or-Europe draft projection, was apparently very much on the fence before deciding to return to school last week. Ferrell now has a real chance to leave IU as one of its most productive players in history. His team — if it can defend even semi-competently — has a real chance to push Maryland for both the conference's actual title and the most stunning perceptual repair effort crown, which is a thing we just made up.
CBSSports.com (Gary Parrish): Indiana at No. 13
Why the Hoosiers are ranked here: What was Indiana missing this season? A competent big man. What is Thomas Bryant? A competent big man. So the Hoosiers should have no issues making the NCAA Tournament again — especially with Yogi Ferrell returning.
Athlon Sports (David Fox): Indiana at No. 13
Tom Crean could be well-positioned to return to the good graces of Indiana fans next season. Nearly everyone is back, and the frontcourt will get some desperately needed help from the 6-10 Bryant, a McDonald's All-American.
NBCSports.com (Rob Dauster): Indiana at No. 16
The four things that Tom Crean needed to have happen did: He landed a commitment from Bryant, a shot-blocking and rebounding presence around the rim, while getting Ferrell, Blackmon and Williams back for another year.
USA Today (Scott Gleeson): Indiana at No. 13
The Hoosiers should bring back one of the most talented rosters of any Big Ten team, led by guards Yogi Ferrell (16.3 ppg, 4.9 apg) and James Blackmon Jr. Forward Troy Williams is capable of averaging a double-double. Top-20 recruit Thomas Bryant, a ferocious power forward, will provide a giant boost in the frontcourt.
Filed to: 2015-2016 season preview