Bryant looking ahead to future in Bloomington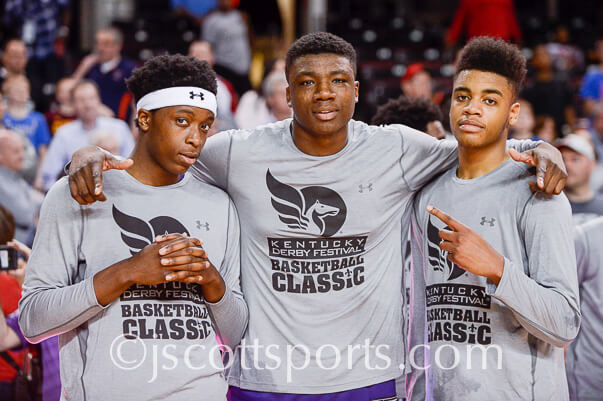 With his high school career over and his National Letter of Intent signed and delivered to Indiana University, Thomas Bryant is looking ahead to his future.
Bryant had been vocal since his commitment that he wanted to play with Troy Williams, James Blackmon Jr. and Yogi Ferrell and all three players opted to return to Bloomington in recent weeks. The addition of Bryant plus the return of IU's top eight scorers sets the Hoosiers up for a preseason top 15 ranking and a viable contender in the Big Ten.
It's been a busy couple of weeks for Bryant as he participated in the McDonald's All-American Game, the DICK's National Tournament, the Derby Festival Basketball Classic and most recently, the Jordan Brand Classic, which put a wrap on his prep career.
"It was a real good experience just going out there and knowing it was the last event of my high school career," Bryant said Friday in Louisville at the Under Armour Association event. "I just wanted to try to go out with a bang."
Bryant finished with 11 points and eight rebounds in the Jordan Brand Classic.
Now the focus for Bryant shifts to getting prepared for his arrival in Bloomington. He'll graduate in late May with a plan of arriving on campus in June. Last week, he received a visit from Tom Crean and Chuck Martin at Huntington Prep.
"(The visit) was real good. He just talked to me about how I was getting better and also pointed out some key things that I should work on, which I appreciate," Bryant explained.  "The next step is just improving my game each and every day, figuring out what I need to work on before I get there in June and just taking it from there."
The adjustment for Bryant being in a new place should be easier for him than the typical college freshman as he spent the final two years of his high school career away from home at Huntington Prep.
A native of Rochester, New York, Bryant was recruited to Huntington Prep after starring for Bishop Kearney as a freshman and sophomore. It was a decision that Bryant says will help him right away in college.
"I think it helped me a lot," Bryant said. "No offense to Bishop Kearney, but I know that if I would have stayed, I wouldn't be ready for the collegiate level. I wouldn't be the man I am today."
In his press conference to announce the Bryant signing to the media last week, Crean called his future big man "the pied piper" of Huntington and also noted his "infectious attitude and infectious energy."
The process of bonding with two of his new teammates – Juwan Morgan and O.G. Anunoby – is already well underway as the trio spent considerable time together at the Derby Festival Basketball Classic.
"Those guys are great. Juwan, he's real fundamentally sound and he's real down to earth," Bryant said with a smile. "O.G. is real down to earth, too, with some serious bounce that I didn't even know of and it just popped out of nowhere.
"We all grew together real quick, good chemistry and we became friends right off the bat."
Filed to: Thomas Bryant