Recruiting notebook: New offers, Maker update, more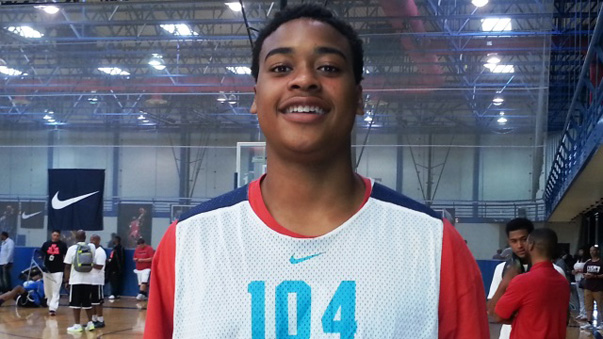 A pair of prospects – one in the class of 2016 and one in the class of 2018 – received scholarship offers from Indiana this week.
Nick Ward (pictured), a rising senior from Gahanna Lincoln in Columbus, Ohio, was offered by the Hoosiers on April 18 and Jonathan Kabongo, a rising sophomore who plays at Huntington Prep (W.V.), was offered a scholarship on Tuesday according to his coach, Arkell Bruce.
Ward, a 6-foot-9 power forward, is rated the No. 53 prospect in the 2016 class by the 247Composite. Ward, who plays AAU for All Ohio Red, is currently the leading rebounder in the Nike EYBL at 10.2 per game.
Kabongo, the younger brother of former Texas guard Myck Kabongo, is a 6-foot-3 point guard who also holds an offer from Virginia Tech and is a native of Toronto.
Maker focused on four schools
Thon Maker, who visited Indiana for its final regular season game against Michigan State at Assembly Hall, is focused on four schools according to his mentor Edward Smith.
In an interview with Scout.com, Smith told Evan Daniels that Maker isn't considering going overseas to play professionally and could be a mid-year enrollee.
"It's shaping up like it's going to be mid-year," Smith told Scout. "It's looking more and more like it'll be that. He has his core done. That'll be done on June 23. He's fine in his core. It's just getting the work done. For our sake we are going step by step to see what makes sense for him. If we can get a mid-year situation that's good for him and he can walk in then we'll go with a mid-year situation."
In addition to Indiana, Kansas and Kentucky, Maker is now considering Arizona State. The connection there is new assistant coach Brian Merritt, who worked for John Lucas the past few years in his camps that Maker has attended.
"We have a good relationship," Smith told Scout. "We've known Brian since Thon was in eighth grade with John Lucas. It's all about speaking to coach Hurley, seeing what their interest is and seeing if a mid-year situation comes."
Maker is rated the No. 8 prospect nationally in the 2015 class by the 247Composite.
Alkins looking at unofficial to Bloomington
Class of 2016 Christ the King (N.Y.) guard Rawle Alkins, one of Indiana's top recruiting targets, will be in Indianapolis this weekend for the second adidas Gauntlet session and tweeted on Tuesday that he may take an unofficial visit while in the area.
With Friday, Saturday and Sunday being a part of the spring's second live evaluation period, Alkins would have to work in any visit before or after the period concludes.
Indiana on Friday might take an unofficial to IU while I'm there

— Rawle Alkins (@Iam_RawleAlkins) April 21, 2015
If it happens, it would be the second Indiana visit to Bloomington for Alkins, who attended Hoosier Hysteria last fall. Alkins is rated the No. 31 prospect nationally in the 2016 class by the 247Composite.
Indiana involved with former Purdue commit
Class of 2016 Indianapolis Tech point guard C.J. Walker, a former Purdue commit, is hearing from Indiana.
In an interview with Kyle Neddenriep of The Indianapolis Star, Walker listed four schools that were standing out, a list that Indiana wasn't currently on.
However, the Hoosiers did get a mention from Walker, who averaged close to 24 points as a junior at Tech and was named the Indiana core junior all-star team.
"I feel like I've got a fresh slate with IU," Walker told Neddepriep said. "I was never really recruited by them so I'm starting with a fresh slate. Just like Yogi (Ferrell), I feel like I can do something like he did at point guard. It's a great environment there. It seems like a great place to be."
Mulder visiting Kentucky this weekend
Vincennes Junior College guard Mychal Mulder, who was offered a scholarship by Indiana recently, is set to visit Kentucky this weekend and the Wildcats appear to be a heavy favorite to land him.
"He was really excited about the offer," Vincennes assistant coach Brian Davis told The Courier-Journal. "He knows about Kentucky and the history and what type of program that is. He wants to check it out in person and compare it to the other schools that have been recruiting him and make a decision pretty soon after that."
In addition to Indiana and Kentucky, Mulder is also considering Creighton and Wichita State.
Second spring evaluation begins Friday
The second spring evaluation, a chance for college coaches to evaluate prospects, begins this Friday.
The three major events will be in close proximity as the Nike EYBL comes to Lexington, Kentucky, the Under Armour Association comes to Louisville, Kentucky and the adidas Gauntlet returns to Indianapolis for a second straight year.
Filed to: Jonathan Kabongo, Nick Ward, Rawle Alkins, Thon Maker