Decision time coming for Blackmon Jr., Ferrell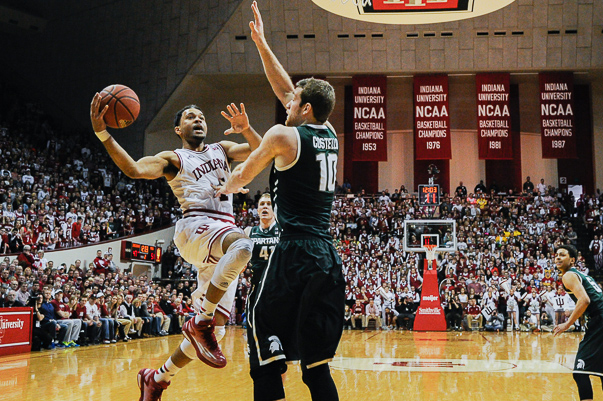 Earlier this month, Indiana secured a commitment from McDonald's All-American big man Thomas Bryant. That news was quickly followed by a decision by sophomore Troy Williams to return for his junior season after considering a jump to the NBA.
But two decisions still remain that will have major ramifications on Indiana's chances to contend in the Big Ten next season.
Junior Yogi Ferrell will announce his intentions for next season on Saturday in Indianapolis and freshman James Blackmon Jr. should also have an announcement on his future plans in the coming days. The early entry deadline for the NBA draft is this Sunday at 11:59 p.m. ET.
On Wednesday at a media availability in which he primarily discussed the signing of Bryant, Crean also touched on the decisions that are pending for Ferrell and Blackmon Jr.
According to Crean, meetings with both players have been completed and it's coming down to "crunch time" for both players to decide what they're going to do.
Ferrell's plans to reveal his decision this weekend have been known for several weeks, but Blackmon Jr. has been quiet since Indiana's season ended with a loss to Wichita State in the NCAA tournament.
"I think we're well down the road on where we stand on that and we'll be forthcoming pretty soon on that," Tom Crean said on Wednesday of Blackmon Jr. "We've handled everything and they've been great in the sense of having it all laid out where it needs to be."
Both players have been projected as second round picks at best in most draft projections, but Crean said that one thing he does is get the best information possible from a variety of sources to help players make the best decisions possible.
"I think the one thing you do is that you stay away from opinion. Because everybody has an opinion," he explained. "We're all entitled to one, but it doesn't mean we have insight. And the insight is, 'what does the research say?' Not the research we read about, but what does the research say? What do the decision makers say? What does the undergrad committee say?
"There's projection (from the undergrad committee), but there's not a feedback. So what we try to do is go get real feedback that we can add to the projection. And then it becomes a matter of trusting the research. Are you going to trust the research and say this is what it is or are you going to believe something that's not there? So that's the most important thing you can do."
If both players return, Indiana is expected to be a preseason top 15 team nationally, if not higher.
But the loss of either player could significantly change the outlook for next season. That scenario is one that Crean says the program must be prepared for regardless if a player decides to leave early.
"If somebody leaves, you congratulate them, you help them in every way that you can, but you better have plan B and plan C ready to go," Crean said.
Filed to: James Blackmon Jr., Yogi Ferrell