Yogi Ferrell to announce NBA draft decision on April 25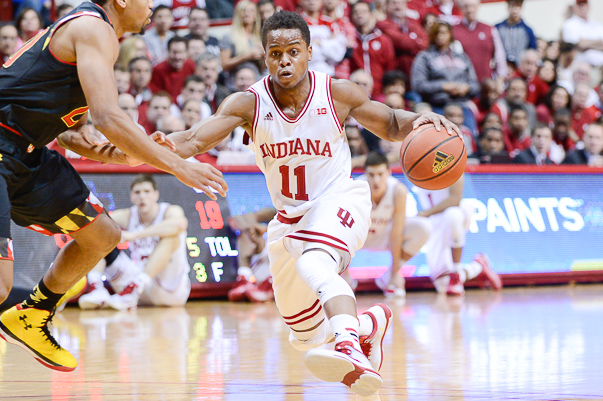 Indiana junior Yogi Ferrell will announce his decision on whether he will enter the 2015 NBA draft on Saturday, April 25, his father Kevin Ferrell Sr. confirmed to Inside the Hall on Monday afternoon.
Ferrell will make his announcement at the Ruth's Chris Steak House on the northside of Indianapolis during an exclusive dinner, which will include friends and family.
"We want to make sure that we give ourselves enough time to make a very educated decision and not rush into things," Ferrell Sr. said. "This was a difficult year for him but he had an outstanding season, so we just don't want to rush and make a hasty decision in that regard.
"We've decided to do it at Ruth's Chris. Whichever direction this thing goes in, I just think it's important to have friends and family around."
The NBA early entry deadline is Sunday, April 26 at 11:59 p.m. ET.
According to multiple NBA mock drafts, Ferrell is projected to be anywhere from a second round pick to perhaps missing on a draft selection entirely.
In his junior season at Indiana, the 6-foot Ferrell recorded 16.3 points and 4.9 assists per game, earning a first team all-Big Ten honors. And according to Ferrell Sr., following his successful junior campaign, the family has heard from a few NBA teams who have expressed interest.
"Regardless of what we've heard, I think that Yogi is an outstanding player and can make anybody's team," Ferrell Sr. said. "We've heard a lot of different variations of things. You never know what's true, but we are confident that if he does decide to go that he would do great in the workouts. He's a hard worker, dedicated, and we have no qualms with the fact that he will do outstanding in front of general managers if he decides to go."
But Ferrell Sr. also discussed the variety of perks his son could experience by returning for his senior year. He mentioned the recruitment of Thomas Bryant. He mentioned the notoriety of senior night and earning a degree from IU. And he also noted the opportunity to set records — Yogi Ferrell is just 24 games from breaking the NCAA record for a 3-pointer made in consecutive games.
"One of his dreams is to hang a banner," Ferrell Sr. said. "And next year with the team that we have and the recruitment, it would be a great opportunity to do that. We don't want to rush into it because it definitely is a lot of pluses either way you look at it.
"Nothing is etched in stone, so instead of making a hasty decision we want to just try and take an opportunity to think about it, do our research and just make sure it's 100 percent what he wants at the end of the day."
Filed to: Yogi Ferrell