Derby Festival Basketball Classic recap: Thomas Bryant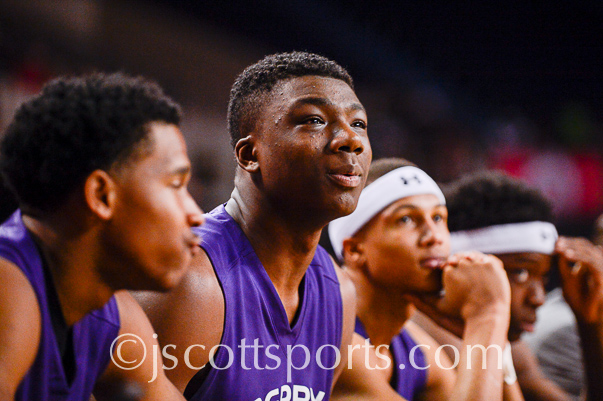 Class of 2015 Huntington Prep (W.V.) big man and IU commit Thomas Bryant was one of three future Hoosiers who participated in the Derby Festival Basketball Classic at Freedom Hall.
Inside the Hall was there for both practices, the Night of the Future Stars event and the game. Today, we conclude our recap of the weekend for all three recruits with our look at Bryant.
Game stats
19 points (8-of-13 FG, 3-of-6 3PFG), six rebounds (two offensive), two blocks, two turnovers and a steal in 20 minutes; Purple Team MVP
Player observations
For those who had a chance to watch Bryant in Louisville, it is hard to draw anything but positives about his weekend. Off the court in interviews, he is an engaging and polite kid who likes to smile and laugh. His personality is one that Indiana fans should quickly embrace. And on the court, there's plenty to like about the player he is now and the player he can become once he arrives in Bloomington. He's only 17 and won't turn 18 until late July, which means there's still a chance he will continue to grow. He's certainly strong enough to hold his own right now in the paint, but should look like a totally different person, particularly in the upper body, once he goes through several months of weight training at the college level.
As for his game, he's exactly what Indiana was missing this past season. He's mobile, has an outstanding motor and is going to be a factor challenging shots at the rim. He's also likely to be Indiana's best rebounder from the day he steps on campus. He showed off a very solid 3-point stroke all weekend, including three triples in Saturday's game that were a primary reason he walked away with MVP honors for his team. Areas the IU coaching staff will be able to help him immediately are his footwork and his passing out of the post. All in all, it was an outstanding weekend for Bryant, who could move up in the final national rankings when they are released this spring.
Quotable
"It was just a great atmosphere (at IU). They all welcomed me, they all wanted me. They had Noah Vonleh and Cody Zeller and Victor Oladipo. Those guys came there and they're still playing in the NBA. That means that coach Crean is doing the right thing at IU. I think with the guys coming back and the new additions, we can be a great team." – Bryant before Thursday's Derby Festival Basketball Classic practice.
Video recap
3-point shootout
Interviews
Filed to: Thomas Bryant