ESPN's Fran Fraschilla on Yogi Ferrell's draft stock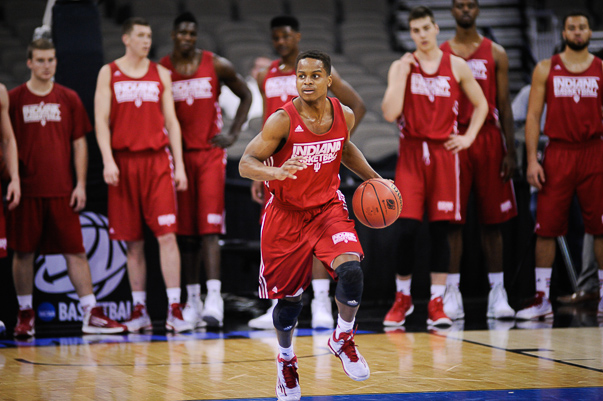 Indiana junior point guard Yogi Ferrell will announce whether he'll return to college for his senior year or enter the NBA draft on April 25, a key decision that could drastically alter the outlook for the Hoosiers in 2015-2016.
His return likely means Indiana is a consensus top 15 team in the preseason and a viable contender in the Big Ten. His departure, however, would leave the roster without a definitive option at point guard and without its leading scorer.
ESPN college basketball and NBA draft analyst Fran Fraschilla, who covers the draft as diligently as anyone, told Inside the Hall on Monday afternoon that the depth of prospects at the point guard position could hurt Ferrell's chances of being selected.
"It's one of the deepest point guard drafts I can remember in a while," Fraschilla said. "And that necessarily doesn't bode well for Yogi. When you look right at the top with D'Angelo Russell and (Emmanuel) Mudiay and you just work down from there, there's six or seven potential first round picks that are point guards. Right off the bat, he's behind the 8-ball."
ESPN.com currently rates Ferrell as the No. 85 prospect overall in the class and just the 17th best point guard prospect. There are 60 picks in the draft and only first round picks receive guaranteed contracts.
Fraschilla said that Ferrell is smart to explore his status and make an informed decision based on the feedback he receives, but added that right now he would summarize his stock as anywhere from a team liking him in the early to mid second round to potentially going undrafted.
"I happen to think he's a very skilled and talented college guard," he said. "He's got great heart, he's a shot maker, he seems to have a great work ethic, good teammate. These are the things I've observed from watching him over his career. I think at this point right now, he's a marginal NBA prospect. It doesn't make him a bad player, it doesn't mean he can't make it in the league some day because there are 450 spots."
One factor that Ferrell may be contemplating is whether he can significantly alter his stock by returning for another season. As a 6-foot point guard, a rarity in today's NBA, his size is one of the biggest factors working against him and that isn't going to change.
However, the exposure he could receive if he were to lead Indiana on a deep NCAA tournament run as a senior is something to consider, according to Fraschilla.
"I can't tell you that his stock will improve dramatically if he comes back unless potentially Indiana wins big and he's a reason that they get to the (NCAA) tournament and go far," Fraschilla said. "I don't know that there's much he can necessarily do physically because he is who he is. He's a small, scoring point guard. He's got some explosiveness, but he's certainly not in the range of a Damian Lillard or some of the explosive little guards in the NBA."
Indiana has had three players leave early for the NBA in the last two years and all three ended up in the lottery. Victor Oladipo was the No. 2 pick in the 2013 draft and Cody Zeller went No. 4. In last June's draft, Noah Vonleh went No. 9, but spent a significant portion in the NBA Development League.
That's not going to be the case with Ferrell if he declares, but Fraschilla said that Tom Crean will make sure he has the pertinent information to make his decision.
"Coach Crean is extremely well connected in the NBA," Fraschilla explained. "What's gotten Tom to the level he's at as the coach at Indiana is that he's always been a guy who has asked a million questions of people he feels can help him as a coach and his program overall. So through the years, he has incredible relationships with tons of NBA people.
"In a situation like this, I'm sure he's reaching out and talking to people and asking what they think, finding out what scouts think and I'm sure he's going to give Yogi very good, accurate information. It may or may not be what Yogi wants to hear and then he and his family have to evaluate the risk-reward of coming out, gambling on getting drafted versus going back to college for a senior year where he has a chance to continue to make his mark."
More than 30 underclassmen have already opted to put their names in the 2015 draft, which suggests that there will again be a significant list of players who will go undrafted and end up in the NBA's D-League or overseas next fall.
Fraschilla believes the gap between even the highest level of college basketball and the NBA is larger than most realize.
"The one thing I tell people all of the time about college basketball right now and people are beginning to realize this, the Big Ten, the Big 12 and the ACC, it's the equivalent of Double-A baseball compared to the major leagues and the NBA," he explained. "There's a big gap between being a really good college player and being a NBA player, a legitimate NBA player that stays in the league. Yogi is not unlike a lot of guys who are having terrific college careers, but it may not necessarily translate to the NBA. In other words, he's hitting .320 at Double-A. But that doesn't mean you stick a guy who is hitting .320 in Double-A and put him in the major leagues. That just doesn't happen.
"There's a fail factor there among guys that get drafted even who were really good college players because the level of play in the NBA has just increased to the point where there's a big gap and that's where Yogi finds himself right now. He's a very good college player and he's trying to determine whether his skill set can translate. At this point, I don't think it translates right now as a junior, it could be that he goes undrafted and plays in Europe or plays in the D-League and then all of the sudden he's 25 or 26 and he's continued to work and he finds himself on a team. He's not as much of a longshot to play in the NBA as some might think, but I just don't think his draft value is particularly high at this point."
Filed to: Yogi Ferrell