Derby Festival Basketball Classic recap: O.G. Anunoby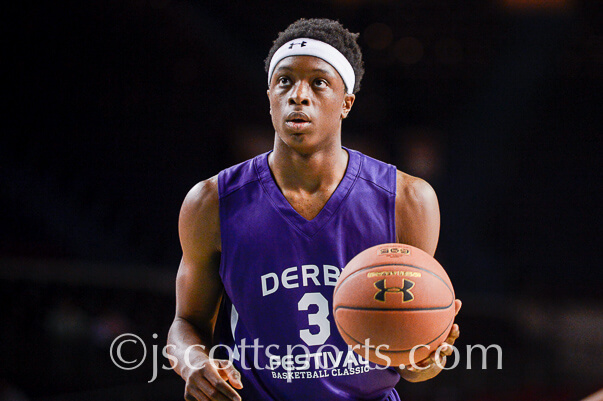 Class of 2015 Jefferson City (Mo.) forward and IU signee O.G. Anunoby was one of three future Hoosiers who participated in the Derby Festival Basketball Classic at Freedom Hall.
Inside the Hall was there for both practices, the Night of the Future Stars event and the game and will be recapping the weekend for all three recruits.
Game stats
12 points (4-of-7 FG, 0-of-1 3PFG, 4-4 FT), four rebounds (one offensive), one assist, one steal in 18 minutes
Player observations
Along with Louisville recruit Ryan McMahon, Anunoby was one of just two recruits selected for the Derby Festival Basketball Classic without much of a national profile, but used the weekend to showcase that he belonged. A long, athletic wing, Anunoby is a legit 6-foot-7 and showed off his ability to rise and finish at the rim in Friday morning's practice. In fact, one of the event organizers told me that many of his peers believed he would win the dunk contest on Friday night, a prediction that didn't come to fruition after he got off to a rocky start on his first dunk and never recovered.
The upside with Anunoby is obvious as he has the wingspan to grow into a very good defender, but like Morgan, he has significant work to do in the weight room. He showed an ability in Friday's practice to step out and hit the 3-pointer and in Saturday's game, he was aggressive in going to the rim and drawing contact. While it's not accurate to describe his first step as explosive, he's sneaky in that regard as he was able to glide past defenders a few times on Friday morning. Overall, Anunoby appears to be a prospect who has plenty of long term potential and while his role may not be a substantial one as a freshman, he has the tools to contribute and develop into a rotation player.
Quotable
"I'm a versatile, athletic big guard and wing. I can shoot, pass, defend. I like the wing." – Anunoby to WDRB on his game.
Video recap
3-point shootout
Filed to: O.G. Anunoby