That's A Wrap: Emmitt Holt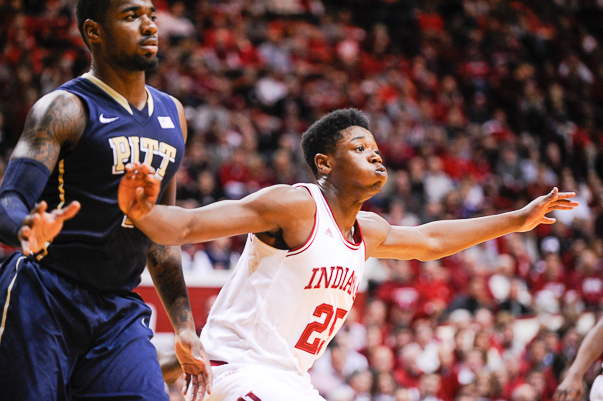 Welcome to "That's A Wrap," our player-by-player recap of the 2014-2015 Indiana Hoosiers. Today: Emmitt Holt.
Holt (29 games): 3.6 points, 3.0 rebounds, 65% FG, 13.5 OR% in 11.4 minutes per game.
When Indiana departed for its tour of Montreal and Ottawa in early August of last year, the Hoosiers did so without their two best post options for the upcoming season.
Junior Hanner Mosquera-Perea was unable to make the trip due to Visa issues and Emmitt Holt was preparing for a postgraduate season at Vermont Academy. The 6-foot-7, 225-pound Holt didn't even emerge as a legitimate option for the Hoosiers until August, when reports began to surface that IU, in need of interior help, had inquired about bringing him to campus as a potential addition to the 2014 recruiting class.
Things progressed quickly from there as Holt committed on August 20 and arrived on campus shortly thereafter for the start of the fall semester. "My parents always told me that the worst feeling in life is to look back and say 'I wonder' because once doors close it's rare they are reopened," he wrote on his Twitter account on the day he made his pledge to the Hoosiers.
His freshman season got off to a rocky start as he was the driver in the accident on Nov. 1 that sidelined teammate Devin Davis for the year, a traumatic event that had to take a toll on Holt.
And although the information that surfaced in the aftermath of the accident indicated that Holt was no more at fault than Davis, he was suspended for IU's first four games and also issued an apology for his involvement.
That accident, along with the suspensions of Troy Williams and Stanford Robinson, ended up serving as a turning point for Indiana's season as the Hoosiers rallied in the wake of scrutiny and criticism from both fans and media.
As for his on-court performance, Holt was a contributor throughout the season and came up big in some key spots for the Hoosiers. In IU's win over Pittsburgh in the Big Ten/ACC Challenge, he went for 15 points, five rebounds and two blocks in 19 minutes off the bench. And in a must-win situation earlier this month in the Big Ten tournament, Holt delivered eight points against Northwestern.
Looking towards his future, the upside Holt possesses is obvious. He's got an incredible wingspan that allows him to play taller than his height and has solid hands with an ability to finish plays at the rim. From a percentage standpoint, he was IU's best player in terms of drawing fouls as he finished with a free throw rate (FTA/FGA) of 83.3 percent. He was also, from a percentage standpoint, IU's best offensive rebounder at 13.5.
Improvement as a free throw shooter (54 percent) should be a clear offseason objective for Holt, as should learning to defend without fouling as he averaged 5.8 fouls per 40 minutes, the second highest mark on the team.
Bottom Line: Holt grew up both on and off the court during his freshman season in Bloomington as he owned up to the mistake he made off the court and exhibited growth throughout the year on the court. Soft spoken and quiet, Holt was a surprise addition for Indiana late in last year's recruiting cycle, but is the type of player that Indiana needs in the program to build continuity.
Quotable: "I think we can be really good next year. Guys coming back, everyone working hard in the offseason, we can really do some damage." – Holt following IU's loss to Wichita State.
Previously: Robert Johnson, Max Hoetzel
Filed to: Emmitt Holt