NCAA Selection Sunday primer: IU sweating out tourney fate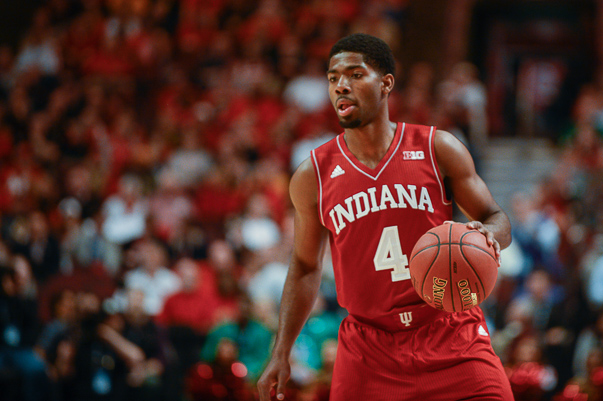 After a 1-1 split in Chicago at the Big Ten tournament that included a win over Northwestern and a loss to Maryland, Indiana still finds itself squarely on the bubble for the NCAA tournament.
The bracket will be revealed tonight at 6 p.m. ET on CBS, but we've compiled everything you need to know in one place in our Selection Sunday primer:
Overview
If Indiana makes the tournament, it will be on the strength of its overall schedule and some key wins over other teams that will be in the field. The Hoosiers have wins over Butler, SMU, Ohio State and Maryland, four teams that are solidly in the tournament. IU has two wins over the RPI top 25, four over the RPI top 50 and eight over the top 100.
Working against Indiana is its volume of losses (13), although only one of those losses came to a team not projected to make the field in Northwestern. IU avenged that loss convincingly on a neutral court at the Big Ten tournament. The Hoosiers also picked up seven of their nine conference wins over the bottom half of the Big Ten.
Nitty Gritty Profile
· Record: 20-13 (9-9 Big Ten)
· RPI: 60
· SOS: 26 (via CBS)
· Home Record: 15-4
· Away Record: 3-6
· Neutral Court Record: 2-3
· vs. RPI Top 50: 4-9 (via CBS)
· vs. RPI Top 51-100: 4-3 (via CBS)
A look at the bubble
Here's a look at the profiles of the 14 teams ESPN's Joe Lunardi has competing for eight at-large spots. If Connecticut beats SMU today in the American Conference championship game, only seven spots will be available:

If the committee puts a heavy emphasis on the RPI, Indiana's position isn't strong. However, from a strength of schedule and wins against the RPI top 50 and RPI 51-100, the Hoosiers compete very favorably in this group.
Current Projections
· ESPN Bracketology (Joe Lunardi): First team out
· CBS Sports (Jerry Palm): 11 seed in South Region vs. Colorado State in Dayton (First Four game)
· Assembly Call (Andy Bottoms): 11 seed in Midwest Region vs. Ole Miss in Dayton (First Four game)
· Crashing the Dance: No. 39 overall seed (Third No. 10 seed)
· Bracket Matrix: Fourth 11 seed (Last team in)
When Indiana was 15-4 following an 89-70 trouncing of Maryland on Jan. 22, the Hoosiers appeared to be a lock for inclusion in the tournament. But the Hoosiers dropped nine of their last 14 games and plummeted from a projected No. 6 or No. 7 seed all the way to the bubble.
While the Hoosiers certainly have a case to be included in the tournament, they also won't have much of an argument if they don't make the field. At 15-4, all Indiana needed to do was finish the final stretch of the regular season at .500 or a little better and this wouldn't even be a discussion. Limping to the finish line put this team's fate in the hands of the selection committee and there's no way to predict what a group of individuals in a room will do after days of deliberating various resumes.
And if Indiana is actually the last team in the field as of this writing, it could ultimately come down to what happens later today with Connecticut.
2015 Tournament Sites
· First four: Dayton
· Second, third round: Charlotte, Columbus, Louisville, Jacksonville, Omaha, Pittsburgh, Portland, Seattle
· Regional: Cleveland, Houston, Los Angeles, Syracuse
· Final Four: Indianapolis
Filed to: NCAA Tournament