Hoosiers confident about NCAA tournament chances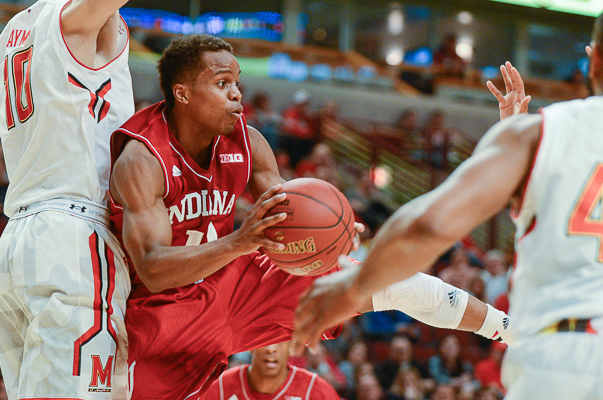 Indiana's NCAA tournament fate will be revealed in just a few hours. But the Hoosiers believe they should be in the field of 68 when it is announced at 6 p.m. ET on CBS.
For the past two weeks, the Hoosiers (20-13, 9-9) have been on the edge of the bubble due to three straight losses to close the regular season and then another loss to Maryland after just one win in the Big Ten tournament.
However, the Hoosiers feel they deserve to be in the field — and that it is because of their whole body of work, they said.
"I think we should be in because we compete every game," sophomore Stanford Robinson said. "Yeah, we have some losses, but I think every good team we've battled with, we stayed in it or we've won the game."
Two months ago, it appeared Indiana was well on its way to its third NCAA tournament appearance in four years. At 15-4 and 5-1 in the Big Ten coming off a 19-point win over Maryland and previous victories against Ohio State, Butler and SMU, there was plenty of reason to be optimistic.
The Hoosiers would close the regular season, however, with a 4-8 record, their wins coming against Rutgers (twice), Michigan and Minnesota. One loss came against Northwestern, a team ranked in the 100s in the RPI. But seven of those defeats came against teams projected to be in the NCAA tournament field.
"When you look at the body of work and factor the things in, and I really hope our league gets factored in," Indiana coach Tom Crean said. "Obviously there's a lot of really good teams in this league."
Perhaps what has Indiana most optimistic of their NCAA tournament hopes, though, was its performance in the Big Ten Tournament on Thursday and Friday. In their 71-56 win over Northwestern, the Hoosiers showed they still had life. They were energized, made shots and played better defense — "I like the way we played, I like the way we fought," junior Yogi Ferrell said.
Even in their 75-69 loss to No. 2 seed Maryland, the Hoosiers believed they had another good performance. That they were passing the "eye test" that they belonged in the NCAA tournament.
"If we're fortunate to get into the NCAA tournament, we're going to try and ride with these two games that we played with here," Ferrell said. "I like the way we played, I like the way we fought for both games, moving the ball, playing great defense, rebounding for our team, and hopefully we've done enough to make the tournament.
"If not, then so be it. But if we do, we feel like that we can play the same way going into these next games."
It doesn't mean, though, that the Hoosiers aren't nervous for tonight's proceedings.
Some players said they weren't going to worry about whether they made the field of 68, that "we feel we deserve a spot in the tournament," freshman Emmitt Holt said.
Others, though, are much more anxious about their fate.
"We're really anxious," Ferrell said on Friday. "I wish it was Sunday tomorrow just to see if we got in."
And what exactly will that wait feel like?
"The longest wait ever," Troy Williams said.
Filed to: NCAA tourmament