Hoosiers stay focused ahead of regular season finale against Michigan State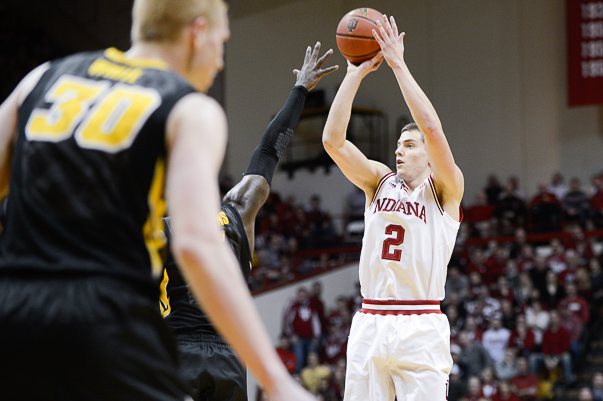 As rumors swirl surrounding the future of Indiana's men's basketball program, the Hoosiers will play in their regular season finale this afternoon at 12 p.m. against Michigan State in Assembly Hall.
The past few days has been nothing short of dramatic — from athletic director Fred Glass giving Tom Crean a vote of confidence to speculation about Indiana coach Tom Crean's future in Bloomington to news that McDonald's All-American Thomas Bryant will in Assembly Hall for today's game.
But all of that has remained out of the Hoosiers' players focus. And as their sights are set on the Spartans, the Hoosiers aim for their 20th win of the season and their 10th conference win — in their third attempt to achieve that feat.
"I think our guys are fantastic," Crean said. "I'm proud of these young men. They've done a fantastic job all year long and all week long. And I think they're absolutely focused, as is their coach and their coaches and everybody else on what they need to do."
The Hoosiers' task of facing the Spartans has always been difficult — just two months ago Michigan State defeated Indiana by a 70-50 score in East Lansing and out-rebounded Indiana by a 50-28 margin, the Hoosiers' worst offensive output this season. And heading into this afternoon's game they have lost four of their past six games and seven of their past 11.
They also are coming off a 77-63 loss against Iowa on Tuesday, in which the Hoosiers struggled to move the ball against the Hawkeyes' zone and failed to gain traction on the boards — especially in the second half.
On Friday, junior Nick Zeisloft said the keys against the Spartans include ball movement and rebounding — something the Hoosiers struggled with in East Lansing and just this past Tuesday.
"We need to keep moving the ball, keep bodies moving offensively," Zeisloft said. "We know when that happens we're tough to guard, and on top of that it's going to be a big transition defense game Saturday and a big rebounding game Saturday."
But both Zeisloft and Yogi Ferrell also didn't question this will be a big game for other reasons.
Neither are focused on the outside issues surrounding the team. Ferrell said "we're not going to listen to what anybody else says. It's basically us against the world." But he said they feel a need to rally back from back-to-back losses against Northwestern and Iowa. That they "hit a lull."
For much of the season, Ferrell noted, the Hoosiers have battled adversity and have responded to it. When they lost by 20 in East Lansing, they won four straight games. But they have not won back-to-back games since that four-game win streak in January.
And that makes today's game that much more important, Ferrell said, even as questions remain regarding the future of the program.
"We're going to go out there and leave it out there on the court,"Ferrell said. "And show our fans how hard we want to go out there and win this game."
Hartman 'getting closer' to a return
Sophomore Collin Hartman is "getting closer" to a return from a bone bruise in his lower left leg, although Crean said he "can't give you a concrete answer" as to whether the 6-foot-6 forward will play against the Spartans.
On Friday during his pregame press conference, Crean mentioned the impact of having Hartman sidelined since the Hoosiers' 84-54 win over Rutgers, as they have gone 0-2 since then and have notably struggled on the court.
"When we look at the numbers, we miss Collin a great deal," Crean said. "It's amazing how down our percentages are just because of one guy in the sense of the way he moves the basketball. He's got such a great basketball IQ. And again, he's 6-6 and he's playing out of position, but you have to guard him and he moves the basketball."
For much of this season, Hartman has played at the No. 5 spot on the court on an undersized team, even replacing 6-foot-9 Hanner Mosquera-Perea in the starting lineup for seven games in January and February while Mosquera-Perea was sidelined with a knee injury.
Hartman, according to KenPom.com, ranks as the No. 7 player in the Big Ten in terms of offensive efficiency and played in all 28 of the Hoosiers' games before sustaining his injury in Piscataway. In addition, he leads the Big Ten in 3-point field goal percentage in league play (17-of-32), despite not even making a single 3-pointer all of last season.
He also spent all of this past offseason rehabilitating a torn right ACL suffered during a workout just two days after Indiana's final game last season.
Filed to: Michigan State Spartans, Nick Zeisloft, Tom Crean, Yogi Ferrell