Fred Glass on Tom Crean to ESPN: 'He has my full support'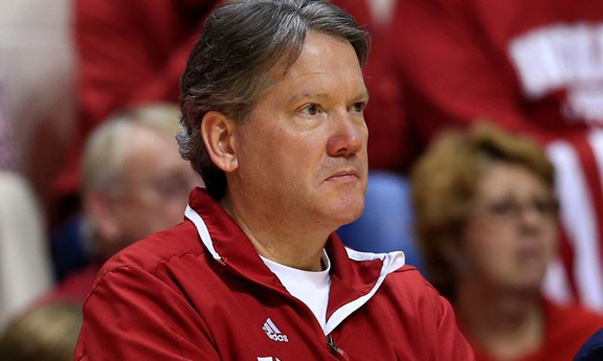 Indiana coach Tom Crean is not in danger of losing his job, IU vice president and director of athletics Fred Glass told ESPN on Thursday.
In an interview with Andy Katz, Glass said that he met with Crean on Wednesday and reassured him of his job security and the AD added that he remains "bullish" on IU's head coach.
"He's a great coach," Glass told ESPN. "He has my full support. I have a great deal of confidence in Tom's body of work. This team overachieved early and then hit a tough patch."
Glass also told both ESPN and the Bloomington Herald-Times that Saturday's result against Michigan State has no bearing on whether or not Crean remains the Hoosiers coach — he said to ESPN "it's ridiculous to say that someone is coaching for his job for one game."
In regards to the Hoosiers' recent slide in results, Glass on Thursday blamed it on a variety of factors — that James Blackmon Jr. "has hit the freshman wall," that Collin Hartman is out injured and that they have also been without Devin Davis for the entire season.
Indiana has lost four of its past six games and seven of its past 11 after starting the season 15-4 and 5-1 in the Big Ten. They currently are listed as one of ESPN's projected last four teams into the NCAA tournament.
That said, overall, Glass believes that Crean has "done a really good job with these guys."
"We have a chance to win our 20th game and be 10-8 in the Big Ten," Glass told ESPN. "I would take that in a heartbeat at the beginning of the season."
Glass also wanted to dispel the notions that he is keeping Crean on board due to his large buyout of $12 million. On July 1, that drops to $7.5 million, although Glass said that does not have any impact on any future decisions.
"The buyout in some quarters is overblown," Glass told the H-T. "I get that it's a big number. What people don't realize is, if that were to occur, it would get paid out over five years. It's not like he gets a $10 million dollar check and walks out the door. It gets paid out over time as if it were his regular salary over five years, which mitigates the impact on the department and it has a set-off provision so that if he went to another school or to TV or had some other employment, that gets set off.
"I hesitate to even talk about it because it makes it seem like that's some sort of consideration. It's not. My main point is Tom is the coach here because I think he needs to be the coach here, not because we feel backed into it because of the buyout."
Filed to: Fred Glass, Tom Crean