Thomas Bryant to visit Indiana on Saturday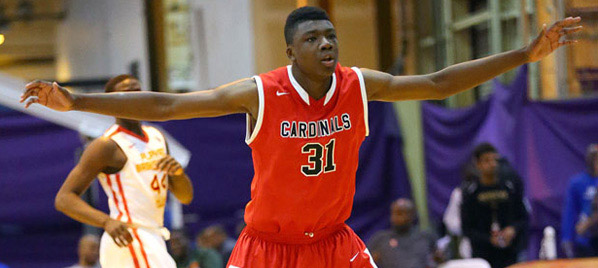 2015 McDonald's All-American center Thomas Bryant will attend Indiana's game against Michigan State on Saturday, Huntington Prep coach Arkell Bruce confirmed to Inside the Hall on Friday.
The 6-foot-10, 240-pound Bryant is rated the No. 27 prospect in the 2015 class, according to the 247Sports Composite, and is considering Indiana, Syracuse, Missouri and Kentucky as his college destinations, per Bruce.
Bryant took an official visit to Bloomington in October and has remained in touch with Indiana's staff since then.
"I like their mindset of how they play," Bryant told Inside the Hall in July. "They let guys do more than just one position. You can come in as one position and train at a different spot, too. You never know when you may need to play another spot or in a different position against another player."
This past season, Bryant led Huntington Prep to a 31-2 record, averaging 17.3 points, 11.6 rebounds, 4.5 blocks and 2.5 steals per game.
In addition to being named to the McDonald's All-American Game, Bryant also was named to the Jordan Brand Classic roster this past week.
Also joining Bryant on the visit on Saturday will be 6-foot-3 freshman guard Jon Kabongo, Bruce said. Kabongo already has an offer from Virginia Tech and averaged 6.0 points per game as the lone freshman on Huntington Prep's roster this past season.
Filed to: Jon Kabongo, Thomas Bryant