Five-star center Thomas Bryant on IU: "They're recruiting me pretty hard"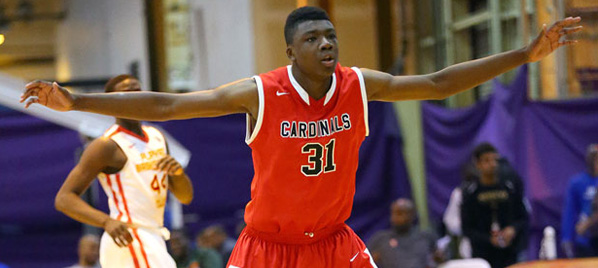 Class of 2015 Huntington Prep (W.V.) center Thomas Bryant is one of 33 players in Colorado Springs this week vying for a spot on USA Basketball's U17 World Championship team.
A native of Rochester, New York, the 6-foot-10, 220 pound Bryant is regarded as one of the best centers in the country and the opportunity to play against other elite talents like Ivan Rabb, Daniel Giddens and Henry Ellenson is one he's embraced.
"They always play hard, you can't take a play off against those guys," he told Inside the Hall by phone from Colorado Springs. "They all know how to score and you've just got to find a way to get a defensive stop against them. It makes you a better player."
While Bryant routinely faced the nation's best players in the Nike Elite Youth Basketball League (EYBL), where he plays for New York-based Team SCAN, he said it doesn't get any better than a camp where he's strictly facing the nation's best players.
"I'm loving it out here," he said. "It's a blessing just to be here and I'm just playing as hard as I can against high-level players. Just coming up with different combinations to try to score (is a challenge) or get a deflection and just trying to keep my intensity up, really."
Bryant's play last week in the EYBL Finals at the Peach Jam was a big reason that Team SCAN advanced all the way to the event's semifinals.
Over five games at the Peach Jam, he averaged 16 points and 10.5 rebounds. He also had 10 blocks, hit 19 of his 22 free throws and made 62.9 percent of his field goals. Bryant is currently rated as the No. 22 prospect nationally according to the 247Composite.
His recruitment is full of high major schools, including Florida, Kansas, Missouri, Ohio State, Syracuse, Villanova, West Virginia and several others.
"It's mostly just ACC, Big Ten and Pac-12 schools," he explained. "There are really no specific ones (coming the hardest)."
One new school that has entered the mix with Bryant is Indiana. The Hoosier staff offered a scholarship recently and Bryant is open to their message thus far.
"They have (offered). I like their mindset of how they play," Bryant said. "They let guys do more than just one position. You can come in as one position and train at a different spot, too. You never know when you may need to play another spot or in a different position against another player."
Although the interest from Indiana is recent, Bryant said the Hoosiers are making a push to gain traction as he begins to schedule official visits.
"They've talked to me (about needing a big man)," he said. "They're recruiting me pretty hard."
Filed to: Thomas Bryant