What to Expect: Michigan State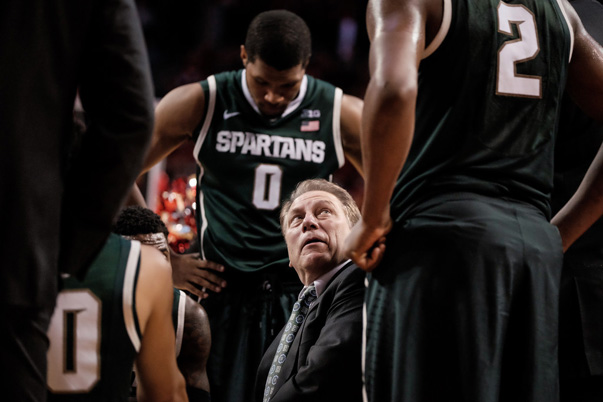 Indiana wraps up the regular season on Saturday afternoon in Assembly Hall when Michigan State comes to Assembly Hall. The Spartans are 20-10 overall and 11-6 in Big Ten play.
The game will be broadcast on ESPN at 12 p.m. ET with Bob Wischusen and Dan Dakich on the call:
On Jan. 22, Indiana was riding high coming off a 89-70 win over Maryland. The Hoosiers were 15-4 overall, 5-1 in the Big Ten with what appeared to be a favorable schedule down the stretch. At the time, this team looked like a virtual lock to make the NCAA tournament.
Fast forward to March 3 and six Indiana players along with Tom Crean came into the Assembly Hall press room with little explanation for what had just transpired on Branch McCracken Court. The Hoosiers, desperately in need of a solid performance following a loss at Northwestern, laid an egg in a 77-63 loss to Iowa.
The NCAA tournament was no longer a certainty, but in the days following the loss, athletics director Fred Glass came out with a public vote of confidence in Crean as the coach.
The current story surrounding IU basketball has shifted off the court, but there are still games to be played and a potential bid to snag for the NCAA tournament if the Hoosiers can somehow bounce back. The next chance to pick up win No. 20 comes against Michigan State, who has already locked up a NCAA bid, but will be looking to play spoiler on an IU season that is clearly at a crossroads. There's also a bit of recruiting intrigue tomorrow as Thomas Bryant is expected on campus.
MEET THE SPARTANS (Note: All stats are for conference games only)
The Spartans have overcome some significant departures from last season to post another finish in the top half of the league, but the road hasn't been easy. Izzo's team has some solid wins in conference, but a head scratching loss to Texas Southern along with three conference losses in the Breslin Center have set the resume back a bit. Still, this is a team that ranks in the top five in the Big Ten in both offensive and defensive efficiency.
Senior Branden Dawson, who came to East Lansing as a McDonald's All-American, is a tough matchup because of his athleticism and rebounding ability in the frontcourt. He's questionable for Saturday after being hit in the head in Wednesday's win over Purdue. If he's able to go, Indiana will have the task of stopping a player who ranks in the top three in the league in both offensive and defensive rebounding percentage. He's finishing 58 percent of his 2s in Big Ten games, but shooting just 49 percent from the free throw line.
D.J. Valentine, Brynn Forbes and Travis Trice form a three-man backcourt that can do damage from distance. Forbes is 44.1 percent on 3s in Big Ten play, Valentine is at 38.8 percent and Trice is at 36.2 percent. Trice is the team's leading scorer in Big Ten play at 15.8 per game, Valentine is second at 15 a game and Forbes averages 8.4. Trice leads the Big Ten in assist rate at 34 percent.
The five position remains a platoon with sophomore Gavin Schilling as the starter and junior Matt Costello as the backup. Costello is actually logging more minutes, but both rank in the top six in the league in offensive rebounding percentage. Costello is finishing 57.3 percent of his 2s in league play and Schilling is finishing close to 51 percent of his 2s.
The other three Spartans who will see time are freshman Marvin Clark, a former IU recruiting target, who is making just 29.4 percent of his 3s in Big Ten play. His high school teammate, freshman point guard Lourawls Nairn, who starts at point guard and was also recruited by Indiana, is a pure distributor who really struggles to score (42.6 effective field goal percentage). Sophomore guard Alvin Ellis III plays sparingly and has the lowest effective field goal percentage in the rotation at 36.8.
A LOOK AT THE NUMBERS

A couple of brief thoughts on the numbers above: Michigan State presents a significant challenge on the boards for Indiana. The Spartans rank in the top three in the league in both defensive and offensive rebounding percentage and the Hoosiers have been susceptible on the defensive glass in many of their losses.
Michigan State is also very solid offensively with a top five offense overall and the league's third best shooting team. Indiana struggled to its worst offensive performance of the season in the first meeting between these teams in East Lansing and the Hoosiers must be able to fight through the physicality of the Spartans on the perimeter and not settle exclusively from the perimeter.
WHAT IT COMES DOWN TO
The Pomeroy ratings have this contest as basically even, with Michigan State installed as a one-point favorite and a 49 percent chance for an IU win. Sagarin favors the Spartans by just a half of a point.
Indiana's overall body of work this season in Assembly Hall is still strong, but the Hoosiers are coming off two straight losses in front of the home fans and arguably their shakiest performance of the season against Iowa. This game obviously means plenty in terms of IU's NCAA tournament picture as a win would likely solidify a bid and a loss would put a huge emphasis on next week's Big Ten tournament in Chicago.
A season that started out with turbulence and stabilized in the middle now appears to be at a crossroads of sorts with the final regular season game as the fork in the road. Win and Indiana should feel good about its NCAA tournament chances. A loss, which would be the eighth in the final 12 for the Hoosiers, likely puts this group squarely on the bubble with an interesting eight days to go before Selection Sunday.
(Photo credit: Eric Francis/Getty Images North America)
Filed to: Michigan State Spartans