The Minute After: Minnesota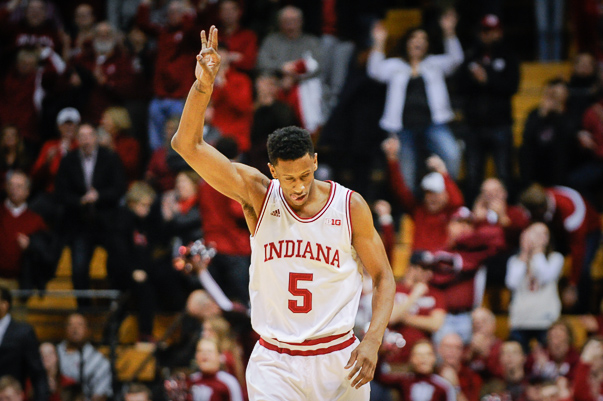 Thoughts on a 90-71 win over the Golden Gophers:
Minnesota's press had the Hoosiers a little skittish to start the contest. The Golden Gophers got out to the early lead and they held an advantage over the Hoosiers as late as the 7:33 mark in the first half. But thanks to some strong offensive rebounding, a parade of 3s and a phenomenal tip-in from Robert Johnson at the buzzer, the Hoosiers found themselves up six (44-38) at the half.
Despite the lead, Minnesota had turned the Hoosiers over on 26.2 percent of their possessions. They were shooting it well and you got the feeling a W wasn't going to come easy. Another single-digit game appeared ahead on the horizon.
But Indiana was so masterful from beyond the arc, Minnesota simply had no chance at an upset bid. Shot after shot from 3-point range kept going up in the second half, and more often than not the Hoosiers were banging them home. Eighteen in total found the bottom of the net this Sunday evening. The performance set a new school record for makes in a game. Those came on 32 attempts, good for 56.3 percent from distance. It aided in an effective field goal percentage of 75.9 and the Hoosiers scoring a strong 1.37 points per possession.
James Blackmon Jr., after a forgettable shooting performance against Maryland on Wednesday night, led the charge from distance (6-of-10) for a team-high 24 points, as a total of six Hoosiers hit from 3-point range on this historic night. Fellow freshman Robert Johnson, who also shot it poorly against the Terps, went 5-of-8 from beyond the arc and also had a couple nice passes in the pick-and-roll to Hanner Mosquera-Perea and Emmitt Holt. Nick Zeisloft went 2-of-4. Yogi Ferrell was 1-of-6. Collin Hartman hit both his attempts.
Most surprising? Troy Williams hit two triples in the second half, the last of which coming in the final minute of the game to give Indiana the new program record. He looked smooth and confident taking both of them. Williams also looked good hitting a top of the key jumper in the first half to go along with his usual mix of aggressive dunks on putbacks and out of the half court offense on his way to 19 points. The sophomore, for all his improvement this season, had still severely lacked any sort of a jumper.
It's just one game. But if Williams can start joining in on Indiana's 3-point barrage with any sort of consistency? Watch out, world.
Jordan Fuchs made his Hoosier debut in the first half and the inexperience was evident. In his two minutes of action, he picked up an over-the-back foul going for an offensive rebound and was scored on easily by Maurice Walker on the other end.
Indiana ended up still turning the ball over on 27.4 percent of its possessions and Minnesota made five more free throws. But none of it mattered. Indiana burned up the nets with triples and cruised to an impressive 19-point victory.
A Purdue team that continues to establish itself as an upper echelon Big Ten squad comes to Bloomington on Thursday evening. After getting embarrassed in West Lafayette, the Hoosiers will be looking for revenge against a squad that presents a tough matchup. But shoot it like they have against Maryland and now Minnesota inside Assembly Hall, and few stand a chance to knock off the Hoosiers on their home court.
Filed to: Minnesota Golden Gophers