The Minute After: Maryland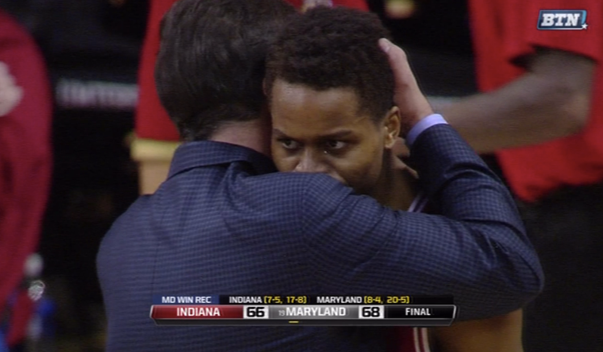 Thoughts on a 68-66 loss to the Terps:
Tied at 61 with just over 1:30 to go, Robert Johnson pushed the pace. Across the timeline he came. Collin Hartman sprung loose from Jake Layman and called for the ball at the free throw line. Johnson made the pass. Hartman missed the lay-up ahead of the defense.
This was the story of Indiana's night in College Park.
After running Maryland out of the gym in Bloomington on the strength of a 15-of-22 mark from distance, Xfinity Center's baskets paid the Hoosiers little favor. Troy Williams missed two dunks. James Blackmon Jr. shot just 2-of-15 and 0-of-5 from distance — including a late corner 3-pointer that would have given Indiana a one-point advantage with 44 seconds to go. Robert Johnson hit two late important baskets, but in front of friends and family, finished just 3-of-13. The Hoosiers made only 35.7 percent of their 2-point attempts.
So many missed opportunities. And despite it all, Indiana never trailed by more than six. It seemed like the game may finally be turning in Maryland's favor after Layman rebounded a Dez Wells missed free throw attempt which led to a corner 3 for Jared Nickens. Wells drove and scored on the Terps' next possession to give them that six-point cushion with 5:14 to go. But Indiana hung tough. It's what this team does. The confidence never wavers. Johnson hit a 3-ball. Ferrell hit another to tie it at 57 with 3:39 to go. Johnson hit a jumper to tie it back up at 59. Williams tipped in a miss to put the Hoosiers in front at 61-59 with 1:47 left.
But Wells scored for Maryland and Layman followed it up with a score over Blackmon on a switch to gain the lead back at 63-61. We all know how it played out from there. Against some made free throws from Maryland, Williams got another bucket and Ferrell hit another dagger 3 to pull Indiana within one at 67-66. Wells splits one of two at the line, 68-66 Terps. On the final possession of the game, Ferrell crossed over Richaud Pack at the top of the key and had a great look for Indiana to take the lead. It missed. Maryland had issues snagging the rebound and the ball fell into Ferrell's hands. His off balance attempt falling out of the right side of the paint didn't fall.
Ferrell went to the ground, slapped the floor and hung his head. Tom Crean ran from the other side of the court and gave him a hug. It was a well-deserved embrace. Ferrell played a brilliant game inside a great overall game between these two teams in a battle to keep pace in second place with Ohio State. The Park Tudor product scored a game-high 23 points, hitting 6-of-9 from 3-point range to go along with six assists and zero turnovers in 37 minutes. He had come up just short of taking the lead or forcing overtime and was in emotional pain.
Beyond Ferrell's tremendous effort and performance, Williams also helped hold down the fort with others struggling on offense. He finished 7-of-13 from the floor (17 points), running some two-man game with Ferrell for alley-oops, getting some tip-ins and simply flying by Maryland for scores around the rim.
Points per possession were close in this one (1.08 for Maryland, 1.05 for Indiana) despite Maryland shooting a 59.2 eFG% against Indiana's 44.8%. A few reasons for this. The Terps turned the ball over on 20.7 percent of their possessions, leaving them with a host of empty trips. The Hoosiers scored nine points off those turnovers and also 17 second-chance points thanks to rebounding a third (33.3%) of their misses. The Hoosiers were also great with the ball tonight, turning it over on just 9.6 percent of their possessions (six turnovers) to keep things interesting and not give away possessions.
On paper, this was the toughest game remaining on Indiana's Big Ten schedule. Maryland entered the contest 14-1 at home and ranked No. 19 in the country. The Hoosiers were in it right down to the wire. It all bodes well for the rest of the conference slate, but does little to soften the sting of this crushing defeat.
Filed to: Maryland Terrapins