The Minute After: Purdue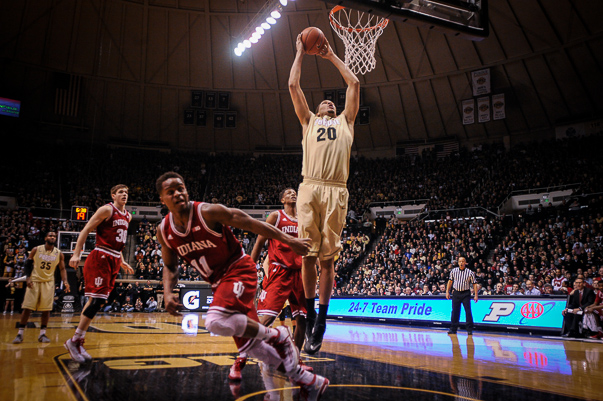 Thoughts on an 83-67 loss to the Boilermakers:
Mackey Arena cheered loudly. The Paint Crew jumped up and down. Here came the opening tip between A.J. Hammons and Troy Williams. As Hammons gained possession for the Boilermakers, Williams never made it off his feet and fell to the ground.
It was symbolic of things to come.
The Boilermakers established themselves immediately behind a raucous crowd tonight. Indiana went down for the count early, never to recover. Like the Buckeyes on Sunday, Purdue ramped up its defensive pressure on the perimeter, playing IU's dribble handoffs tighter and getting into its air space. With Hammons behind the first line of defense to challenge any Hoosier who broke through, it was an intimidating, tough defense that gave Indiana trouble.
After going down by as many as 13, it seemed like the Hoosiers were settling into the game as the first half neared completion. Williams hit a layup with 1:45 left to close the gap to eight points. After an Emmitt Holt block and steal, Indiana had the opportunity to close the gap even further with just over a minute to play. But James Blackmon Jr. made an ill-advised pass to Williams — during a game Indiana was a bit too careless with the ball — on IU's ensuing possession and Basil Smotherman stole it and scored in transition.
It was as close as Indiana would get the rest of the evening.
The Hoosiers entered the locker room at halftime just 1-of-9 from 3-point range with an eFG% of 33.9 and scoring under a point per possession (0.9). Indiana improved a little bit on these numbers by game's end (4-of-19, 40.9%, 1.01 PPP), but it mattered little as Purdue stepped on the Hoosiers's throats in the second half to go up by as many as 20 points.
Hammons racked up eight blocks for the game. Six of them came in the second half as Indiana's perimeter threats were thwarted again and again. He only had four field goal attempts but made them all (11 points). Purdue's other seven-footer, Isaac Haas, attempted two field goals, making one. Only six field goals between these two tonight, but it was the collective effort of the Boilermakers on offense that saw them scoring 1.25 points per possession with an eFG% of 63.0.
Purdue had 10 players score, as Indiana's perimeter defense allowed the likes of Raphael Davis (19 points), Bryson Scott (11 points) and Smotherman (eight points) to get into the paint and score. This one was billed as a contrast of styles and Purdue certainly had things tilt to its favor for most of this one.
Yogi Ferrell, the one who knows this rivalry the best, tried his hardest to keep the Hoosiers afloat in the second half. Ferrell (21 points) went 7-of-14 for 15 points in the second half. It wasn't so much hero ball as it was you-can't-guard-me ball. Ferrell continually got past the defense for buckets at the cup and simply would not be denied. But it didn't matter. Indiana simply never recovered enough to make it interesting.
Yes, it's two losses in a row for the Hoosiers. But these were road games they weren't favored in. And in neither contest did Indiana give up or lack in effort. The Hoosiers simply got outplayed. It happens on the road in the Big Ten.
Rutgers comes to Assembly Hall on Saturday afternoon with Indiana looking at a good chance to move to 6-3 in conference play as the calendar turns to February.
Filed to: Purdue Boilermakers