The Minute After: Ohio State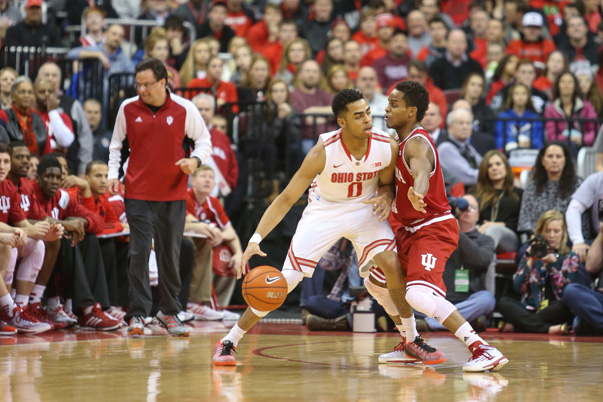 Thoughts on an 82-70 loss to the Buckeyes:
When Indiana takes care of the ball and shoots it well, its suspect defense fades into the background. This is a team that entered today's contest ranked 11th in defensive efficiency in Big Ten play and No. 198 in the country, per KenPom. But on afternoons like Sunday, where the opponent disrupts Indiana's offensive flow and the Hoosiers get less shots due to a bevy of turnovers — both forced and unforced — it's hard to have the game's balance fall on their side.
The dynamic offense has less chances to keep pace — or in many cases so far this year, surpass — what Indiana's underwhelming defense is giving up. So despite scoring 1.12 points per possession and shooting a 64 eFG% at Value City Arena today, Indiana still ended up with a 12-point loss in a game it only had control of during the opening minutes. Ohio State's defense tightened things up after the Hoosiers started 8-of-8. It made it hard for Indiana to get into the paint, so its offensive possessions sometimes looked like last year's, as the Weave of Death around the perimeter ended with someone having to fling up a less-than-ideal look late in the shot clock. The Buckeyes also tossed a full-court press at Indiana, which it struggled against.
Ohio State sagged off Troy Williams. It made it harder for him to create off the bounce and his jump shot still isn't there yet where he can keep defenses honest. It threw him off and he ended the game with five turnovers. Indiana also did itself in too often. The passing and decision-making wasn't quite up to its standards at times. By contest's end, the Hoosiers turned the ball over on nearly a quarter of their possessions (24.1 TO%). That's simply not going to get it done on the road in the Big Ten.
Still, when Indiana was able to get into their offensive flow and kick out for triples, the results came. Collin Hartman continues to shine. He hit 4-of-5 from distance and finished with 12 points. Yogi Ferrell had to put his Superman cape on late in this one to try and get some offense going for Indiana. He finished with 26 points on 9-of-16 shooting. Robert Johnson missed some time during this game due to what looked like a left knee injury. Stanford Robinson got some extended minutes in his place. He had two turnovers, airballed a 3-pointer and got beat to the hole and gave up an and-1 to D'Angelo Russell as the first half came to a close.
Russell, a likely lottery pick in June, was sensational in this one after having a lackluster performance against the Hoosiers in Bloomington. He finished with 22 points, 10 assists and six rebounds. Had he not sat for stretches in the second half due to cramps, he may have snagged a triple-double. Jae'Sean Tate scored 20 points on 9-of-10 shooting. Indiana had difficulties containing them and really the entire Ohio State offense. This one was reminiscent of some early non-conference games like Eastern Washington, where Indiana just let the opponent get to the hole at will on possession after possession. When the Hoosiers needed stops late to try and cut into the lead after scoring, it simply couldn't get it done. The Buckeyes scored 1.32 points per possession and sported an eFG% of 67.0.
Yes: Despite turning the ball over on nearly a quarter of its possession and surrendering 1.32 points per possession, Indiana was as close as seven points (4:10) during the final minutes of the game.
A few more stops, a few less turnovers and it could have been an interesting couple of closing minutes for a team that has shown a great ability to close out games no matter the location.
But Indiana was simply bested by the Buckeyes today, and Wednesday's game up in West Lafayette will be no walk in the park.
Filed to: Ohio State Buckeyes