What to Expect: Illinois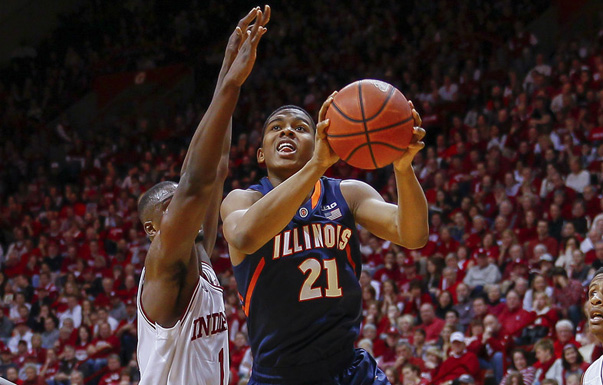 After a pair of wins at Assembly Hall, Indiana returns to the road for a Sunday matinee with Illinois at the State Farm Center. The Illini are 12-6 overall and 2-3 in the Big Ten.
The game will be broadcast on BTN at 1 p.m. ET with Eric Collins and Shon Morris on the call:
Indiana's 3-1 record through four Big Ten games has included a little bit of everything. A gritty road win in a tough environment at Nebraska. A head scratching blowout at the hands of Michigan State in East Lansing. And a pair of close wins at home over a ranked Ohio State team and a scrappy Penn State group.
The Hoosiers were predicted to start 1-3 in conference play by both KenPom.com and Las Vegas, so it's hard to find any fault with this start. But as Jordan Littman pointed out earlier today, the road gets tougher quickly. Four of Indiana's next six games are on the road and will be played without starting big man Hanner Mosquera-Perea.
Indiana won't look ahead any further than its next game, but this is a stretch where the Hoosiers simply need to hold things together, try to steal games on the road and attempt to hold serve at home. That, of course, is easier said than done, but the next chance for a second Big Ten road win comes Sunday in Champaign.
MEET THE ILLINI
Indiana isn't the only Big Ten team dealing with an injury to one of its starters. The Illini are without their most important player – senior guard Rayvonte Rice – who is averaging a team-high 17.2 points and is out with a broken left hand. In three games against the Hoosiers last season, Rice averaged 20.6 points and hit 40 percent of his 3s.
Without him in the lineup, Illinois is 2-1 with an impressive home win over Maryland, a loss at Nebraska and most recently, a win at Northwestern. Sophomore wing Malcolm Hill has stepped up in Rice's absence as evidenced by his 28-point outburst against the Terrapins. Hill is hitting close to 40 percent of his 3s and is really the only Illinois player outside of Rice who gets to the line with any regularity (43.7 free throw rate). He's most dangerous as a left wing 3-point shooter, where he's hitting at a 50 percent clip.
Joining Hill in the starting lineup is a three guard set: sophomore Jaylon Tate, junior Aaron Cosby and sophomore Kendrick Nunn. The 6-foot-3 Tate is a limited offensive player who is turnover prone (27.4 TO%). Nunn is hitting 42.9 percent of his 3s, but takes a lot of midrange shots that aren't super effective, as shown below by ShotAnalytics: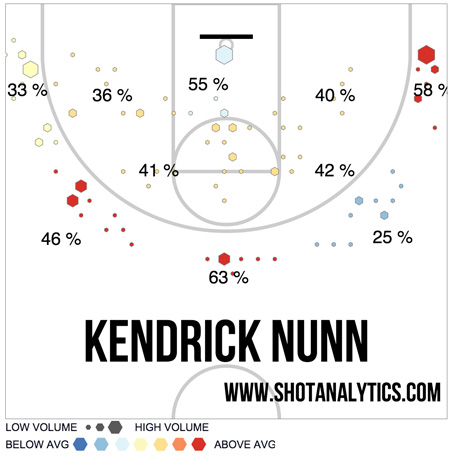 Cosby, a transfer from Seton Hall, broke out of a shooting slump against Northwestern as he hit 4-of-8 of his 3s for 19 points. Even with that effort, he's hitting just 25.9 percent of his 2s and 32.7 percent of his 3s on the season. Point guard Ahmad Starks has started 15 of the team's 18 games, but has been coming off the bench recently. Starks is a solid distributor (22.4 assist rate percentage), but his effective field goal percentage of just 39.8 suggests that he should be looking for Nunn and Hill rather than hoisting up 3s.
John Groce's rotation is only eight deep at this point with senior big man Nnanna Egwu manning the starting spot in the post. The 6-foot-11 Egwu averages 7.5 points and 5.6 rebounds per game and has a team-high 32 blocks. Freshman LeRon Black and sophomore Maverick Morgan are the backup rotation guys up front. Black, who is 6-foot-7, is very solid on the defensive glass (23.4 DR%) and is finishing 72 percent of his shots at the rim, per Shot Analytics. The 6-foot-10 Morgan doesn't get a ton of offensive opportunities and has made just 46.3 percent of his 41 field goal attempts.
A LOOK AT THE NUMBERS
With four league games in the books for IU and five for Illinois, we flipped the switch on our tempo free chart to include conference only stats. League ranks for each category are in parenthesis: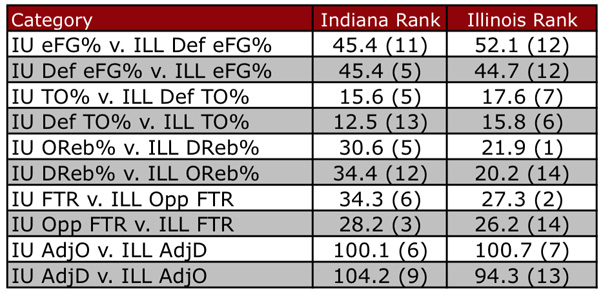 Indiana's offense is off to a slow start in league play, but Illinois is only ahead of Rutgers in terms of offensive efficiency. The Illini are scoring just .94 points per possession through five Big Ten games and are last in the league in both offensive rebounding percentage and free throw rate.
The offensive rebounding isn't a surprise as Groce puts a ton of emphasis on getting back defensively rather than crashing the boards. As far as the low free throw rate goes, the Illini take a lot of jump shots, which makes them ineffective at drawing fouls: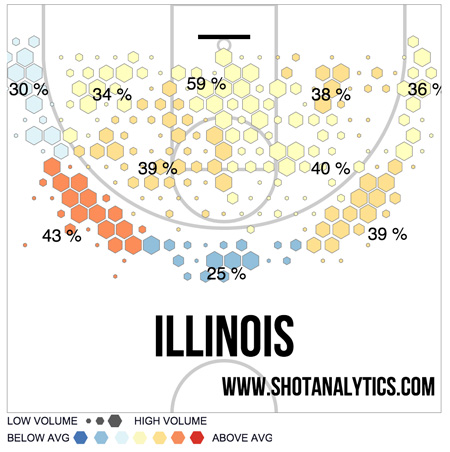 All of that said, Illinois has proven it can hold serve at home against the Hoosiers in the past and holds an unbeaten record this season so far at the State Farm Center. The Illini are the better defensive team and are keeping teams off the foul line and the defensive glass. Whether Indiana can break through in either area and hit shots from the perimeter will determine whether the Hoosiers will have a chance to steal one.
WHAT IT COMES DOWN TO
Pomeroy is bullish on Illinois, predicting a 5-point win and a just a 34 percent chance for a win by Indiana. Sagarin sees the game as even if played on a neutral court, but gives the Illini three points playing at home.
Rice being out obviously helps as his success last season against IU is well documented. Illinois has already played four Big Ten road games and with five tough road games left (Minnesota, Michigan State, Wisconsin, Iowa, Purdue), there's little margin for error at home.
With four days to prep for life without Hanner Mosquera-Perea, Sunday will be the first look at how, if at all, Indiana changes its approach with a smaller lineup going into a tough road environment. Ultimately, it's hard to know what to expect from a young team away from home (as we saw with Nebraska and Michigan State), but Indiana's chances hinge mostly on how well it shoots from distance and whether it can break through against the Illini on the offensive glass or at the foul line.
(Photo credit: Michael Hickey/Getty Images North America)
Filed to: Illinois Fighting Illini