Crucial stretch for Indiana begins Sunday in Champaign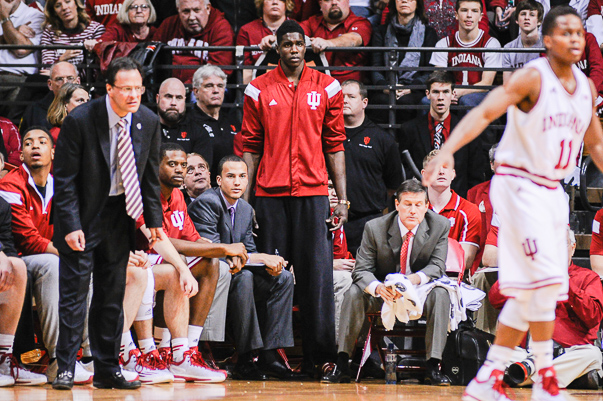 Through 17 games of the 2014-2015 season, Indiana has been flying high.
The Hoosiers have wins over SMU, Butler and Ohio State — all ranked opponents at the time — and an away win at Nebraska, heading into Sunday's game at Illinois. Indiana is 13-4 overall with a 3-1 mark Big Ten play.
But things are about to get even tougher.
After playing just two true road games thus far, the Hoosiers will play three of their next four games on the road. And without 6-foot-9 junior Hanner Mosquera-Perea, the challenge becomes that much more significant.
"Without his presence inside, without his ability to post, and it sometimes it's not always the statistics that he gets or doesn't get, it's the ground that he covers," Indiana coach Tom Crean said following his team's win over Penn State. "For people that really pay attention, they see the ground that he covers and the presence that he has. It's not always getting caught up in the numbers that he has or doesn't have. So we're going to miss him for an extended period of time, and we have to figure out how to play without him."
Each of the Hoosiers' four upcoming opponents — Illinois, Maryland, Ohio State and Purdue — has capable size in its rotation.
The Illini have 6-foot-11 Nnanna Egwu, the Terrapins have 6-foot-9 Jake Layman, the Buckeyes have a former McDonald's All-American in 6-foot-11 Amir Williams and the Boilermakers have 7-foot A.J. Hammons and 7-foot-2 Isaac Haas.
And in the Hoosiers' last game against Penn State on Tuesday, their first without Mosquera-Perea, the Nittany Lions recorded 13 offensive rebounds and shot better than 64 percent on their 2s. The Hoosiers escaped that game with a 76-73 win.
"(Hanner's) a presence in the lane," Crean said. "You know, we already weren't great at protecting the rim, but he's got a 7-6 wing span at 6-8, 6-9, and it's hard to make up for that."
Without Mosquera-Perea, the Hoosiers' task in their next four games won't be easy.
The Illini have yet to lose at home this season. The Terrapins have just lost twice overall, are a top 15 team and are tied for the Big Ten lead. The Buckeyes turned the Hoosiers over 15 times last Saturday and nearly came back late to win. The Boilermakers force the game, offensively, through the paint — and games in West Lafayette are never easy for the Hoosiers.
Nonetheless, the next four games are crucial.
If Indiana loses all four — which is predicted on KenPom.com — they would find themselves 13-7 and just 3-5 in Big Ten play heading into the final 10 conference games. But with a win or two, the Hoosiers can add to their résumé as they contend for NCAA tournament selection.
Starting Sunday, Indiana will have the chance to set the tone for the rest of the season.
It's an opportunity at hand and yet another test of how this group will respond to adversity. So far, these Hoosiers have been rising to the challenge. Will it continue? We'll begin to learn the answer soon enough.
Filed to: Hanner Mosquera-Perea, Tom Crean