The Minute After: Penn State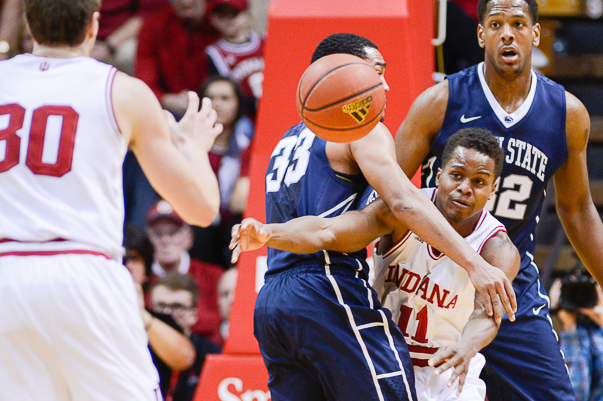 Thoughts on a 76-73 win against the Nittany Lions:
Assembly Hall was in a deep slumber.
Despite the pace Penn State's defense let Indiana get out and run at, the Hoosiers lacked energy and sharpness. The crowd, even with the students back, wasn't bringing much. It felt more like a preseason game with little consequence than Indiana's fourth Big Ten game of the season.
On a night Hanner Mosquera-Perea and Devin Davis sat on the bench in IU warmup gear, Emmitt Holt had no rebounds in 13 minutes. It wasn't until Ryan Burton entered the game at the 12:03 mark in the second half that Assembly Hall came to life. Burton, unlike some of his teammates up to that point, starting getting after it with hustle, energy and effort. The Assembly Hall faithful rose from its seats in admiration. When Burton subbed out at the 6:43 mark, he'd picked up three offensive boards, two of which led to second-chance scores for the Hoosiers — a Troy Williams bucket and a James Blackmon Jr. 3-pointer. Those three offensive boards were half of Indiana's total for the entire contest on a night it only rebounded 20 percent of its misses.
Burton entered the game with it knotted up at 51 apiece. When he departed, the Hoosiers found themselves up 10 points at 69-59. Despite limping to the finish line and Penn State nearly tying it at the buzzer, it was the turning point of the contest and aided the Hoosiers to their victory.
Robert Johnson and Stanford Robinson kept the Hoosiers afloat in the first half. Robinson still had a few wild shots and didn't always make the right decisions during his court time tonight, but the difference is he actually made buckets (3-of-6) this time around. Robinson is highly skilled at getting to the line. Back using his left hand, he also hit all six of his free throw attempts to end the contest with a season-high 12 points. Indiana has been pretty ordinary at getting to the line so far in conference play (9th in free throw rate at 33.1 percent). Robinson, if he can play a little more within the flow of things and within himself, can bring a lot of value in that regard.
Johnson had 12 points at half scoring at the hole, from distance (2-of-4) and at the line (2-of-2). He finished with a game-high 20 (7-of-11). Indiana also hasn't shot it well from 3-point range so far in conference play and started this one out rough as well, hitting just 3-of-11 in the first half. But the 3-ball fell much better after halftime and the Hoosiers finished the contest 9-of-21 (42.9 percent), more in line with what we're used to seeing. It helped keep a bit of distance in this one as well, as both Johnson and Collin Hartman (eight points, five rebounds) hit 3-pointers in the closing minutes.
Not the prettiest night of basketball inside Assembly Hall. But the fact is this: It's a W. Indiana moves to 3-1 on the Big Ten season and is tied for the conference lead. And at this juncture in the season, how much more can you have hoped for, really?
Filed to: Penn State Nittany Lions, Ryan Burton