Five takeaways from Indiana's win over New Orleans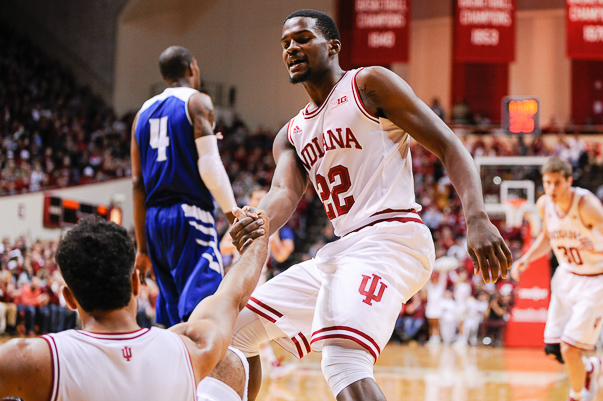 Indiana moved to 10-2 on Monday night with a comfortable 79-59 win over New Orleans at Assembly Hall. Here's a look at five takeaways from the victory over the Privateers:
· Indiana is building depth: In the past, Tom Crean has described depth as not having much, if any, drop off in production when going to the bench. That's a lofty goal for any team and IU's team a season ago certainly didn't achieve it. Through 12 games, this group of Hoosiers seems to be on the right path in establishing depth that can go eight or maybe even nine deep at times.
So what's different? Personnel, for one.
The addition of Nick Zeisloft hasn't been talked about much, but his 42.4 percent 3-point shooting has been a major boost. The emergence of Collin Hartman as an efficient offensive player who can also defend and rebound gave the coaching staff the confidence to start him in the second half of the Butler game. And guys like Emmitt Holt, Stanford Robinson and Max Hoetzel have all made solid contributions at times, but still need to develop that consistency.
Last season, Indiana's success was too married to the play of Yogi Ferrell. So far this season, Indiana is getting balance — three guys scored in double figures against New Orleans and three others had eight points — which is a model more likely to produce consistent success.
· Mosquera-Perea continues to make strides: As Ryan noted in The Minute After, there was a time after the Pittsburgh win where IU fans questioned whether Hanner Mosquera-Perea deserved to start over freshman Emmitt Holt.
The last four games have proven that Mosquera-Perea is not only improved as a junior, but that he continues to add new wrinkles to his game each week. The last two games have been very good for Mosquera-Perea from both a rebounding and shot blocking perspective as his instincts look sharper. And his confidence offensively seems to be on the rise in the wake of the Louisville game, where he scored 10 points against one of the country's better and more athletic frontcourts.
Monday night was another step in the right direction for the Colombia native as he finished with 12 points, six rebounds and four blocks in 25 minutes.
· Ferrell's consistency: After a freshman season where he struggled with his shot and with turnovers (at times), Yogi Ferrell didn't look to be on the path of becoming one of the nation's better offensive point guards.
Ferrell's shooting as a sophomore was much improved, but he's taken it to another level as a junior. He's scored in double figures in all but one of IU's 12 games, he's making close to 47 percent of his 3s, his free throw rate is up, his assist rate is up while his turnover percentage is down.
And beyond the offense, he's taking it upon himself to guard the opposition's best player, which Crean praised him for heavily after the Butler win. Ferrell might be flying under the radar right now when discussing the nation's best point guards, but he clearly belongs in the discussion.
· Another strong night for Hartman: If you get to Assembly Hall early enough, you can catch a glimpse of the first IU player on the floor about 90 minutes before tip. Two seasons ago, it was Jordan Hulls and Victor Oladipo. Last season, it was Noah Vonleh. And this season, it's been Collin Hartman.
Last night, Hartman was on Branch McCracken Court working on his perimeter game with associate head coach Tim Buckley. The extra work is paying dividends for Hartman, who is making 65 percent of his 2s and 45 percent of his 3s as a sophomore. Through 12 games, Hartman ranks in the top five nationally in offensive rating according to KenPom.com. He's also hitting the glass hard as his seven rebounds led Indiana against New Orleans.
An afterthought in the preseason following an offseason knee injury, Hartman is establishing himself as an essential piece of the IU rotation.
· Second half lull: New Orleans never really challenged IU in the second half, but the Hoosiers were outscored 37-35 after intermission, which is the main negative coming out of the win.
The Hoosiers got sloppy with the ball in the second half (eight turnovers), missed six of 10 free throws and allowed 30 points in the paint after only giving up 14 in the first half.
Still, a win is a win and 10-2 heading to Madison Square Garden is a solid position for a team that should continue to improve.
Filed to: Hanner Mosquera-Perea, Yogi Ferrell