The Minute After: Butler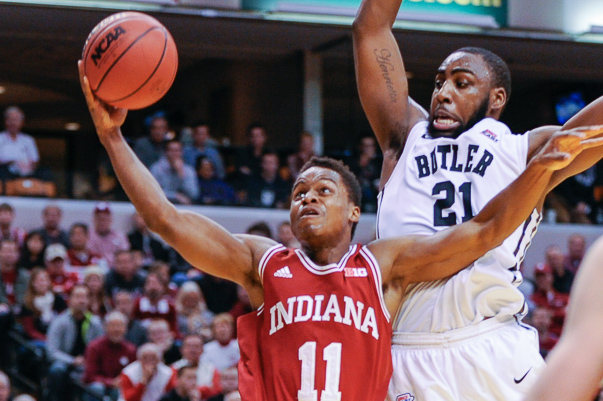 Thoughts on an 82-73 win over the Bulldogs:
As IU's lead stretched to 11 with just over three minutes remaining in the first half, it looked like its athletes were just too much for Butler. The Bulldogs couldn't guard Troy Williams. And the disadvantage the Hoosiers were supposed to have on the boards simply wasn't there as the gang rebounding was in full force.
But, as they do, the Bulldogs mounted a comeback. They ended the half on a 11-1 run with Kellen Dunham scoring nine of those. Indiana was unable to get the momentum it had built in the first half going in the second. The Hoosiers trailed by six with 13:48 to go and it felt like it might be slipping away.
Enter Yogi Ferrell.
The junior point guard didn't score a point in the first half and sat due to two early fouls. But when his team needed him to crawl back into this one there he was. Ferrell's first bucket of the game was a triple to cut that six-point Butler lead in half. He kept going, muscling his way to the bucket for scores at the rim and points at the line. He moved well off the ball for another 3-ball. He stopped on a dime on the break, launched a 3-pointer, hit it and placed his elbows at his side with the 3-salute going with both hands. Williams popped his jersey at the IU bench.
That one put the Hoosiers up 10 and just about sealed the deal, save for some late full-court press from the Bulldogs that made you hold your breath a bit.
Ferrell scored 20 second half points and willed his team to a comeback win. That's what leaders do.
Put last year's squad in this second half position, and it's hard to imagine them coming back. But this is a different year with a different team and a different roster. When the Hoosiers are at their best on the break, it's a beautiful game of pace and space. With so many different ballhandlers and shooters the mix-and-match can be endless and hard to stop. As we chronicled in Monday's Film Session, Williams was again up to his tricks on the break, throwing his whip passes to open 3-point shooters like Max Hoeztel and Nick Zeisloft. The sophomore was also on the receiving end on the break, throwing down a dunk off a Ferrell pass in the second half.
Williams was also unstoppable at times in the half court and he knew it, as Butler really had no one to match his length and athleticism. He even hit a 3-pointer for his first bucket of the game. The sophomore led all Hoosiers with 22 points (9-of-17) to go along with 11 boards, three assists, two blocks, two steals and two turnovers. That's a line right there.
There are still some shaky moments now and again, but this was his best game as a Hoosier. The athlete is starting to become a basketball player and the ceiling remains high for the sophomore.
This wasn't quite a must-win, but hell: Indiana and its fans needed this one against an in-state rival that clipped them in this event two years ago. Just did. It was a victory over a ranked good defensive squad in a fun, back-and-forth affair. Save for a lot of missed bunnies on both side of the ball, the game was played a a high level in a great atmosphere.
These kids are a confident bunch. Today's win makes them stronger with conference play nearing in just a week and a half.
Filed to: Butler Bulldogs, Troy Williams, Yogi Ferrell