Five takeaways from Indiana's win over Savannah State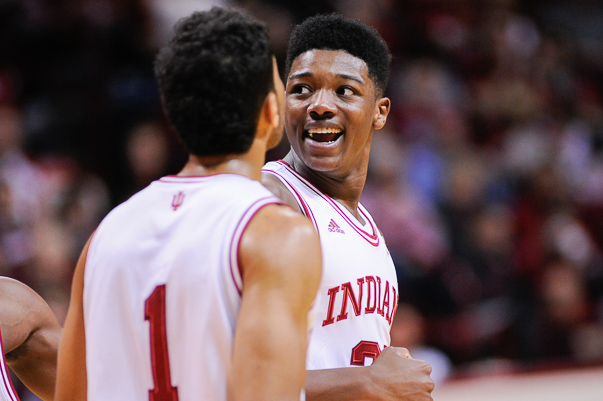 Indiana moved to 7-1 on Saturday night with a blowout win over Savannah State at Assembly Hall. Here's a look at five takeaways from IU's 95-49 win over the Tigers:
· Indiana took care of business against an inferior opponent: This may not seem significant, but there's an argument to be made that it's a sign of growth for a young team to step on an opponent early and never relent. After Michigan lost to NJIT and Purdue lost to North Florida earlier in the day, it was fair to ask whether Indiana would create early separation or let Savannah State hang around like Lamar and UNC Greensboro, two earlier, similar opponents in terms of their Pomeroy ratings.
The Hoosiers looked flat early, but exploded for a 33-8 run to claim a 43-17 halftime lead. From there, Indiana never looked back on its way to win No. 7.
"When we go out there, we want to give it everything we got like it is our last game," junior Yogi Ferrell said. "So that game can transfer over to the next game so we can get wins on top of wins."
· Quietly, Yogi Ferrell is thriving: Is it possible that Indiana's best player isn't being talked about enough? Because the numbers say that so far, Ferrell has been a better player this year. Here's a look at his numbers this season through eight games compared to last year's first eight:

We discussed how Ferrell's role would change again as a junior in the preseason and so far, what we're seeing is a player who is shooting less from the perimeter and distributing the ball more. As much as Ferrell's shot selection was questioned at times last year, he was Indiana's best perimeter option and he operated as such. This season, his 3-point attempts are down and his assists are up along with a slight decrease in turnovers. As good of a scorer as James Blackmon Jr. has been so far, Ferrell is still Indiana's best two-way player and it's encouraging that he's become a more efficient player as a junior.
· Emmitt Holt played well, again: One of the best things that can happen with a young player early in the season is to build off a strong performance with another solid effort. That's exactly what happened on Saturday with freshman Emmitt Holt, who was the star of IU's win over Pittsburgh last Tuesday.
Holt didn't match his production from the Pitt game against Savannah State, but in 11 minutes, he scored eight points, grabbed five rebounds and had two blocked shots. And while the sample size is still lacking, the Pomeroy numbers like Holt as this team's best offensive (24.4 OR%) and defensive (17.7 DR%) rebounder. Most would probably agree that the eye test agrees with the numbers.
"Emmitt is just going out there and doing everything he does in practice," Ferrell said of the freshman. "I feel like Emmitt can pass well off the post, especially when he gets in that alley, he can finish down low. He's a great offensive rebounder. We definitely need him out there doing that for us."
· Zeisloft settling into role: In just his third game coming off the bench in an IU uniform, redshirt junior Nick Zeisloft seems to be adjusting well to a role as a shooter who can take care of the ball off the bench. Over his last three games, Zeisloft has scored 20 points in a total of 57 minutes. He's hit 6 of his 14 attempts from behind the 3-point line in the stretch while committing just two turnovers.
For the season, Zeisloft is hitting 43.2 percent from distance and while he's been somewhat streaky, having his experience and leadership available off the bench should be a positive for Indiana as the schedule becomes tougher.
· Indiana didn't have a great game taking care of the ball: If there was a negative coming out of this game, it was Indiana's carelessness with the ball. The Hoosiers are about to face pressure like they've never seen before against Louisville on Tuesday and if Savannah State was a warmup, the numbers weren't encouraging.
Indiana coughed it up on 20.6 percent of its possessions against Savannah State, its second worst performance of the season. Taking care of the ball is going to be an essential piece of success against Louisville and it's something that Tom Crean acknowledged that his team is going to have to do better the next time out.
"The bottom line is, they never go away and they don't let up," Crean said of Louisville. "And their guards are extremely physical in the sense of how well they get up into the ball. The one thing that we — preparing for this season was how good SMU created defensive pressure and got steals, how good Pittsburgh got steals, how good Louisville was at getting steals and back tips. Louisville is as the head of the class on that right now. So we are going to be really, really great with the basketball."
Filed to: Emmitt Holt, Savannah State Tigers, Yogi Ferrell