The Minute After: Savannah State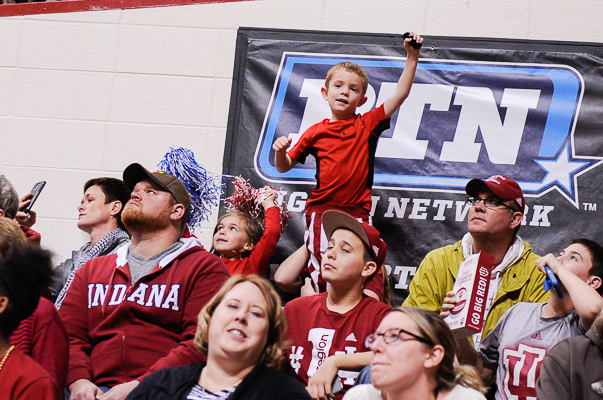 Thoughts on a 95-49 win against Savannah State:
I. Considering the sloppy start to this one, another opponent might have been able to push the Hoosiers a bit more in a game like this. But Savannah State entered the contest as the one of the worst offensive teams in the country and it showed tonight. The Tigers scored just .72 points per possession to go along with a 36.6 effective field goal percentage. They had just 17 points at half, made only 22.7 percent of their 3-pointers and hit only 53.3 percent from the line. They also turned the ball over on 22.1 percent of their possessions.
Simply put: The Tigers were no match for the Hoosiers and so they cruised to a 46-point victory.
II. Stanford Robinson has flat out pressed for most of the season. He's often tried to get to the hole with the defense swarming with nowhere for him to go. After doing just that when he entered in the first half, resulting in a charge call, Robinson finally started taking what was given. When the defense came on his drives, he found the open man over and over to the tune of five assists in 13 minutes of play. And when a lane to the rim was there for him off the top of the key, he took it and scored. He even scored in the post during the final two minutes of this one and finished the night with seven points. Robinson is now behind two freshmen in Robert Johnson and James Blackmon Jr. in the rotation. And guys like Collin Hartman and Max Hoetzel are squeezing minutes from him as well. But the sophomore is still one of the better penetrators on the team for an offense that thrives on it, and better decision-making like tonight could mean more minutes.
III. It was a varied offensive attack for the Hoosiers. Blackmon Jr. (18 points), Yogi Ferrell (18 points), Troy Williams (12 points) and Johnson (10 points) all scored in double figures. Indiana again hit double-digits in 3-point makes (10-of-21, 47.6 percent) with Blackmon Jr. (4-of-7) and Nick Zeisloft (3-of-5) leading the way. After starting this one out with a slew of turnovers, the Hoosiers turned it over too much (20.6 turnover percentage). But it still scored an impressive 1.40 point per possession.
Add in that the Hoosiers rebounded 45.8 percent of their misses and had an effective field goal percentage of 66.7 percent, and it was a dominant performance on both ends of the court for IU — as it should be.
Join DraftKings.com's 1-day fantasy basketball league. Inside The Hall readers will receive FREE entry with their first deposit.
IV. Another game, another strong performance from Emmitt Holt. To repeat: The freshman just has good instincts and makes his impact felt on both ends of the court. Highlights tonight include an offensive rebound off a Williams missed free throw, which resulted in two made free throws after he was fouled on the put-back. Later, Holt used his length to poke a steal loose and Blackmon Jr. converted on a 3-pointer in transition. Holt finished the game with eight points, five boards, two blocks and a steal in just 11 minutes of action. We'll see if he can continue to do his thing as the competition stiffens as the month of December rolls onwards.
V. Considering the schedule Indiana is about to run up against starting Tuesday against Louisville, we may not see Tim Priller again for a bit. Hope you savored his precious time at the end of this one, ITH faithful.
Filed to: Savannah State Tigers