Five takeaways from Indiana's win over SMU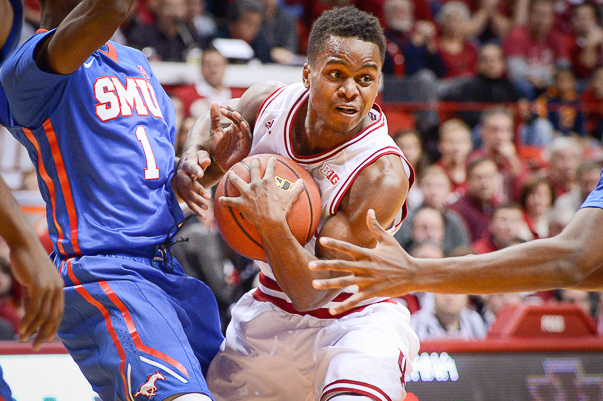 It wasn't easy, but Indiana passed its first legitimate test of the season on Thursday night with a 74-68 win over No. 22 SMU at Assembly Hall.
Here's a look at five takeaways from IU's win over the Mustangs:
· Turnovers tell the story: When Larry Brown and his staff go back and look at this loss, the glaring number that will stand out for the Mustangs is turnovers: 19 of them. SMU shot an effective field goal percentage of close to 62 percent, won the rebounding battle and still lost by six because it turned it over on 28.4 percent of its possessions.
Indiana, on the other hand, has been justifiably criticized for turnovers in the past but only turned it over on 10.5 percent of its possessions on Thursday night. Nick Zeisloft, James Blackmon Jr. and Yogi Ferrell combined for 49 points and no turnovers.
In a game that was played much more in the halfcourt than IU's previous two contests (67 possessions), it's solid progress for this group to take care of the ball that well against the length and athleticism of SMU.
· James Blackmon took over offensively: Indiana didn't shoot the ball well from the field as a team, but James Blackmon Jr. again showed efficiency as he hit 7 of his 15 field goal attempts and also went 7 of 7 from the foul line for 26 points.
What's most impressive about the way Blackmon Jr. operates offensively is that he's just as good off the dribble as a 3-point shooter as he is off the catch, which makes him a tough cover. He also showed little fear in a couple of transition situations as he took it right at SMU defenders and finished a couple of tough opportunities. Through the first three games of his career, Blackmon Jr. has an effective field goal percentage of 71.6 and is also getting to the foul line at a healthy clip (51.4 percent free throw rate).
"I tried to stay aggressive," Blackmon Jr. said. "My teammates always find me in the right spot. So they know how I play and I know how they play, so it's getting better every game."
Join DraftKings.com's 1-day fantasy basketball league. Inside The Hall readers will receive FREE entry with their first deposit.
· Indiana survives with very little inside production: After two strong games to start the season, junior Hanner Mosquera-Perea took a step back, at least statistically. In 29 minutes, he failed to grab a rebound and scored just three points. He did avoid foul trouble once again and took a charge on a drive by Ryan Manuel that could have changed the game, but Mosquera-Perea had poor timing on several block and rebound attempts which led to easy baskets for SMU.
That Mosquera-Perea would struggle against the experience of Yanick Moreira and Cannen Cunningham — both seniors — shouldn't be surprising, but it's very much a sign that the Colombia native still has a long way to go in terms of consistency.
"He still leaves his feet too much right now, and he's trying to block shots when he should just play a position for defense and verticality," Tom Crean said. "But for him to stay in there (and take the charge), I that was a big time momentum changer for us. I'm not even sure what the score was. Hanner's learning how to do all the little things that lead to winning. If he continues on that path, he'll improve. That was a monumental play in this game. No doubt."
· Stanford Robinson, Troy Williams will help diversify IU's offense: The sophomore duo returned from a four-game suspension to combine for 13 points in 31 minutes, but seven of those came from the foul line. That's important because as reliant as Indiana is going to be from behind the 3-point line this season, Robinson and Williams will be able to help generate better looks for teammates by finding driving lanes and kicking out or taking it to the rim themselves.
Williams also did a pretty solid job on the glass with four rebounds and Robinson dished out three assists in just nine minutes. Both players should see their minutes increase as they ease back into their roles, but Indiana's depth was significantly aided with their return as was its offensive versatility.
· Zeisloft makes the most out of his minutes: The aforementioned return of Williams and Robinson cut into the court time for Zeisloft, who remained in the starting lineup, but played just 16 minutes.
So what role is Zeisloft best suited for moving forward?
Whether he remains in the starting lineup is largely irrelevant, but Indiana needs him to continue making open shots (8-of-13 on 3s) and also take care of the ball and make the simple play. Zeisloft will rarely be the focus of the opposing defense because of the perimeter talent he'll be surrounded with, so there's a major opportunity for him to continue finding open looks in an IU offense where ball movement and finding the open man is paramount to success.
Filed to: Hanner Mosquera-Perea, James Blackmon, Nick Zeisloft, Stanford Robinson, Troy Williams