The Minute After: SMU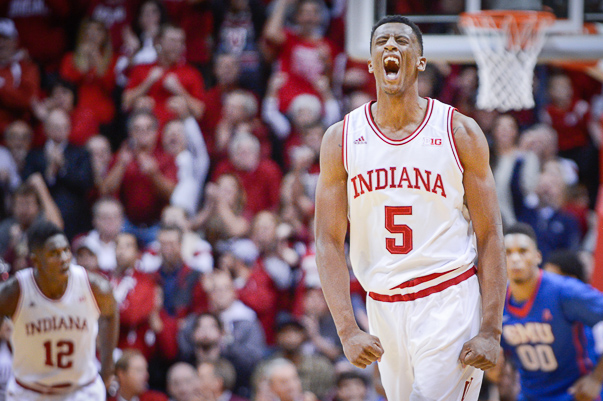 Thoughts on a 74-68 win over the Mustangs:
This re-tooled Hoosiers squad had yet to see length and athleticism like Larry Brown's Mustangs. And so early, SMU worked Indiana on the boards while its defense kept the Hoosiers out of the paint and settling for jump shots.
But Troy Williams entered the game shot out of a cannon, his infectious energy igniting the Assembly Hall faithful. Deflections and drives and suddenly Indiana was right back in his thing and kept with it till game's end for the victory. From Williams to Stanford Robinson to Yogi Ferrell to Nick Zeisloft to Robert Johnson to Collin Hartman to James Blackmon Jr., the Hoosiers have playmakers and shooters abound. They were all collectively enough to hit buckets and make plays at crucial times despite a rocky shooting night to ensure a win over the No. 22-ranked squad in the country.
Williams and Robinson got into the paint when their time came, something Indiana desperately needed early. Williams would make 5-of-8 free throws and take the most of any player on the floor this evening. Robinson hit 2-of-3 in just nine minutes of action to go along with three assists. During a crucial period late in the second half, Zeisloft outworked the Mustangs for a defensive rebound that seemed as if he had no business getting. He followed it up with a trey on the ensuing Hoosier possession and hit another one for good measure not long after.
The list goes on: Hartman hit a left corner 3 in the second half off good ball movement from Indiana on that possession. Ferrell hit one as well from the opposite wing late. Blackmon Jr. kept it calm and cool and scored in transition and from beyond the arc all night long. He's seemingly able to step into a 3-pointer whenever he wants with the ball in his hands, taking 10 in this one and hitting five of them. On a night Indiana didn't shoot particularly well (46.5 eFG%), Blackmon Jr. was the steadying force, going 7-of-15 from the floor and 7-of-7 from the line.
Indiana also made good decisions within their offense for most of the contest and posted their lowest turnover percentage (10.4%) since a win over Northwestern last season (12.7%).
The second half started like a chess match between Brown and Tom Crean. Brown figured out his best chance at getting buckets was to pound it inside and let his big men go to town on Hanner Mosquera-Perea, who got exposed on more than a couple possessions, either jumping too early and letting his man score or simply just getting scored over in the post. In 29 minutes, Mosquera-Perea failed to record a rebound and scored just three points. Crean countered with a 1-3-1 zone that stymied the Mustangs from punishing the Hoosiers down low for a bit, and they were able to turn a deficit into a lead, never really to look back.
Join DraftKings.com's 1-day fantasy basketball league. Inside The Hall readers will receive FREE entry with their first deposit.
SMU drew a number of offensive fouls and were sloppy all night. It ended the contest with a turnover percentage of 28.4 and it simply never allowed them to string enough scores in a row to make a serious enough charge in the final 10 minutes despite a strong shooting night (61.7 eFG%).
Make no mistake: This is a big win for Indiana. It's a confidence-builder victory for this green squad and a statement that their style of play can breed success despite obvious deficiencies.
"We're young, but we got some hungry guys that are very serious-minded about getting better," Crean said during a post-game BTN interview on Branch McCracken Court.
The young, hungry Hoosiers passed their first test. And it's a sigh of relief after all they've been through to start the year.
Filed to: SMU Mustangs