Five takeaways from Indiana's win over Mississippi Valley State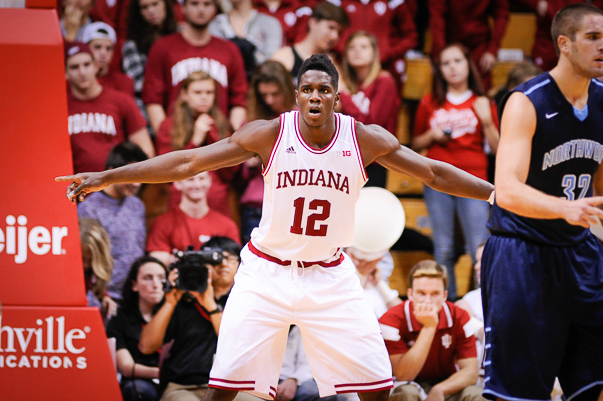 Indiana opened the 2014-2015 regular season on Saturday night with a 116-65 blowout of Mississippi Valley State at Assembly Hall.
Here's a look at five takeaways from the win:
· Mosquera-Perea continues to progress: The competition level still isn't up to par, but Hanner Mosquera-Perea continues to show signs that he made significant offseason progress. On Friday, Mosquera-Perea played 21 minutes and finished with nine points, a career-high 12 rebounds and just one foul.
Mosquera-Perea shouldn't have much of a problem asserting himself against the lesser opponents on IU's non-conference schedule, but whether he continues to produce against teams like SMU and Pittsburgh will be a bigger indicator of just how far he's come.
"There's times that he looks better than others, but there's really not been times that he has not been up to par," Tom Crean said. "He's definitely improving. And I think you can see it in his foot work. He's had a very good off season. He just — but truly, day by day with him, because that's what it's been. And that's what it will continue to be."
· Turnovers remain an issue: Through the game's first 20 minutes, Indiana posted a turnover percentage of 30, which would have been a problematic number against a better opponent. The Hoosiers were better in the second half (just six turnovers), but many of the careless mistakes that plagued last year's team were present early on. There were careless passes and there were guys dribbling into traffic, which are the kind of avoidable mistakes that simply can't happen against good teams.
Join DraftKings.com's 1-day fantasy basketball league. Inside The Hall readers will receive FREE entry with their first deposit.
To IU's credit, things were tightened up after the break, but a final turnover percentage of 23.5 against one of the worst Division I teams was a negative on a night where IU moved the ball fairly well and shot a very high percentage.
"Sometimes with us we just have to not try and make the home run play," freshman James Blackmon Jr. said. "But just make basic plays and that will help us."
· The freshmen shine offensively: The trio of Blackmon Jr., Robert Johnson and Max Hoetzel was labeled by some as the best incoming shooting class in the country and each player had a strong regular season debut.
Blackmon Jr. poured in 25 points, Hoetzel wasn't far behind with 19 and Johnson added 15. Blackmon Jr. was once again very efficient as he hit 7 of his 10 field goal attempts and also 8 of his 9 free throw attempts. Lauded as a big time shooter coming out of high school, Blackmon Jr. is showing that getting to the line can also be a major part of his game.
"Coach Crean has pushed me to even get in the lane even more, so I feel like that's helping me right now," Blackmon Jr. explained. "And that's something I'm going to keep focusing on."
· The Tim Priller phenomenon is a thing: In a 51-point blowout, there's not many definitive conclusions to be made with one exception: freshman Tim Priller is already a fan favorite. The unheralded recruit, who Crean said last night reminds him of Shaggy from Scooby Doo, entered the game to rousing applause, brought the crowd to its feet when he scored on a tip-in and also had the students cheering "We want Priller" when he was on the bench in the second half.
So what's the explanation for this? Not even Priller himself understands it.
"Honestly I don't know why," Priller said. "I just go in there and try to do my role and help us win."
Priller was trending nationally in the United States during the game and in IU's postgame press conference, Hoetzel had a little fun with the various nicknames he has for Priller.
"It's Uncle Tim, you know? Big Tim Priller," Hoetzel said, with a laugh.
· Ferrell's role continues to evolve: As a freshman, he was the facilitator. As a sophomore, he was a score-first point guard. And as a junior, it appears that Yogi Ferrell is doing a little bit of both. On Friday, the Park Tudor product scored 15 points and dished out five assists in 30 minutes.
Right now, Ferrell isn't get the headlines because of the focus on the newcomers and also Mosquera-Perea, but make no mistake about it: he's still Indiana's best and most important player.
Indiana will be able to get past many of the teams on its non-conference schedule on pure talent alone, but once the competition level stiffens, the Hoosiers need Ferrell as their alpha dog.
Filed to: Mississippi Valley State Delta Devils