Notebook: Indiana sets season-opener scoring record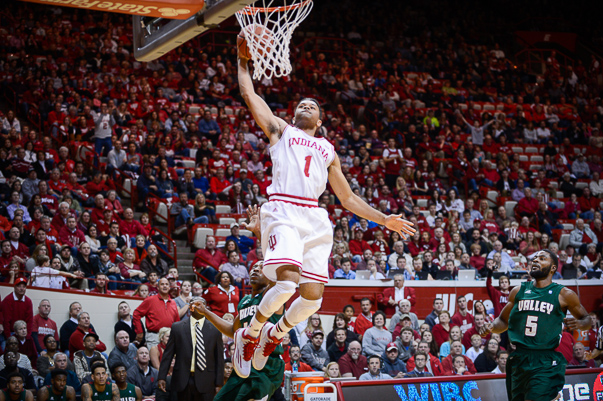 As Indiana's score kept rising on Friday night in its season-opener against Mississippi Valley State, the accolades became more and more impressive.
Most points ever scored under head coach Tom Crean. Most points scored in a game since 1993. Most points ever scored by the Hoosiers in their first game of the season.
By the end of the game on Friday, the Hoosiers emerged with a 116-65 victory over the Delta Devils. They finished with a 75.4 effective field goal percentage, as well, their highest since a win over Mount St. Mary's during the 2012-2013 season.
"We improved in the game," Crean said. "We had our largest lead with just two minutes to go, and I thought for the most part, our guys didn't play the score. They played to improve.
"Guys came in even at that five minute mark and tried to do the right things. We're excited about that. Something for us to build on."
As much as the Hoosiers shot well on Friday night, the points did not come easy at first. Though undersized, the Delta Devils utilized trapping on defense to cause 13 first-half Indiana turnovers. At halftime, 12 of Mississippi Valley State's 31 points came off Hoosiers turnovers.
"We have a big emphasis on taking care of the ball regardless of how fast we play," junior Nick Zeisloft said. "We know we have been scoring it at such a high rate that every turnover affects us.  You value those possessions and they're going to matter every game coming up."
But after halftime, the Hoosiers cleaned up their act — all the while maintaining their scoring pace. In the second half, Indiana turned the ball over just six times (with nine assists) and even outpaced last season's single-game high with 11 three-pointers.
And by the end of Friday night's game, the still-depleted Hoosiers had set a scoring record last held by the 1973-74 team. They finished just two points shy of the all-time Assembly Hall record.
"The challenge at halftime was to get better in the game," Crean said. "And if we're going to build and be a good team, then we can't take steps back in the game. And it's not about not playing the score, we don't even know what the score is, we want to play better."
Blackmon scores 25 in debut
Making his official debut for the Hoosiers on Friday night, James Blackmon Jr. finished with 25 points — the second-most ever by a freshman in his first game at Indiana (Eric Gordon scored 33 points against Chattanooga in 2007).
"When you got a guy like that that wants to be great, is very serious about his work, that doesn't take himself serious, he's confident," Crean said. "But he doesn't take himself serious that he's all this or all that. He's got a tremendous work ethic."
On the night, Blackmon shot 7-for-10 from the field, 3-of-4 from behind the arc and 8-of-9 from the free throw line, also recording four rebounds, one steal and one assist in his first regular season game.
The 6-foot-4 guard also, for the second straight game, produced a one-handed slam — already showcasing his athleticism early in his college career.
"We don't want him to get away from knocking down threes," Crean said. "But at the same time, as he gets more explosive with pushing the dribble out and dropping that shoulder — and his strength, he's gained a lot of strength in a year, I mean a lot of strength.
"So his body is still growing into that, his game is still growing into that. So I think he'll continue to improve, and he's very hungry and that's the bottom line."
Other notes
Two Hoosiers were just one point — or one rebound — shy of double doubles on Friday night. Junior Hanner Mosquera-Perea finished with nine points and 12 rebounds against the Delta Devils, while freshman Max Hoetzel recorded 19 points and nine rebounds off the bench.
Despite being limited throughout much of the preseason, freshman Jeremiah April made his debut on Friday against the Delta Devils. In seven second-half minutes, April scored two points and recorded two rebounds.
Filed to: James Blackmon Jr., Max Hoetzel, Nick Zeisloft