The Minute After: Indianapolis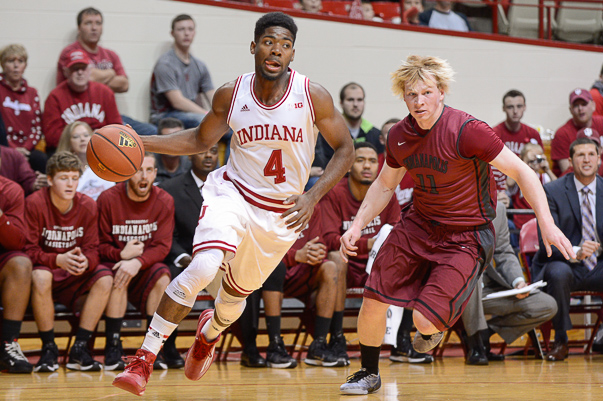 Thoughts on a 76-63 win over the University of Indianapolis:
Hanner Watch
As the Greyhounds connected on a shot after shot to start the contest, Hanner Mosquera-Perea picked up two early fouls and two early turnovers.
And yet: For a second straight game, the good outweighed the bad. No fouls or turnovers the rest of the game. The junior finished with a near double-double (14 points, eight rebounds) to go along with two blocks, two assists and a steal in 28 minutes of action. He's still messy around the rim and with the ball in his hands, and maybe that's just how it's going to be this season. But he was able to parlay such efforts around the hoop into an 8-of-10 performance at the line, totaling nearly half the attempts of Indiana's 19-of-25 mark from the charity stripe.
Mosquera-Perea almost brought the house down twice. Once, he slammed it home on a breakaway as Indiana was whistled for a ten-second violation. Another time near the end of the contest, Yogi Ferrell bounced it off the backboard for Mosquera-Perea to dunk it on another breakway, but he had to settle for a lay-in as Ferrell's bounce off the backboard also hit the rim.
More opportunities to come.
Collin Hartman, Robert Johnson Shine
Collin Hartman wasn't expected to be back on the court so soon. Yet, not only is he here now, but he's making his presence felt. Hartman oozed confidence all game and was a difference-maker on both ends. He had two nice blocks on the defensive side of the ball and scored eight points, including a 2-of-2 mark from 3-point range. Hartman is unlikely to be the first man off the bench after Troy Williams, Stanford Robinson and Emmitt Holt come off suspension. But this sort of production out of the end of your rotation is a nice luxury to have.
Johnson struggled with his shot in last week's exhibition opener. Not the case tonight. A perfect 6-of-6 performance (and 1-of-1 mark from the line) including two from beyond the arc for 15 points and three assists in 35 minutes of action. Johnson aided in Indiana's 22-0 run to end the first half, as he, Ferrell, James Blackmon Jr., Nick Zeisloft (who had a night to forget: 0-of-6, five turnovers) and Hartman shared the ball well around the perimeter, which opened things up for wing and corner 3s.
This was Indiana's offense firing at its best and it stands to have even more weapons upon Williams' and Robinson's return.
Notes, Etc.
In his Hoosier debut, Max Hoetzel aggressively went to the hoop on one occasion in each half. He was looking to make a splash. In the second, he did his best Vince Carter/Shawn Kemp impression, trying to tomahawk over a Greyhound defender. He missed his only 3-point attempt of the night and turned the ball over late on a pass to Mosquera-Perea.
Join DraftKings.com's $1,000 1-day fantasy basketball league. Inside The Hall readers will receive FREE entry with their first deposit.
Indiana did a nice job taking care of the ball last week in its first exhibition win, but tonight it returned to its old ways with a turnover percentage of 26.4, though it balanced it with an effective field goal percentage of 59.3 on the strength of a 9-of-22 mark from deep.
With Johnson and Blackmon Jr. both capable ballhandlers, it feels different seeing Ferrell playing more of the ball and not having to do everything like a season ago. He played a closer role tonight late, hitting a nice lefty lay-up over the defense with the shot clock expiring, a jumper and then making that aforementioned off-the-backboard pass to Mosquera-Perea. Indiana simply doesn't have to over-rely on Ferrell this season with the influx of perimeter talent, and it'll make the offense better. All that said, Ferrell still led all scorers with 19 points on 7-of-11 shooting.
Filed to: Indianapolis Greyhounds