The Inside the Hall Mailbag: September 23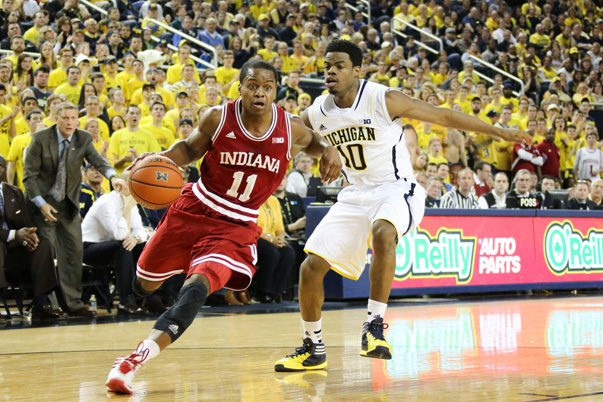 The Inside the Hall Mailbag is a collection of questions tweeted to us via Twitter (@insidethehall), submitted on our premium forum and sent to us via our Facebook page. Submit your questions and we'll answer as many as we can.
mcoghlan on the premium forum writes: What do you think the ceiling and floor is for this year's team?
Wasting no time putting me on the spot, mcoghlan. Although I do have a bit of an advantage from seeing IU's games in Canada, those games didn't include Hanner Mosquera-Perea and Emmitt Holt, two players I expect to have an impact on this year's team. I certainly believe this team has the personnel to get into the NCAA tournament, assuming the turnover problem is improved upon and IU is able to hold its own defending the paint and on the glass.
The floor would likely be a repeat performance of last season's team in which turnovers are still a major problem and a young team struggles to finish off opponents after grabbing a lead. — Alex Bozich
kmark22 on the premium forum writes: For the 2015 or 2016 class do you see IU pursuing a point guard and if so, is it more in the mold of Robert Johnson or Yogi Ferrell?
Indiana is recruiting Shake Milton, who can play either guard spot, in the 2015 class and I think it's a fair assumption that the Hoosier staff will be looking for point guard help in the 2016 class. With Yogi Ferrell locking down the point guard position since the day he arrived on campus, it probably hasn't been the easiest sell to recruit a pure point guard in the last few classes.
However, the staff did a nice job in the 2014 class grabbing James Blackmon Jr., who can handle the ball as well as Robert Johnson, who could certainly fill in as a backup point guard this season when Ferrell needs a break. If IU lands Milton, they'll add another piece who can play both guard spots and then I would assume the hunt for more of a pure point guard would be on for the 2016 class. — Alex Bozich
IUDan on the premium forum writes: I was pleasantly surprised to see IU scheduled as an official visit for Thomas Bryant – felt like he's been a bit off the radar. Are there any updates on his recruitment and how do you see him fitting with the current team?
Give new assistant coach Chuck Martin a lot of credit for getting Indiana into the mix with Bryant, a five-star center from Rochester (N.Y.) who plays at Huntington Prep in West Virginia. The latest on Bryant is that he just wrapped up an official visit to Syracuse, is scheduled to go to Indiana on the weekend of Oct. 3-5 and then to Missouri the following weekend. As for how he'd fit in, he'd have a chance to start and log major minutes from day one. He's a 6-foot-10 post player and adding a player of his caliber would certainly solidify Indiana's frontcourt for next season in a major way. — Alex Bozich
Maedhros on the premium forum writes: During the off-season, all discussion of Coach Martin has focused on his effect on recruiting. With the season approaching, what influence do you see Martin having on in-game decisions: x's and o's, substitutions, etc.?
Tom Crean always heavily involves his assistant coaches in game planning and Martin will be no different. He's got a diverse background in coaching in that he's been an assistant at a major program and also a head coach in college. Ultimately, final in-game decisions fall on Crean, but I would expect Martin to have his ear just like Tim Buckley and Steve McClain do. — Alex Bozich
Zachary Farmer on Facebook writes: Can you see a four-guard line up with Williams at center at times during the season? I know Williams may not have height but he has leaping ability. What's your opinion?
Maybe for brief stretches against opponents with very little size, but probably not with any regularity. I could see a lineup with Williams at the four and Devin Davis at the five, but putting Williams at the five would leave Indiana without an adequate post defender and very susceptible to be dominated on the glass. Against some of the non-conference opponents, the Hoosiers could get away with it, but against a well-coached team with size, it's not going to be successful for a prolonged period of time. — Alex Bozich
townie12 on the premium forum writes: Any news on Holt…. anything.. anything at all
Townie12, I'm afraid we're going to have to wait until media day or Hoosier Hysteria for an update of any substance on Holt. Initial reports I've heard on him have been positive, but until we actually get a chance to see him play or hear from Crean or other players on his progress, there's nothing substantial to pass along. — Alex Bozich
schoosier on the premium forum writes: Official practice beings in two weeks (I think). When do you expect TC to give an update on the progress and performance of the team and individuals? He did one about 6 weeks ago. Will he share his thoughts on what the focus will be for practice the first few weeks…given this specific group of players.
The next time we hear from Crean will likely be on Indiana's media day, which doesn't have a date yet that I'm aware of, or Big Ten media day, which takes place on Oct. 16 in Chicago. — Alex Bozich
@WhydeNoah on Twitter writes: If Milton were to commit, how many more commits do you think IU will try and get for the 2015 class?
I think Indiana could still look to add another recruit to the 2015 beyond Milton. I've listed the projected class size at 3 on the 2015 recruiting board, so I'll stick with that prediction for now. — Alex Bozich
bwj13 on the premium forum writes: After reading that TC was looking at the Villanova squad circa mid-00's, how do you see IU's players filling the roles of the 05-06 Villanova Team? Looking at their stats , I'd guess YF = Lowry, TW = Foye, JB = Ray, RJ = Nardi, and HP = Sheridan… And does IU need 4 guards averaging double-figures, like Nova, to finish towards the top of the B10/make the tourney?
Hard to make an apples to apples comparison with this IU team and that Villanova team. I think Crean was looking more at scheme and execution than anything else when reviewing Villanova and other teams that have played a more guard heavy lineup.
And no, IU doesn't need four guards averaging double figures to be successful. I believe Ferrell and Blackmon Jr. will average double figures, but beyond that, you should see a balanced attack where different guys step up on different occasions. — Alex Bozich
MDHoosier on the premium forum writes: How much of the recent recruiting buzz (Morgan commitment, Bryant announcing official to IU, etc.) can be traced back to the work of Chuck Martin?
Steve McClain and Je'Ney Jackson should receive a lot of the credit for the Juwan Morgan commitment as McClain was the lead assistant on the recruitment and Jackson really helped sell IU's strength and conditioning program on the official visit.
As mentioned earlier, the Bryant official to Indiana is happening in large part due to Martin's work on that recruitment. He's also getting Indiana involved with a lot of young kids on the east coast, which is a positive development considering the exposure the program will get there this season with two games in NYC and games at Maryland and Rutgers. — Alex Bozich
twoturntables on the premium forum writes: Do you think any players will go pro (NBA) after this year? If so, who are the most likely candidates in your opinion?
As of right now, I would say no, but I also wouldn't have predicted that Victor Oladipo would be ready to go pro after his junior season. The two most likely candidates in my mind are Yogi Ferrell and Troy Williams. Ferrell would probably need a huge junior season to get any traction, though, and Williams, who possesses NBA-level athleticism, has a lot to prove (decision making, ball handling, shooting, defense) to even get into the discussion. — Alex Bozich
Jody Blakley on Facebook writes:I just do not see James Blackmon playing the two guard at the next level. How would you assess his PG skills and will he get enough opportunity to play the point to "prove" himself?
Blackmon Jr. said in Canada that one of the reasons he chose Indiana was the opportunity to play both guard spots, so I'd certainly expect that to be a focus of his development while in Bloomington.
"I thought that was one of the reasons I thought I should come here," Blackmon Jr. said following IU's loss to Ottawa. "He's (Coach Crean) going to push me even to play the point guard, I can show that here. I've just been getting a lot better in pushing my dribble out."
I think he's an adequate ball handler and playmaker off the dribble, but what he does best is shoot and score the ball and that's his best opportunity to make it to the next level. Is he going to have to show that he can play some point guard? Definitely. But if he makes it to the NBA, it's going to be because of his ability to score and defend. — Alex Bozich
Kwang on the premium forum writes: Alex, what is your best guess for a starting line-up and rotation?
Best guess for a starting lineup would be Ferrell, Blackmon Jr., Johnson, Williams and Mosquera-Perea with Nick Zeisloft, Emmitt Holt, Devin Davis and Stanford Robinson as the primary rotation players off the bench. It wouldn't, however, surprise me to see Zeisloft starting over Johnson. Max Hoetzel would probably be the next name I'd toss into the mix for a rotation spot. — Alex Bozich
mdtreat on the premium forum writes: Do you know how we got a pipeline to the recent Missouri recruits? Between Juwan's commitment, Shake's interest, and now we're in Anunoby's top three, where did this come from?
Steve McClain is the lead assistant on the recruitments of Morgan and Milton and he has a strong relationship with their AAU program, MoKan Elite, having recruited players from that program successfully in the past. Most notably, he landed Alec Burks, who is now with the Utah Jazz, while at Colorado. As for Anunoby, I believe the staff saw him when scouting Team Thad in July and began recruiting him. I'm not sure there's any tie-in there beyond that. And one other note: Milton is from Oklahoma, not Missouri. — Alex Bozich
jerad95 on the premium forum writes: Seems like every year in the B1G there is one team that comes out of nowhere and over performs relative to their predicted finish (think Nebraska last year). Do you see any chance of that team being IU this year?
It's definitely possible, but you could say that for a lot of Big Ten teams this season as the league appears to be wide open after Wisconsin. I think the league is down a bit this season, but it should be even more unpredictable, which is going to make it very compelling to watch. Beyond Rutgers, which could have a tough time winning more than one or two league games, the league looks to be very balanced after the Badgers at the top. — Alex Bozich
@mattyork41 on Twitter writes: Will a 2016 recruiting board be coming soon?
It will come at some point, Matt. It's been on my list for a while, but the Canada trip was my entire focus for several weeks and given the time that it takes to do the initial setup on the board, I just haven't had a chance to get it all together yet. — Alex Bozich
Filed to: Twitter Mailbag