An early look at the 2014-2015 backcourt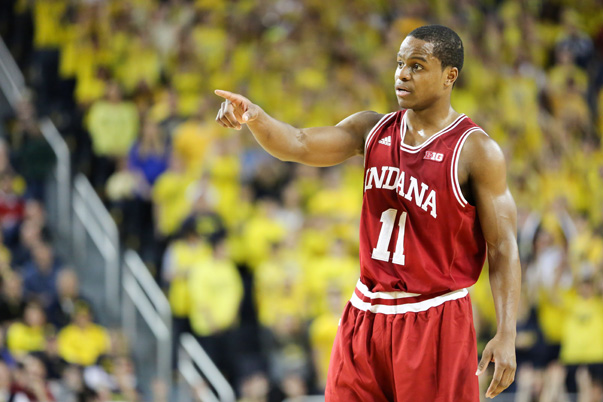 We took an early look at the 2014-2015 frontcourt on Thursday and today, the focus shifts to the backcourt, which is expected to be a major strength for Indiana. We'll have comprehensive player-by-player previews this fall, but here's an early look at some of the storylines to keep an eye on with this season's backcourt:
· A major personnel overhaul should bring improvement: Indiana underwent a major roster overhaul in the offseason, but the Hoosiers didn't lose a perimeter player of significance besides Will Sheehey, who also spent a lot of time playing the four last season. Yogi Ferrell, Stanford Robinson and Troy Williams are all returning and will be joined by James Blackmon Jr., Robert Johnson and Nick Zeisloft. Swapping in Blackmon Jr., Johnson and Zeisloft for Austin Etherington, Evan Gordon and Jeremy Hollowell is a major upgrade.
Fitting the pieces together to find the right combinations is a challenge that still awaits the coaching staff, but the first look we received in Canada was a positive one as IU's ball movement was crisp and Ferrell was surrounded by shooters, something that wasn't the case a season ago.
· Can Ferrell continue his rise? Yogi Ferrell was very good as a sophomore, but Indiana is going to need even more out of him as a junior. The question is, where can he get better? It's a topic we tackled earlier in the summer and Ferrell's midrange game and turnovers are two areas to keep track of this season.
But beyond that, Indiana needs leadership from its most experienced player. Last season, Ferrell was still an underclassmen and ceded some of the leadership mantle to Sheehey. As a junior, Ferrell will be the only holdover with major experience from IU's Big Ten championship team and how he leads improvement in areas like decision making and turnovers will be paramount to this team's success.
"I'll give him the huddle and he took it right there to get his team settled in and I love that," Crean said of Ferrell in Canada. "That's what you want, you want a team of collective leadership, but they have to be able to look to somebody that's been through it and he has to understand that they need him constantly."
· Elite shooters join the backcourt: Indiana's incoming class, led by Blackmon Jr. and Johnson, has been called the best recruiting class of shooters in the country. And after the Hoosiers shot just 34.3 percent from behind the 3-point line last season (172nd nationally), both players are welcome additions. Indiana also added Illinois State transfer Nick Zeisloft, who led the team in 3-point shooting percentage over five games in Canada.
So how will the improved shooting change how the Hoosiers play? The short answer is that defenses will no longer be able to focus on just guarding Ferrell. Last season, it was easy to sag off guys like Etherington, Gordon and Hollowell. That won't be the case this season as Ferrell will have shooters (Blackmon Jr., Johnson and Zeisloft) and slashers (Robinson, Williams) at his disposal.
Another difference between Blackmon Jr. and Johnson and some of IU's very good 3-point shooters in the past like Christian Watford and Jordan Hulls is that they, like Ferrell, can create space to take 3s off the dribble rather than just catching and shooting.
"You have to guard the corners this year," Crean said. "You had to guard them the couple years we had the 50-plus wins and with those teams you had to guard the corners every game. You didn't have to guard the corners last year for 3s, you had to guard for back-cuts, now you have to guard it for everything. That just increases our ability to do so many different things on offense."
· Getting to the line: A staple of Crean's best Indiana teams has been getting to the foul line, but without a dominant post player, the guards are going to have to drive that initiative. The Hoosiers were solid at getting to the line last season — 54th nationally in free throw rate — but fell off quite a bit from their two Sweet 16 seasons when they ranked in the top 15 nationally in the category.
It's probably unrealistic for Indiana to climb back into the top 15 in the country in free throw rate (FTA/FGA), but guys like Robinson and Williams have to make it a point to attack the rim. Robinson was strong last season with a free throw rate of 54.5 percent, but he hit just 60 percent of his attempts. Williams was solid with a free throw rate of 44.5 percent, but has the potential to take a major step forward.
· Will the turnover problem be fixed? Besides the uncertainty of the frontcourt rotation, this is arguably the most important question that Indiana will have to answer this season.
In five games in Canada, Indiana turned it over on 19.3 percent of its possessions, down from 21.8 percent in the 2013-2014 season. But given that the Hoosiers played with FIBA rules, which included a 24-second shot clock, it's hard to draw any decisive conclusions from these exhibitions as it relates to turnovers. Crean believes that keeping things simple will be the key for a shift in a category that defined Indiana at times last season.
"We have to be more aggressive with the ball, we have to get our head up on the dribble, we have to throw the ball out ahead," he explained. "Too many of those turnovers tonight (against McGill) were unforced because we just didn't keep the game simple. Last night we didn't have that many and we kept the game simple. That's all part of it and we'll get to that point. We'll understand how to play simple basketball."
Filed to: 2014-2015 season preview