The Inside the Hall Mailbag: August 26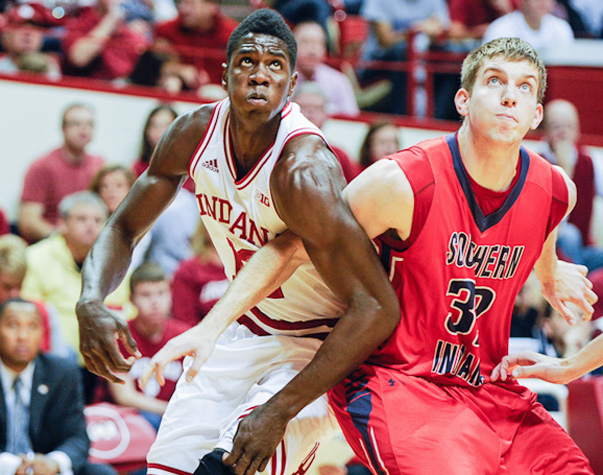 The Inside the Hall Mailbag is a collection of questions tweeted to us via Twitter (@insidethehall), submitted on our premium forum and sent to us via our Facebook page. Submit your questions and we'll answer as many as we can.
"WILL" take charge on the premium forum writes: Do you have any info about how Hanner is doing and or if it looks like he will "earn" the starting job or significant minutes ?
Crean mentioned in Canada that Hanner Mosquera-Perea has really improved defensively and I've got him penciled in as a starter right now despite the fact that he missed the foreign trip. He did get the benefit of the offseason workouts and the 10 practices prior to the trip, but obviously the games would have been great experience to have on top of that.
That said, he's got a great opportunity to take on a major role this season. If he can rebound and defend with consistency, he's going to be IU's best option to corral the paint. — Alex Bozich
Jody Blakley on Facebook writes: Curious as to how Assembly Hall renovations are coming?
Renovations are still in the planning stages and will not begin until after the upcoming season. The renovations will then continue through the 2015-2016 season while IU continues to play in Assembly Hall and the plan is for everything to be completed in time for the beginning of the 2016-2017 season. — Alex Bozich
lawguyNA on the premium forum writes: Of the freshman not named JB or RJ, who do you believe will have the biggest impact this year…Hoetzel, Priller, April or Holt?
I've never seen April or Holt play, but given that Holt was a solid rebounder and very good shot blocker on the Nike EYBL circuit, I would probably go with him. I believe Hoetzel will make an impact in spots with his shooting, but the bigger need right now is on the glass and around the basket and Holt seems to have the most potential to help right away in those areas. — Alex Bozich
Shknqk on the premium forum writes: Many people decry our lack of inside presence/depth/height. Who are the likely toughest matchups for us this year that could expose any weakness in this area? Are there opponents that on the surface will exploit this to obvious advantage?
Louisville will be tough inside and Wisconsin has Nigel Hayes and Frank Kaminsky, so those are probably two good places to start. Purdue also has A.J. Hammons, who will present some difficulties. There are not, however, many teams in the land that have a truly dominant big man inside. — Alex Bozich
SBAmadeo on the premium forum writes: I realize his time in the position has been extremely limited, but seeing as how Coach Martin has already gotten holt to commit and how his ties to the north east are well known, do you see Martin having a similar impact on recruiting as Kenny Johnson?
I'm not one for comparisons, but I think Chuck Martin is going to be a positive addition in several areas, including recruiting. He's been a head coach, he's worked in the NBA and he's been an assistant under a highly successful coach like John Calipari when he was at Memphis.
He's only been on the job since June and the Emmitt Holt pickup, if he turns out to be a factor this season on the glass, has the potential to really help this season's team. Tom Crean talked about Martin in his introductory press conference as a guy who will be able to help in a variety of areas and recruiting should be a big part of it. — Alex Bozich
GregorySpera on the premium forum writes: Alex, I wish to address the topic of what has been referred to, by others (but not I, dear fellows, not I), as our "revolving door program" or "transfer-mania." Do you see the massive roster turnover this off-season, with several transfers leaving and nine new players coming in as a sign of instability in the program, a reaction to last season's disaster, or just business as usual in today's CBB world? I personally, view it as the latter, but it is a topic that has been much debated on ITH.
It's not ideal to have major turnover on a year-to-year basis, but I don't think major changes from last season's roster are a bad thing for the program. Transfers are on the rise in college basketball and I don't see any of the guys who left from last season's team via transfer as being significant losses besides Luke Fischer, who left after the first semester.
So I would tend to side with you in saying that it's more of an indicator of how things are in college basketball today as I certainly don't view it as a sign of instability. Top to bottom, this is a better roster than IU had last season. — Alex Bozich
@ScottKaser on Twitter writes: What is the status of Jeremiah April's ankle injury? I haven't heard anything since the foreign trip concluded.
There's been no official update on April since Crean said he would be reevaluated after IU returned from Canada, but a couple of folks who attended the Family Fantasy Camp last weekend in Bloomington told me that he appeared to be moving around fine. — Alex Bozich
RealAssemblyHall on the premium forum writes: Alex, based on how early both games are in their respective parts of the season which game will be a tougher "W"? At Nebraska to open the conference season or SMU at home being the second game of the season?
Although we've got SMU listed as the second game on the schedule as it currently stands, there are still a few games missing, so it's probably the third or fourth regular season game and there will be at least one exhibition prior to that. The Nebraska game is tougher because it's on the road, although SMU is probably the better team of the two. One positive about playing at Nebraska and Michigan State so early in the conference season is that both places should be on winter break, which means there will be a reduced amount of students in attendance. — Alex Bozich
kmark22 on the premium forum writes: Alex….with the addition of Holt, who do you see him potentially stealing minutes from once he gets up to speed?
I would say two of the other freshmen — Jeremiah April and Tim Priller. One of my takeaways from the Canada trip was the need for help on the inside and I think that's where Holt has a chance to make an impact. I've yet to see April play live and Priller isn't a post players despite being 6-foot-9. Despite being smaller, height wise, than April or Priller, Holt has the longest wingspan of the three and if he's the rebounder his coaches have suggested he is, it's going to be hard to keep him off the court. — Alex Bozich
Kwang on the premium forum writes: There are so many freshmen and sophomores on this team, other than the obvious (JBJ), who will jump out and contribute, per your insight?
Robert Johnson will definitely contribute right away. As I wrote in my rewind piece from Montreal, he can play both guard positions, does more than just score and is physically ready to play from day one. Additionally, he's a low maintenance guy in terms of fitting in and is going to play whatever role the staff asks him to play. James Blackmon Jr. deserves every accolade he's received, but I don't think some fans really understand just how good Johnson is. — Alex Bozich
JOhnny 2 Caps on the premium forum writes: The front of our Big Ten schedule looks rough. Do you view this as good/bad/indifferent. To me it seems good because we'll still be coming up the learning curve and get our best chances of winning to wrap up the year. But if we dig too big of a hole do you see it as a morale buster?
I think there's an argument to be made either way. The thing you worry about with a young team is losing confidence and IU is going to be tested early on in both the non-conference and conference season. But if Indiana can win a few games it's not expected to, it could build upon those games on its way to a strong finish to end the season. It's probably also not a bad thing to play some of the tougher games early in the conference season as many teams aren't peaking at that time. — Alex Bozich
Chad Doerr on Facebook writes: Has there been a date set for Hoosier Hysteria?
There's nothing to report yet on a date for Hoosier Hysteria. I assume we'll hear a date on that in the coming weeks as it was announced in August last year. — Alex Bozich
townie12 on the premium forum writes: How many players, if any, do you see CTC accepting as part of the 2015 recruiting class?
Indiana will have a 2015 recruiting class as the staff is still recruiting and there are multiple prospects with official visits already scheduled. I believe I have the number projected at 3 or 4 on the most recent recruiting board.
As for the scholarship question, it comes up every year and every year it gets resolved, so it seems like a non-story. — Alex Bozich
Filed to: Twitter Mailbag