Five takeaways from Indiana's tour of Canada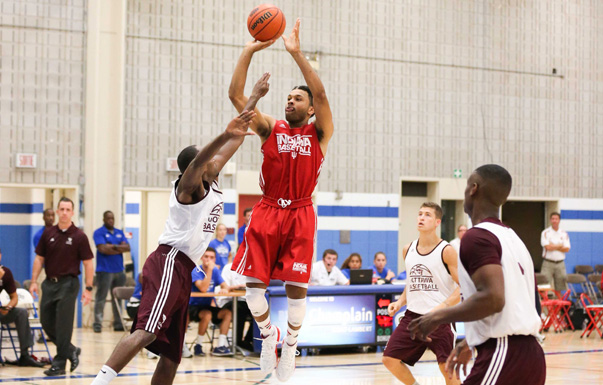 Indiana's five-game tour of Montreal and Ottawa wrapped on Wednesday afternoon and the Hoosiers returned home to Bloomington with a 4-1 record, much needed experience and plenty to work on before the start of practice.
Inside the Hall was there for each of the five exhibition games and you can read all of our coverage from the trip at this link. But with so much to digest in such a short period of time, our coverage from the trip is not done.
Here's a look at five takeaways from what we saw in Canada:
· It's early, but the first vibe from this team is a positive one: One thing I tried to do with each of the games was not turn them into a bigger deal than what they actually were. It's August, the competition was up (Ottawa and Carleton) and down (McGill, Laval and UQAM) and the game is different with FIBA rules.
That said, there just already seems to be a cohesiveness forming with this group that I never observed last season. That's not to say that chemistry was the overriding issue with Indiana a season ago, but there's value in having a group of players who genuinely like each other on and off the court.
Following Indiana's final win in Montreal, both Troy Williams and Robert Johnson talked about the chemistry and how it's coming along so far.
"Off the court, anyone can hang out with anyone," Williams explained. "I can hang out with Stan (Robinson) and Devin (Davis) one day and then the next day I could hang out with Jeremiah (April) and Tim (Priller). We all get along with each other so well."
"I think it is coming along really good," Johnson said. "From day one, whenever we went out and did different things, we always did it as a team. From what they tell me, last year it wasn't always like that, so from that standpoint it is good and it has helped bring us together even more."
· This team is going to score plenty of points: Indiana struggled to score consistently last season, particularly in conference play, but the makeup of the roster has changed significantly. Austin Etherington, Evan Gordon and Jeremy Hollowell are gone and James Blackmon Jr., Robert Johnson and Nick Zeisloft have arrived.
How does that change IU's backcourt?
First, Yogi Ferrell won't have to carry such a large scoring load. Blackmon Jr. is wired to score and will contribute in a major way from day one. Johnson's body is college ready, he's been well coached in both high school and AAU and can play both guard spots. And the addition of Zeisloft, a move that was criticized by some IU fans when it happened, was the surprise of the trip after he hit a team-high 11 shots from distance.
Indiana is going to have to play small quite often, but there won't be many lineups on the floor that include any ball stoppers who can't score, which was frequently the case last season.
· The maturation of Troy Williams is well underway: Based on our observations in Canada, it's been a productive offseason for the sophomore wing from Hampton (Va.). While he's still nowhere close to a finished product, his upper body has more mass and his explosiveness is right where it needs to be for an athlete of his caliber.
Williams was far more aggressive on this trip than what he was at any point last season and his final numbers are indicative of that: 18.4 points (66.1 FG%), 6.4 rebounds, 3 turnovers, 2.6 assists, 1.2 blocks, 1.2 steals in 27.8 minutes per game.
The turnovers are still an area that he needs to clean up, but more often than not, Williams now tries to make the simple play and is playing to his strengths rather than forcing up perimeter shots. His ball handling also seemed to be better, which he credited to finally being totally healthy.
"Last year I had a hand injury — I always had my left hand bandaged," he said. "Now that it is healed, it feels better. I have always been comfortable with the ball, I just couldn't use both hands last year. Now that I have both back, it is much easier for me to handle the ball again."
· This trip wasn't about wins and losses, it was about the experience and teaching opportunities: Just as Indiana's loss to Ottawa wasn't as big of a deal as some on social media would have you believe, its win over Carleton wasn't an indicator that Indiana is ready to contend for a Big Ten title.
More than anything else, this trip was about Indiana gaining experience, getting the ten practices in that were allowed and the coaching staff getting a chance to get a clear snapshot of where things stand heading into the start of practice next month.
Among the things we observed that you wouldn't see during a regular season game: Johnson running the IU huddle and drawing up a play as the coaching staff observed, long discussions on the sidelines between the staff and different players throughout the games when a teaching moment arose and Tom Crean out on the floor working with the team prior to tip off.
"I just wanted to keep getting better," Crean said. "What I'm happiest about is that the last ten minutes of this trip, we got better. It wasn't about the score and it wasn't about the game being in balance. These kinds of lessons will be countless for these guys going through time."
· The frontcourt situation is still a mystery: The only negative from the trip was the absence of Hanner Mosquera-Perea, who never arrived in Canada due to visa issues. The opportunity for Mosquera-Perea to play in these games would have been invaluable given the role that he'll likely need to take on as a junior.
Without Mosquera-Perea, Indiana played very small throughout the trip and at times, had trouble controlling the defensive glass. The Hoosiers aren't going to have a post presence near the caliber of Cody Zeller or even Noah Vonleh this season, but it's going to be important that they have solid defensive rebounding up front and adequate defense around the rim.
Devin Davis had a strong trip with a team-high average of 7.6 rebounds per game, but with news breaking that IU is still looking to add to its roster for next season, it appears the staff believes it needs another piece that can rebound and help defend the post. Given the proficiency Indiana will have on the perimeter, the Hoosiers don't need to be great inside, but they also can't afford to get carved up on the boards by teams with more size in the paint.
Filed to: 2014-2015 foreign tour, Devin Davis, James Blackmon Jr., Nick Zeisloft, Robert Johnson, Tom Crean, Troy Williams, Yogi Ferrell