Class of 2015 wing Chris Clarke talks Indiana interest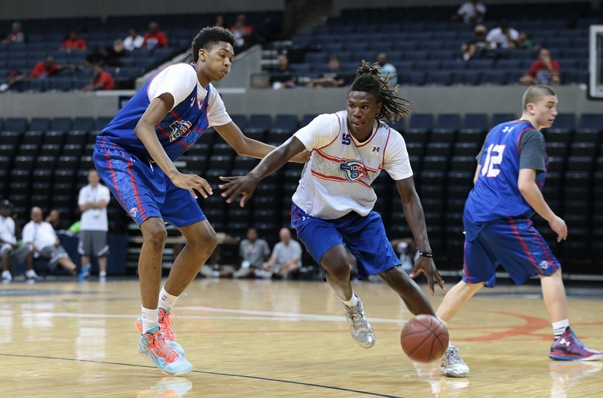 LOUISVILLE, Ky. — One of the breakout players from the 2014 AAU season has interest in Indiana.
Chris Clarke, a class of 2015 wing from Virginia Beach (Va.), opened eyes last month at the NBPA Top 100 camp and continued his strong play into the month of July.
His summer concluded with an appearance in the final four of the Nike Elite Youth Basketball League (EYBL) finals at the Peach Jam and a championship in the AAU Super Showcase in Louisville.
Clarke plays for the Nike-affiliated Boo Williams program, which produced a pair of current IU players in Robert Johnson and Troy Williams, the nephew of Boo Williams.
As a result of his efforts this spring and summer, Clarke, who is rated the No. 116 player nationally according to the 247Composite, is on the rise nationally.
ESPN.com's Paul Biancardi called Clarke the best athlete at the NBPA Top 100 camp in one of his recaps of the event. "Clarke owns eye-popping athletic ability," Biancardi wrote. "He has speed, vertical and a quick second jump. He fills the lane with speed to beat a defense down the floor and will finish with alley-oop dunks. A great example of his high-level athletic ability is when he caught a pass behind his head on a fast break, gathered himself and scored."
In the media guide that is distributed at the NBPA Top 100 camp, Clarke listed Indiana as a school that he'd like to visit. So where do things stand currently with the Hoosiers?
"I'm still hearing from them occasionally," he told Inside the Hall. "I would say it's like medium interest."
The list of suitors for Clarke is an impressive one. According to his profile on 247Sports, he's got more than 10 offers. At the AAU Super Showcase, he reeled off a list of seven schools that he feels are coming the hardest at this time.
"Florida, Florida State, Maryland, Tennessee, Iowa State, VCU, Creighton," Clarke said.
In five games at the Peach Jam, Clarke was arguably the top performer for Boo Williams. He averaged 15 points on 60 percent shooting from the field and got to the free throw line a team-high 27 times. He also led the team in rebounding (7.6), assists (4.0) and steals (1.6).
Indiana had a presence at the majority of his games during the final evaluation period in associate head coach Tim Buckley. As far as what would appeal about Indiana, Clarke said the fact that his AAU program already has a pair of players in Bloomington is a positive for the Hoosiers.
"The fact that they already have two Boo Williams players would make it feel kind of like home there," he said. "It's a just a great school."
(Photo credit: Kelly Kline/Under Armour)
Filed to: Chris Clarke