Confidence growing for class of 2015 guard Prince Ali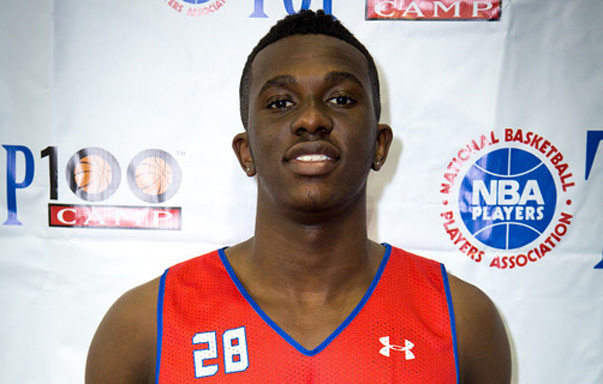 LAS VEGAS — For class of 2015 Sagemont (Fla.) guard Prince Ali, the biggest lesson he learned from the LeBron James Skills Academy last week wasn't from any particular move or on-court observance that he could add to his own game.
The biggest lesson the No. 38 prospect, according to the 247Sports Composite, is that confidence must come from within.
"It's that I can withstand any type of adversity," Ali told Inside the Hall on the final day of the camp on Saturday. "I can overcome it, because the first day, the first day and a half I wasn't playing very well. But as I went on I feel like I've gotten a lot better."
Ali said he viewed his inclusion in the camps as "a tremendous honor," especially considering he was just one of 80 high school prospects in the entire country invited.
He wanted to learn from the best, and there he was playing amongst them.
"The competition is great, basically the best talent in the country," he said. "So you know, the competition is great. We compete in every game and every drill, and that's how you get better."
The camp also presented the first opportunity in July for college coaches to evaluate prospects. On Saturday, Michigan's John Beilein, Kentucky's John Calipari, NC State's Mark Gottfried and UConn's Kevin Ollie were at the LeBron James Skills Academy.
While some players face nerves when playing in front of college coaches, Ali has embraced it. In fact, he has welcomed feedback on his play from the schools recruiting him.
"It's really just been great with colleges always hitting me up and how they think I'm playing and what they think I should be working on," he said.
Ali has generated plenty of college interest, too. As of Saturday, he said Michigan and UCLA are recruiting him the hardest. And though he doesn't have a list of top schools, Michigan and UCLA do hold a slight edge at this point in his recruitment.
"UCLA will be a school I want to visit and Michigan is a school I want to visit," he said. "And then from there on, I think I'm wide open."
Another school that has been involved in Ali's recruitment is Indiana. Hoosiers coach Tom Crean watched Ali in Las Vegas last week, even sending him a text message on Friday to tell Ali how he performed.
When asked where the Hoosiers fit into the picture, Ali said "Indiana is right there in the mix."
"I'll definitely consider it, because again, they're there," he said. "I've been speaking to the coaching staff and they fit my style of play. And you can't deny the fact that they put out NBA pros. Indiana puts out pros, and that's something very attractive."
In the days since our interview with Ali, he added a scholarship offer from Louisville.
At one point during the LeBron James Skills Academy, Ali found himself on the court playing with James — the ultimate pro.
"That's the best player in the world, and to be able to see how he plays and to play with him in person, it was a great experience," he said.
But was he nervous at all? Did he felt like he belonged on the court?
"Nah, I wasn't nervous," he said. "It's just basketball."
Filed to: Prince Ali