Freshman Focus: James Blackmon Jr.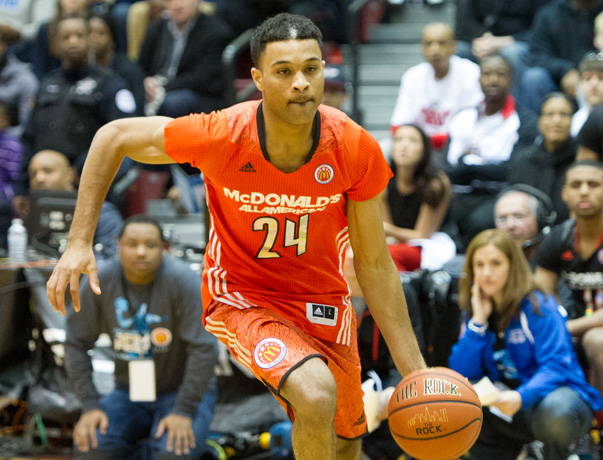 "Freshman Focus" is an Inside the Hall series on each of Indiana's five incoming freshmen. Over the past few weeks, we've examined the impact each freshman can have for the Hoosiers next season. Today, the series concludes with James Blackmon Jr. (Previously: Max Hoetzel, Robert Johnson, Jeremiah April, Tim Priller.)
When Marion guard James Blackmon Jr. decided to reopen his recruitment last August, his decision had the potential to turn into a crushing blow for Indiana's class of 2014 recruiting efforts.
Indiana began recruiting Blackmon Jr. before his freshman season at Ft. Wayne Luers, where he would go on to play his first three high school seasons, and secured a commitment from him in September of 2010. To give some perspective on just how long Indiana had Blackmon Jr. in the fold, his commitment came before Cody Zeller took his official visit to Bloomington.
But unlike other recruits across the country who have chosen to cut ties and go a different direction after making an early commitment, Blackmon Jr. still had genuine interest in attending Indiana.
"Indiana is at the top of my list," he told Inside the Hall last August. "I still like Indiana. I wouldn't be surprised if I end back up at Indiana."
The Hoosier coaching staff, led by Tom Crean, continued to pursue the nation's top shooting guard diligently as Blackmon Jr. visited Louisville, Kentucky, Michigan and Michigan State. His offer list also included schools like Kansas and North Carolina.
After official visits to Ann Arbor, Lexington and Bloomington, Blackmon Jr. set a decision date of Oct. 31. The plan was to make his decision in front of a national television audience on ESPNU.
No one had this recruitment pegged down for sure as Blackmon Jr. seemed to truly be wavering right up until the moment he was to take the air:
In a press conference last November where he discussed the 2014 signees, Crean explained just how down to the wire the decision was for Blackmon Jr.
"I didn't truly know he was coming until he got on that air that night," Crean explained. "I knew what our last conversations were like. I know what those were like, without question, and I knew what he wanted to do when he got up there. But actually going up there and doing it and pulling out that hat, I wasn't shocked but it wasn't like I had the smile going into it. We needed to see him put that hat on. We really did."
With Blackmon Jr. back in the fold, a major recruiting win for the program, Indiana had addressed its major need in the class of 2014.
The Hoosiers had already added Robert Johnson, a top 50 guard from Richmond (Va.), and Max Hoetzel, a forward from Wilbraham and Monson Academy (Mass.) and the addition of Blackmon Jr. gave Indiana arguably the best collection of incoming shooters in the land.
So where does Blackmon Jr. fit in on next year's team? He should instantly slide into the starting lineup alongside Yogi Ferrell, which will give Indiana a pair of McDonald's All-Americans in the backcourt.
"I think I can come in and play (right away)," he told Inside the Hall last month. "Coach Crean made that obvious to me, but I'm going to have to work really hard to get that spot and that's what I'm going to do."
His performances during his final high school season suggest that Blackmon Jr. will be able to make a major impact from the start.
In addition to being named to the McDonald's All-American game, he was also selected for the USA Basketball national select team that played in the Nike Hoop Summit as well the Jordan Brand Classic. He finished his high school career with 2,387 points, which ranks in the top 10 on the state's all-time scoring list. And in the Indiana-Kentucky all star series, he scored 64 points in two games, the third highest total ever for an Indiana player.
Those types of performances are a big reason that Indiana should be an improved 3-point shooting team despite finishing third in the conference in 3-point shooting percentage last season.
"James is a phenomenal shooter with phenomenal range," Crean said last November. "He's getting better every day with his ball handling, with his driving. He is one of the best open court players that I have ever personally been a part of recruiting. He's growing."
Filed to: Freshman Focus, James Blackmon Jr.