Class of 2015 forward Raymond Spalding talks IU offer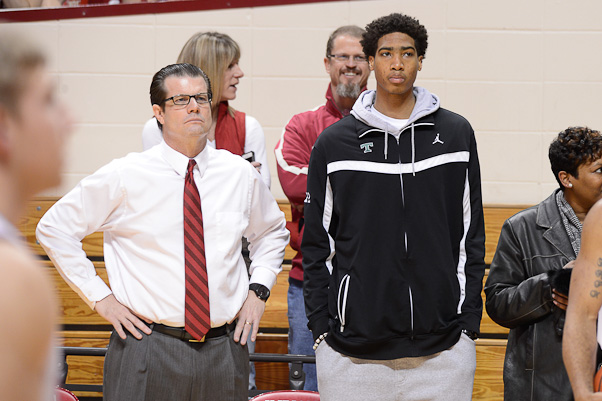 It's been a productive month for class of 2015 Louisville Trinity (Ky.) big man Raymond Spalding.
The 6-foot-9, 210 forward is still playing for a state championship — his Shamrocks are in the Elite Eight of the Kentucky state tournament — and his recruitment has taken off.
As Trinity dispatched of Owensboro, 55-41, in the Kentucky Sweet 16 on Wednesday at Rupp Arena, coaches from Butler, Clemson, Indiana, Kentucky, Vanderbilt and Western Kentucky were all in attendance as Spalding finished with seven points, six rebounds, four blocks and three steals.
It's not particularly surprising that Spalding has become a priority for several programs as his length, size and upside aren't easy to find.
He's now ranked in the top 100 on Scout.com and is the No. 88 prospect nationally in the 247Composite.
"He's had nights where he almost looks like, 'Ok, he's legit, he's arrived,' but he's got to be able to be consistent with it and have back-to-back efforts and just stay tough," Trinity coach Mike Szabo told Inside the Hall recently. "If you could have seen him a year ago from today, the amount of progress that he's made in that stretch of time, if he can do that same amount again and be here next year, oh man. He's going to be really, really good."
Indiana has been a frequent presence at Spalding's games this winter as Tom Crean and Kenny Johnson have been to Louisville multiple times. Yesterday, associate head coach Tim Buckley watched the rising big man. He also visited Indiana twice this past season. The most recent trip was for IU's win over Michigan in early February.
The fact that the Hoosiers have been so active is something Spalding has definitely noticed.
"It tells me a lot," he said. "It tells me they're very interested in me and that they can really see that I fit their program. That means a lot to me."
After Crean and Johnson watched Spalding win a Seventh Region semifinal game on Mar. 9, the Hoosiers took the logical next step in their pursuit by extending a scholarship offer.
"After that game I spoke with coach Johnson and coach Crean," Spalding explained. "I had a really good game that day and felt really good about myself. The coaches really liked what they saw.
"They gave me a call later that day when I got home. Coach Crean, I got to talk to him for a little while. Very nice coach, great guy. He told me a lot about their program, a lot about what they see in me and how I fit into their program and how they know how much I could progress at Indiana. And he offered me a scholarship."
Spalding has listed Dayton, Indiana, Louisville, Northwestern and Xavier among the schools he's considering the most at this point and told Inside the Hall that the Hoosiers are making as strong of a push as anyone.
"Indiana is the school recruiting me hardest at this point," he said. "They've been at a lot of games, been talking to me on the phone a lot. Coach Crean sent me a text recently to wish me a Happy Birthday. That means a lot."
Filed to: Raymond Spalding