The Inside the Hall Mailbag: March 11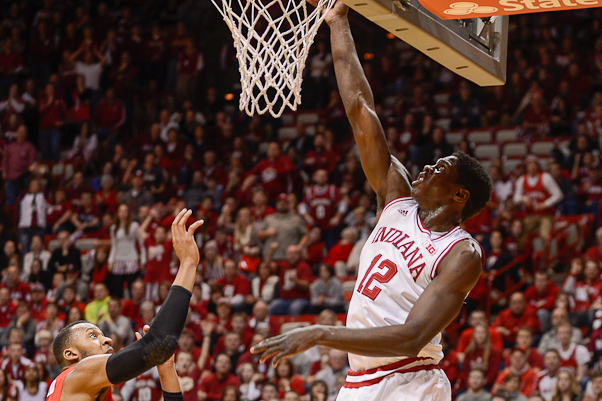 The Inside the Hall Mailbag is a collection of questions tweeted to us via Twitter (@insidethehall), submitted on our premium forum and sent to us via our Facebook page. Submit your questions and we'll answer as many as we can.
@rlcarr34 on Twitter writes: Why do you think HMP plays less after having his best game when the need for a big is there? (Vonleh out, J. Morgan crushing us)
I think a lot of it has to do with matchups. Against Ohio State, Mosquera-Perea was effective in the screen and roll and defensively, he was essentially able to hover around the rim because Amir Williams and Trey McDonald aren't threats on the perimeter.
That obviously wasn't the case against Nebraska as Walter Pitchford plays the five, but operates primarily on the perimeter. That likely would've been a poor matchup defensively for Mosquera-Perea.
Against Michigan, if you look at what Indiana was running offensively, most of it was coming off of movement from the sides. IU had great spacing, which allowed for plenty of easy baskets at the rim. That's not really conducive to using Mosquera-Perea because that's just not his game. Morgan did hurt IU inside, but IU also scored 80 points and had its best offensive output in Big Ten play, so I'm not sure it was a bad tradeoff. IU was going to have to score a ton to win in Ann Arbor and the lineups used probably gave them the best chance to pull it off, even though they fell short. — Alex Bozich
Robhoosier on the premium forum writes: In your opinion, what does IU's season look like next year if (Noah) Vonleh goes? If he stays?
Obviously this is a fairly loaded question because not only is the Vonleh piece major, we also don't know what the rest of the roster is going to look like. IU is certainly still recruiting for the class of 2014 and other attrition is always possible. If Vonleh was to return, Indiana is obviously going to be much improved because the majority of its key pieces will be a year older and should be improved. On paper, the Hoosiers will have the pieces to make a serious run. Throw in the shooting that is coming with the 2014 class and there's a lot of upside there.
If Vonleh leaves, it's obviously a major hole to fill, but I still believe the team will be better than this season because IU will have shooters and should be able to take care of the ball much better. This team was in a lot of close games this season, so you figure with another year of experience, it should be able to reverse fortune on a few of the close losses. How much better is tough to say without knowing the complete frontcourt situation, but regardless I see improvement. — Alex Bozich
RoscoD73 on the premium forum writes: Do you think IU wearing the new jerseys is a one time deal, or will they be wearing new uniforms more often/permanently in the near future? … and Real Assembly Hall on the premium forum writes: Obviously the reaction has been mixed, but from your vantage point how do you see the fan reaction in regards to the special uniforms? Majority for or majority against?
Somewhat similar questions, so I'll tackle both. I could see alternate uniforms happening again in the future. It's clearly a trend in college hoops and players and recruits like it, as do the companies and schools who profit off the increased merchandise sales. Do I see it resulting in a permanent change away from IU's traditional uniforms? No. But small tweaks and alternate jerseys on occasion certainly seems plausible.
As for the reaction, I felt like it was fairly supportive overall. There's always going to be a segment of those resistant to change who speak up (saw it on Twitter and in the comments to an extent), but overall I received feedback from plenty of fans who liked the alternate jerseys. — Alex Bozich
HoosierFan76 on the premium forum writes: I hear a lot of people expressing disappointment about the season, many going so far as to say it's been a failure. Obviously, there have been a lot of extenuating circumstances and extra challenges that have come up along the way – Luke Fischer's transfer, Hanner's situation, and Noah's injury being chief among them. Given that IU has been in so many close games and seen many second-half leads evaporate for a narrow loss, how do you think the season would've gone if it hadn't been for those three things, and do you think that the criticism of Coach Crean based on this season's record is somewhat misplaced looking at things from that perspective?
You win the record for longest question ever submitted for the mailbag, HoosierFan76.
A lot to digest here, so let's go piece by piece. As far as judging the season as a success or failure, given that it's yet to end, it's not the best time to address that nor have I ever been a fan of defining or labeling an entire season as a blanket success or failure. It's not that cut and dry, although I'm sure some will want to argue otherwise.
Of the three situations you mentioned, I think the Fischer transfer had the biggest impact on the results. Hanner Mosquera-Perea's arrest didn't happen until IU was well into the Big Ten season and neither did Noah's foot injury. As for how the season would've gone without those three factors, which I believe was your question, maybe the better "what-if" to ask is: What if IU had taken care of the ball better? That, to me, is the biggest reason the Hoosiers didn't win more games.
As for any criticism of Tom Crean, when you're the coach at a major program like Indiana, it's part of the job to an extent. IU has a passionate fanbase that is hungry for success, which is a big reason Indiana is one of the top jobs in college basketball. Some of the criticism has been over the top and extreme given that IU just won an outright Big Ten title for the first time in 20 years and is less than a year removed from being a No. 1 seed in the NCAA tournament. Some conveniently forget or fail to mention that to advance their argument, but I framed this as a transition year from close to the beginning of the conference season and that's how it's played out. — Alex Bozich
mcoghlan on the premium forum writes: Who do you think is a likely candidate to make a big jump next season?
Assuming he works diligently all offseason on his ball handling and perimeter shot, Troy Williams stands out as the player most capable of making a major jump. I think Yogi Ferrell will get even better, which is scary, but Williams has a lot of room to grow. He's played very well down the stretch and is starting to understand how effective he can be when playing under control. If he can cut down on his turnovers, develop a somewhat reliable jump shot and continue to attack the rim and the offensive glass, the upside to be great is there. — Alex Bozich
@Beent12 on Twitter writes: Some feel we haven't improved this yr (not me). What statistical markers can we look at to gauge improvement from Nov to Mar?
Seth looked at the defensive improvement last month in the "data dive" series, which looked at IU's progress in-depth in that area through 10 conference games. That's probably the best statistical analysis to examine to show that IU's defense showed improvement.
Offensively, IU's shooting and cutting down on turnovers never really got to where it needed to be this season, but you can look at some individuals and say they took significant steps forward. Ferrell is obviously better across the board with all of his numbers. Vonleh expanded his game to the perimeter as the season moved along. Stanford Robinson came on as the season went on and Williams is playing his best basketball of the season right now. Devin Davis has come alive as of late. The sophomore class has underwhelmed for the most part, which is a disappointment. It's a bit of a mixed bag overall and inconsistency is a big part of the story, but had IU continued to play how it was trending toward the end of the non-conference season in the Big Ten, there's no way this team would have won seven league games in my opinion. — Alex Bozich
Filed to: Twitter Mailbag