After Nebraska loss, Hoosiers searching for answers — again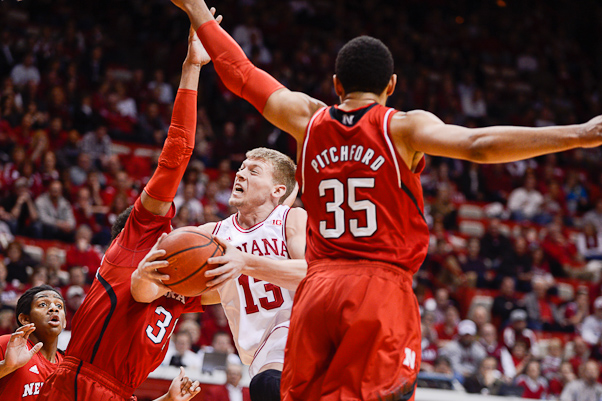 Long before this season even began, it was well-known what this Indiana team would do during the 2013-2014 season. It would win games it shouldn't. It would also lose games it shouldn't.
And with just one game remaining in the regular season, that has been exactly the case.
Indiana had lost two straight, a few weeks ago, to Penn State and Purdue — two of the bottom three teams in the Big Ten. It responded with two wins over ranked opponents in Iowa and Ohio State. Perhaps this team had turned the corner. We should know better.
In front of a packed crowd at Assembly Hall on senior night Wednesday evening, the Hoosiers (17-13, 7-10) fell to Nebraska, 70-60. It was just the third road win for the Cornhuskers this season.
"We just didn't do enough," Indiana coach Tom Crean said after the game.
Against the Cornhuskers (18-11, 10-7), the same issues that have plagued the Hoosiers all season in their losses reappeared. There was a lack of ball movement on offense. The opposing offense got easy looks. On Wednesday night, that was more apparent than usual.
Freshman Noah Vonleh was sidelined for the second straight game with left foot inflammation. Crean said Vonleh told him before the game that he wasn't comfortable playing. And Nebraska received open looks inside.
Ohio State did, too, on Sunday, but the Buckeyes simply couldn't convert on jumpers. They weren't comfortable with it. Nebraska, though, thrived on them. So even after the Hoosiers, led by freshman Devin Davis, adjusted to the Nebraska attack, the Cornhuskers were already inflicting their damage. They attacked inside and outside.
That's what Nebraska did well. It played a controlled, efficient game (it shot a 50.9 effective field goal percentage).
"Nebraska is really good," Crean said. "I'm not real reflective right now, but they're really good. They're a legitimate team, and they've got a lot of pieces."
Indiana, though, struggled all game with consistency. It struggled with Nebraska's zone defense. It couldn't penetrate it.
It turned the ball over at inopportune times. It made mistakes on defense. There was a stretch when the Hoosiers got the offense moving and tied the game at 52. It then reverted back to its mistakes for the remainder of the game until the Cornhuskers had the win sealed.
"When you win, you do a better job than when you don't," Crean said. "That's what it comes down to. You make more plays in close games over that period of time. And today when it got close, we didn't make as many of those plays."
Both teams played this game looking to notch another win in hopes of reaching the NCAA tournament. Nebraska rose to the occasion. It now has a very legitimate chance of finishing the season 19-11 with an 11-7 Big Ten record. That could, very feasibly, get them into the tournament.
After the game, Cornhuskers coach Tim Miles and two of his players, Walter Pitchford (17 points) and Shavon Shields (17 points), spoke to the media. They were joking, they were having fun. This was a team that had its groove.
And Indiana, after the game, had all the fun drained out of it. Senior Will Sheehey (13 points) said during his speech to the assembled crowd at Assembly Hall that "I hate tonight." Sophomore Yogi Ferrell (10 points) tweeted after the game that he was tired — both mentally and physically. The Hoosiers were drained.
This season has had its ups-and-downs. And just when the Hoosiers thought they were past it, it came back in rousing fashion on Wednesday night. The result: The Hoosiers are left wondering, yet again, where to go from here.
"We just couldn't get our mojo," Ferrell said. "We just got quiet and shots weren't falling. That's just a part of the game."
Filed to: Nebraska Cornhuskers, Tom Crean