Five takeaways from Indiana's loss to Nebraska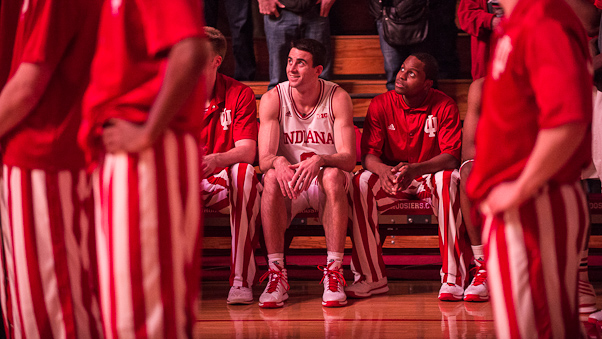 After impressive wins over Iowa and Ohio State, Indiana struggled on Thursday night and fell to surging Nebraska, 70-60, on senior night at Assembly Hall.
Here's a look at five takeaways from the loss to the Cornhuskers:
· As Yogi goes inside the arc, so go the Hoosiers: It's no secret that many of IU's best games this season have come when Yogi Ferrell is shooting well. Wednesday was an especially tough night for Ferrell, who hit just four of his 14 shot attempts including a 1-of-10 performance from distance. Indiana expects a lot out of its sophomore floor general, but on nights when he shoots poorly, it becomes a major uphill battle for the Hoosiers to find success.
But as much as Ferrell's 3-point shooting is discussed, the numbers actually show that it's his effectiveness on 2-point shooting that bears out a much bigger discrepancy in wins versus losses:

In IU's seven Big Ten wins, 53.5 percent of Ferrell's field goal attempts are 3s and in IU's ten Big Ten losses, 53.1 percent of his attempts are 3s. The shot distribution and scoring totals are really no different, but he's shooting nearly 16 percent better on 2s in IU's wins versus the losses.
· A tough night for Sheehey: If this was Will Sheehey's final game in Assembly Hall, he certainly didn't go out how he would have liked. In fact, Sheehey summed up his thoughts pretty succinctly to begin his senior speech: "First of all, I do hate to lose and I hate tonight."
After delivering 49 points in wins over Iowa and Ohio State, Sheehey shot just 5-of-14 in the loss to Nebraska and finished with 13 points. And it was clear by his comments in the postgame press conference that he wasn't happy with IU's effort on both ends of the floor.
"I think it was just both offensively and defensively, we just didn't play with the same swagger and edge that we usually do," he said. " I think defensively, we made some mistakes, including myself, and offensively the ball just didn't move. We didn't get too many transition points because getting stops on the defensive end became tough."
· Nebraska never gave up control: The Cornhuskers never trailed, which speaks to how well they were able to navigate a tough environment. From Walter Pitchford's scoring barrage to open the game to timely buckets down the stretch to answer when IU looked as if it might take a lead, Nebraska showed poise and toughness. Even more impressive about the overall effort was that Terran Petteway, a near lock for first team All-Big Ten honors, finished with just 13 points on 3-of-10 shooting.
After dropping its first five league road games, Nebraska has won three of four away from Pinnacle Bank Arena and is in position to grab its first NCAA tournament bid since 1998.
· This was Indiana's worst shooting game since Purdue and third worst in Big Ten play: Save for IU's home loss to Northwestern and the blowout defeat in West Lafayette, Indiana's effective field goal percentage of 40.8 was its third worst mark of the conference season.
Indiana hit just 43.6 percent of its 2s and 23.8 percent of its 3s and Nebraska's length while in zone bothered the Hoosiers down the stretch.
"We decided that we are going to win with defense," Nebraska coach Tim Miles said. "We held Indiana's shooting percentage to within the 30's, which is the ninth straight team we have held that way. That's been our calling card. I will bet you money, even though I would never do that, that if you would ask the players if their calling card would be defense in October, they would laugh at you."
· Troy's best Big Ten game on offense: Overshadowed in the loss was the productive offensive play of freshman Troy Williams, who scored 18 points on 7-of-12 shooting, which included 2-of-2 from behind the 3-point line. Williams still struggles with turnovers when he tries to go into traffic with the dribble, but his late season growth has been a positive and is perhaps a sign of things to come in the future.
"You know, Troy drives the lane hard," Sheehey said. "He looks for other guys. Tonight his shot was rolling. He can get into the lane. He has a bunch of energy. He gets out and runs, and things happen."
Filed to: Nebraska Cornhuskers